Selfbuilt's Flashlight Reviews
Extensive comparative analyses of modern LED flashlights
My goal is to provide objective testing results, in a readable form, to let you decide what flashlight best fits your needs. My reviews are posted on candlepowerforums, to facilitate ongoing discussions with the user community.

My flashlights are expensive to feed with all the runtime tests I perform, so I gratefully accept donations to my Paypal battery fund.
Flashlight Resources
See my Testing Methods for further resources
Video overviews of each of my flashlights, plus additional background primers.
Overview of the ANSI/NEMA standard for flashlight testing (FL-1).
My lightbox design, and how I have calibrated it for estimated lumens.
Overview of all my recent outdoor 100-yard beamshots.
Latest Review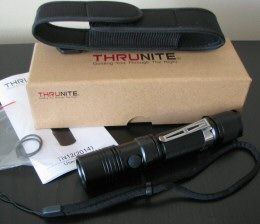 Thrunite has updated the TN12 - their original compact, high-output light in the 1x18650/2xCR123A class - with a new model for 2014. This updated build features a dual-switch interface, and the latest XM-L2 emitter. See my full review for details, as well commentary comparing recent competing lights.
Looking for help to get started? Check out my Flashlight Recommendations page to help you sort through all the different flashlight and battery types currently available.