Imalent MS03
Introduction
When I saw the specs for this light, I couldn't quite believe it – 13,000 lumens on a single cell? Although that is theoretically possible with 3x Cree XHP70.2 LEDs, it wouldn't likely last for long in a compact 1×21700 light.
But Imalent has pushed the envelope before with some distinctive and unusual lights, so I was willing to give this one a shot. Let's see how it does in my testing.
Manufacturer Specifications
Note: as always, these are simply what the manufacturer provides – scroll down to see my actual testing results.
| Feature | Specs |
| --- | --- |
| Maker | Imalent |
| Model | MS03 |
| Emitter | 3xXHP70.2 |
| Tint | - |
| Max Output (Lumens) | 13,000 |
| Min Output (Lumens) | 150 |
| Max Runtime | 27 hrs |
| Max Beam Intensity (cd) | 26,320 cd |
| Max Beam Distance (m) | 324 m |
| Mode Levels | 6 |
| Flashing | - |
| Battery | 1x21700 |
| Weight (w/o battery) | 117 g |
| Weight (with battery) | - |
| Length | 110 mm |
| Head Diameter | 36 mm |
| Body Diameter | 27 mm |
| Waterproof | IPX-8 2m |
Package Details
The MS03 box has a good number of labels, describing everything you are getting and what to expect. Inside the stiff cardboard box with closing flap you will find the following:
Imalent MS03 flashlight
Imalent 21700 4000mAh high-drain battery
Pocket clip
Lanyard
Holster
USB-C Charging cable
2 Spare O-rings
It's a nice package, with everything you need to use the light. I'm particular glad to see the belt holster, since those are very rare nowadays. Note that you need to use the bundled high-drain 21700 battery if you want to be able to access the highest modes.
Build

From left to right: LiitoKala 21700 (5000mAh), Fenix ARB-L21-5000U 21700 (5000mAh), Sofirm IF25A, Fenix E35 v3, Convoy S21E, Imalent MS03, Armytek Wizard C2 Pro Max, Acebeam E70, Nitecore P20iX, Nitecore MH12SE, Lumintop D3, Convoy M21F.
The MS03 is smaller than than I expected – as you can tell from the pics above, it is quite short (the second shortest 1×21700 I've tested so far). The head is a bit wider than typical, but that's not surprising given the 3x XHP70.2 emitters in there.
There is a side-mounted electronic switch on the side of the light near the head, with a stainless steel switch cover. Feel and traverse of the switch is good, and easy to activate (i.e., works even if you don't hit it straight-on). User interface is very straightforward (scroll down for details). Note that it wouldn't be hard to accidentally activate the light, so I strongly recommend you keep the light stored locked out at the tailcap. A simple twist of the tailcap will do the job, thanks to the anodized screw threads. And thanks to the flat tailcap, the light can tailstand stably.
The knurling on the body is not very aggressive at all, but with the various rings and cut-outs on the head, overall grip is reasonable. I recommend you attach the pocket clip to further help with grip. The clip is not reversible, and can only be used for head-up carry. Note that the clip doesn't hold on as tightly as most others I've used, so I wouldn't want to trust it for belt carry – use the holster for that.
Anodizing looks to be good quality, relatively satin black finish. I didn't notice any flaws on my sample, but I'm not sure if Imalent anodizing is quite as hard as some other makers. One thing I like about the light is the square-cut screw threads – always a nice touch.
The light lacks a USB-C charging port on the body, but there is one built into the bundled high-drain battery. The light is remarkably compact given the length of the cell (due to its integrated USB-C charging port). There is a charging LED on the battery. Note there is a reverse-polarity detection feature in the head, so only button cells will work in the light (but I recommend you stick with the bundled high-drain cell for performance reasons). Also, given the relatively short body length and anodized screw threads, other brands of high-capacity 21700 batteries with USB-C integrated chargers are likely to be too long to fit and work in the light.
I would note that the tailcap spring is very robust, and has caused some minor denting of the bottom battery cell plate. According to Imalent, this robust spring is unavoidable due to the high currents involved.
The light weighed in at 120g without battery in my testing (192g with the included cell). Note that this makes the MS03 the third heaviest light in my compilation above – despite being the second shortest of the group. The light feels relatively top-heavy, suggesting there is good heatsinking.
The light uses 3x Cree XHP70.2 emitters, within a multi-well smooth reflector setup. So you can expect a good amount of output with a relatively floody beam. The beam profile is surprisingly smooth given the multi-well reflector, and I didn't notice any significant reflector well artifacts in the beam (surprisingly).
I'm also happy to note a relative balancing out of tint differences across the beam (something XHP70.2 HD emitters are well known for producing). Yes, there is some yellow-green highlighting around the corona into the mid-spill area, and some purple fringing at the periphery. There's also a bit of purple in the center of the hotspot. But the combination reflector seems to be helping somewhat here in evening tint shifts out.
The bezel is flat black aluminum, so you may not be able to tell if the light is on when head-standing – except for the LED just below the switch, which helpfully lights up green by default when the light is activated. The bezel is well integrated into the body, and it's not immediately clear to me how you would remove it (likely threadlocked in place). The light comes with an AR-coated toughened clear mineral glass lens.
Overall, I find this to be a good looking little light with decent ergonomics and a good beam pattern. It fits well in the hand, and is surprisingly compact. I would like a bit more robust knurling on the body though.
User Interface
The MS03 uses a fairly straightforward user interface. Note that given the incredibly high max output, the built-in temperature regulation will adjust the output as necessary as the light heats up.

From OFF:
Single click: Turns On in last memorized mode.
Double click: Turns on in Turbo.
Triple click: Lockout feature (although I recommend you lock out the light physically at the tailswitch)
4 clicks: Turns on in Strobe
Press and hold: Activate or deactivate the LED indicator light below the switch
From ON:
Single click: Turns Off.
Double click: Jumps to Turbo.
Triple click: Nothing.
4 clicks: Jumps to Strobe.
Press and hold: The light will cycle through all of its Low to High modes, in that order. Note that Turbo is not on the main sequence. Releasing the switch will select the desired output level.
Memory Mode:
Yes, the MS03 will remember the last constant-output mode used when you re-activate the light (except for Turbo).
Low Battery Warning:
When turned on, the LED indicator light on the head will flash when the battery voltage drops below 3.0V.
Thermal Control:
According to the manufacturer's specs and reports online, on Turbo/Hi, the light will drop in output to a ~2000 lumen level when the flashlight's body temperature reaches 65 degrees C (and the light will not activate in Turbo mode at this point). For modes other than Turbo/Hi, the temperature regulation set point is apparently set at 55 degrees C.
Reviewer Comments:
The UI is fairly straightforward, if a bit basic. I find it to be quite serviceable and easy to remember. But I wish it had a Moonlight/ultra-low level that could be accessed through a shortcut from Off. That way, you would have access to jump to max or min output from Off, without having to cycle through all the modes once On (or remembering the last mode used).
Circuit Measures
Pulse-Width Modulation (PWM):
There is no sign of PWM on any level, the light appears to be fully current-controlled.
That being said, my oscilloscope was able to detect high frequency noise at every level, as depicted below. Note that these are not a concern, as they are not visible to naked the eye – the light remains flicker free in actual use.
Low:

Middle-Low: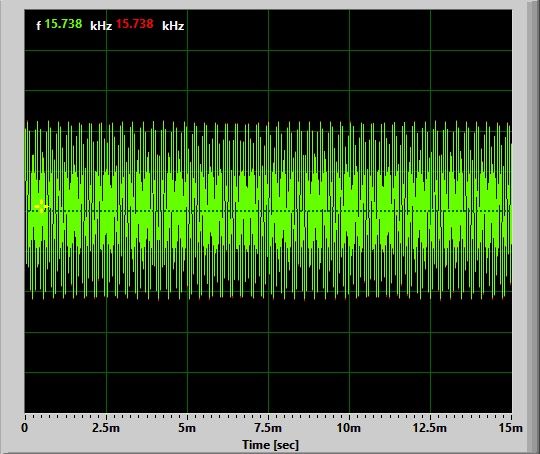 Middle I: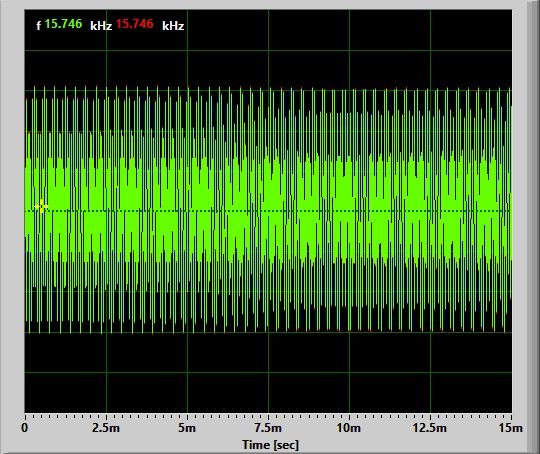 Middle II:

High:

Turbo: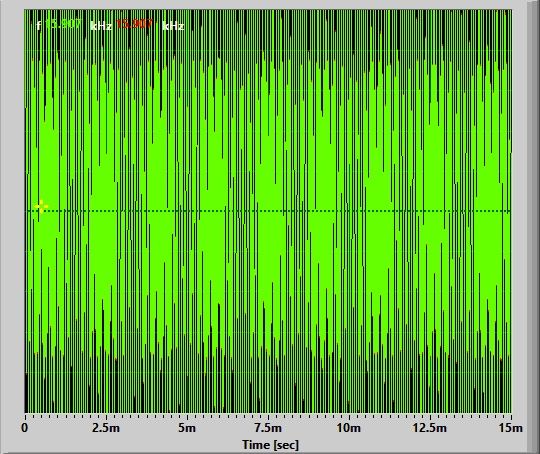 As you can see, the frequency of the noise remains constant at ~15.7-15.9 kHz, but increases in amplitude as output levels rise (which is fairly common, as more light is being emitted). Noise these super high frequencies are impossible to detect visually, and so not a concern. I am just including for completeness, as I like to present all my findings (and it is increasingly common to see these patterns on modern lights).
Strobe:
Strobe frequency is very disorienting, at a super high 19.5 Hz. More than than, there are multiple pulses during each "on" cycle, so it seems even faster in practice.
Resting voltage <3.0V

Resting voltage >3.0V

I measured two distinct charging currents for the 21700's USB-C charging; 1.0A when the cell is heavily depleted (<3.0V resting), at a slight bump to 1.1A once the cell is above >3.0V resting. Two-stage current charging is a common feature for integrated battery chargers on 21700 cells, although the initial charge rate is usually lower. In any case, while not as high as some, this charge rate will charge the cell in a reasonable amount of time.
Standby / Parasitic Drain:
I measured the standby current as 83.5 uA, which is completely negligible and not a concern (i.e., it would take many years to fully drain the cell). Regardless, I always recommend you lock the light out when not in use to prevent accidental activation (and cut any standby drain). A single twist of the tailcap will lock out this light, thanks to the anodized screw threads.
Emitter Measures
This section is a new feature of my reviews, where I directly measure key emitter characteristics in terms of colour temperature, tint, and colour rendition. Please see my Emitter Measures page to learn more about what these terms mean, and how I am measuring them.
As explained on that page, since I am using an inexpensive uncalibrated device, you can only make relative comparisons across my reviews (i.e., don't take these numbers as absolutely accurate values, but as relatively consistent across lights in my testing).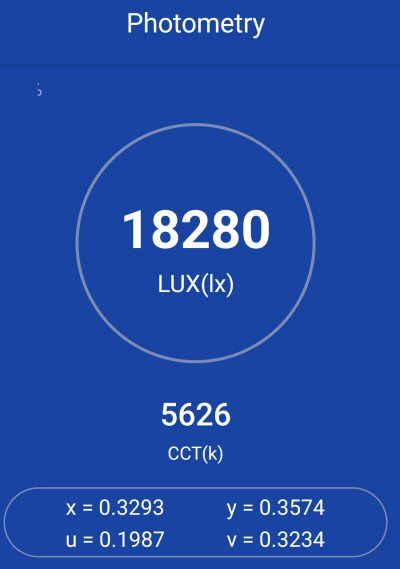 The key measures above are the colour temperature of ~5625K, and the moderately positive tint shift (+0.0095 Duv) to yellow-green at this temperature.
For CRI (Ra), I measured a combined score of 70.
These results are very consistent with cool-white XHP70.2 emitters, and match my visual experience of this light.
Beamshots
All outdoor beamshots are taken on my Canon PowerShot S5 IS at f/2.7, 0.5 secs exposure, ISO 400, daylight white balance. The bend in the road is approximately 40 meters (~45 yards) from the camera. Learn more about my outdoor beamshots here (scroll down for the floody light position used in this review).
Click on any thumbnail image below to open a full size image in a new window. You can then easily compare beams by switching between tabs.
As you can see, Turbo is exceedingly bright. In fact, the Middle II and Hi modes are more in keeping with other high-output lights in this class.
Testing Results
My summary tables are generally reported in a manner consistent with the ANSI FL-1 standard for flashlight testing. In addition to the links above, please see my output measures page for more background.
All my output numbers are based on my home-made lightbox setup. As explained on that methodology page, I have devised a method for converting my lightbox relative output values to estimated lumens. My Peak Intensity/Beam Distance are directly measured with a NIST-certified Extech EA31 lightmeter.

MS03 Testing Results
| Mode | Spec Lumens | Estimated Lumens @0sec | Estimated Lumens @30 secs | Beam Intensity @0sec | Beam Intensity @30secs | Beam Distance @30secs | PWM/Strobe Freq | Noise Freq | Charging Current <3V | Charging Current >3V | Parasitic Drain | Weight w/o battery | Weight with battery |
| --- | --- | --- | --- | --- | --- | --- | --- | --- | --- | --- | --- | --- | --- |
| Low | 150 | 240 | 240 | - | - | - | No | 15.7 kHz | 1.0 A | 1.1 A | 83.5 uA | 120 g | 192 g |
| Middle Low | 800 | 800 | 790 | - | - | - | No | 15.7 kHz | 1.0 A | 1.1 A | 83.5 uA | 120 g | 192 g |
| Middle I | 1,300 | 1,200 | 1,200 | - | - | - | No | 15.7 kHz | 1.0 A | 1.1 A | 83.5 uA | 120 g | 192 g |
| Middle II | 3,000 | 2,800 | 2,750 | - | - | - | No | 15.8 kHz | 1.0 A | 1.1 A | 83.5 uA | 120 g | 192 g |
| High | 8,000-2,000 | 8,000 | 5,950 | - | - | - | No | 15.8 kHz | 1.0 A | 1.1 A | 83.5 uA | 120 g | 192 g |
| Turbo | 13,000-2,000 | 13,200 | 11,050 | 22,300 cd | 17,600 cd | 265 m | No | 15.9 kHz | 1.0 A | 1.1 A | 83.5 uA | 120 g | 192 g |
| Strobe | - | - | - | - | - | - | 19.5 Hz | No | 1.0 A | 1.1 A | 83.5 uA | 120 g | 192 g |
To see full testing results for all modern lights in my testing, check out my Database page.
Runtimes
As always, my runtimes are done under a small cooling fan, for safety and consistency. To learn more about how to interpret runtime graphs, see my runtimes methodology page.
Let's start with a blow-up of the first few mins on max, so that you can see how bright the light is initially.
Believe it or not, it actually seems to reach its rated spec at initiation (or should I say ignition? ;). But after a few secs it does begin to decline in output, at an increasing rate, as you would expect.
Let see how it compares to other lights, on more typical time scales:
The MS03 shows a semi-regulated runtime pattern, similar to the Lumintop D3 above (but with less fluctuations over time). The fluctuations are not a concern, given the timescales involved (i.e., you won't notice the output changing, given how relatively slow it is over our perceptual scales).
Overall efficiency seems pretty good, given the high-drain 4000mAh cell has 20% lower capacity than most other lights batteries shown above. But the it is not as flatly regulated as some of the competition.
Pros and Cons
| Pros | Cons |
| --- | --- |
| Highest max output that I've seen in a compact single-cell light. | Turbo mode drops down quickly, given low thermal mass. |
| Very good efficiency with the bundled battery, with appropriate thermal-controlled step-downs. | Light is not fully regulated in its runtime pattern, and has a very basic interface. |
| Nicely balanced beam profile with lots of throw and spill. | Need to use the bundled high-drain cell for highest output modes. |
| Very compact build. | Lacks a true Lo mode, and has some tint shifting in its beam profile. |
| Included high-drain battery with USB-C charging port. | |
Overall Rating
Preliminary Conclusions
The MS03 lives up to its rated specs – it really does produce 13,000 lumens (although not for long). The bundled high-drain cell is necessary to reach those max output levels, but this is an impressive feat!
Overall efficiency is also very good, considering a lower capacity high-drain cell is bundled with the light. Runtimes appear semi-regulated however, without the flat regulation associated with some of the competition. I am increasingly noticing this with modern lights, as it helps with efficiency (and the slow drop-off over time is not noticeable by eye).
The beam profile is relatively clean, with a nice balance of throw and spill. The reflector is impressive, as I would have expected to see more artifacts in this type of multi-emitter light – this is well-done here. There are some minor tint shifts across the beam profile (consistent with XHP70.2 emitters), but the multi-emitter setup seems to help even them out a bit.
It is an astonishingly tiny light, I can't believe they squeezed all that into such a small body. It also has good weight, with decent heatsinking in the head – better than most other lights in this class. But while the overall build is certainly very decent, it doesn't have quite the hand-feel I would have expected at this price point (e.g., a bit slippery in finish). The light comes with a nice set of accessories though, in a professional looking package.
More disappointing to me is that the lowest output level is ~250 lumens in my testing, so the light lacks any sort of true low mode (not the mention a Moonlight mode, although I appreciate that is not really expected here). The user interface is also very basic, with no way to jump to the lowest levels (i.e., need to cycle through all modes). That is honestly a bit disappointing in a modern light, given that many budget offerings have more sophisticated interfaces nowadays.
There is no question that if you are looking for maximum possible output in as small a build as possible, this is it. Of course, if you don't need the top-of-the-line max output, you might want to take a look at some of the other offerings in this space, to see what best fits your needs in terms of interface and output levels. But there is no denying the MS03 is an incredible feat of engineering, and I really appreciate how Imalent has met its reported specs here.
Acknowledgement
The MS03 was provided for review by Imalent. All opinions are my own however, and the light received the same rigourous and objective testing as all other lights that I have reviewed. At the time of review, this light retails for ~$135 USD (~$180 CDN).
You can purchase this light directly through the imalentstore.com, or through Amazon.