Acebeam E70 Mini
The E70 Mini is a compact every-day-carry style flashlight, with excellent colour rendition, running on an included single 18650 battery. Features a rakish looking design typically associated with custom lights.
Introduction
Following on my review of the E70, this Mini version is the smaller 18650-based model that features 3x Hi CRI Nichia 519A emitters. It really is a miniature version of the same build, right down to the custom 18650 battery with built-in UBC-C charging port.
I had planned to focus on the newer 1×21700 class for these first new reviews, but I couldn't resist this Mini model once I heard about those 3x Nichia 519A emitters. I figured that was worth a look. Let's see how it compares.
Manufacturer Specifications
Note: as always, these are simply what the manufacturer provides – scroll down to see my actual testing results.
| Feature | Specs |
| --- | --- |
| Maker | Acebeam |
| Model | E70 Mini |
| Emitter | 3xNichia 519A |
| Tint | 5000K (Hi CRI>90) |
| Max Output (Lumens) | 2,000 |
| Min Output (Lumens) | 12 |
| Max Runtime | 100 hrs |
| Max Beam Intensity (cd) | 5,875 cd |
| Max Beam Distance (m) | 153 m |
| Mode Levels | 6 |
| Flashing | Strobe |
| Battery | 1x18650 |
| Weight (w/o battery) | 72 g |
| Weight (with battery) | 120 g |
| Length | 111 mm |
| Head Diameter | 26 mm |
| Body Diameter | 23.4 mm |
| Waterproof | IP68 2m |
Package Details
The E70 Mini is shipped in the same kind of cardboard display box as the E70. Inside, you will find the following:
Acebeam E70 Mini flashlight, with attached clip (Torx screws)
Lanyard
Pouch
18650 battery
USB-C charging cable
Extra o-rings
Warranty card,
Manual
It's a good package of accessories, identical to its larger sibling.
Build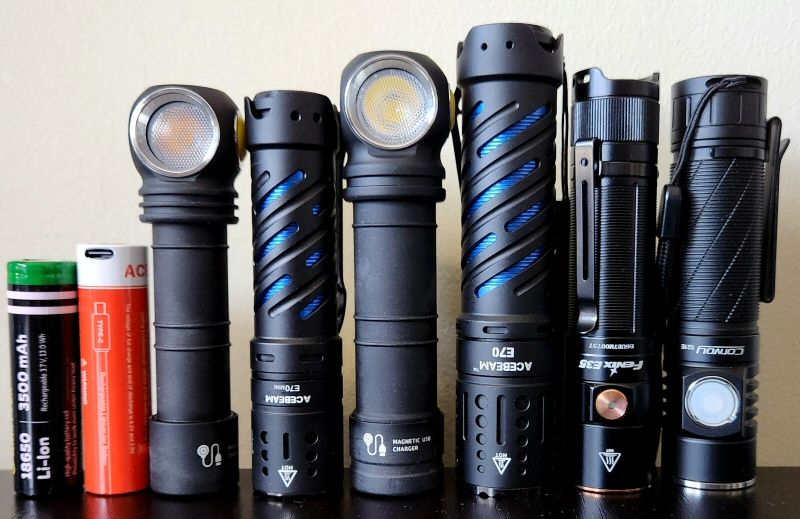 From left to right: ArmyTek 18650 (3500mAh), Acebeam 18650 (3100mAh), Armytek Wizard Pro Nichia (18650), Acebeam E70 Mini (18650), Armytek Wizard C2 Pro Max (21700), Acebeam E70 (21700), Fenix E35 v3 (21700), Convoy S21E (21700).
This is a compact version of the E70 in every way – shorter, thinner, and quite a bit lighter.
As with its larger sibling, the E70 Mini is double-walled, with the inner wall an electric blue colour (visible through the slanted cut-outs along the outside wall). While the extra wall thickness and larger head make this light a little larger than most in the 1×18650 class, it is more compact that the typical 1×21700 light.
The rear switch is electronic in nature, with a stainless steel switch cover. Feel and traverse of the switch is good, and easy to activate even if you don't hit it dead-on. Thanks to the raised tail cut-outs, the light can still tailstand stably. I found the design and interface very easy to use in my testing.
The light lacks traditional knurling, but the cut-outs in the exterior wall produce the same basic effect, along with circular indents on the head. A very rakish design. Note that this double-walled design does produce a certain "hollow" feel when you tap on it, but that's a minor point.
The pocket clip is firmly attached, and helps further with grip. It is not reversible, and can only be used for downward carry.
Hard anodizing looks to be good quality (as is typical for Acebeam), and is more on the matte side (which I personally prefer, not a fan of glossy lights). Threads are anodized, so you can lock out the light by a twist of the head.
The light lacks a USB-C charging port on the body, but there is one built into the bundled 18650 battery. There is a charging LED on the battery. Note that given the extra length of these batteries, you may have issues with older style ones making good contact (especially flat-top designs). But all of my old button-top 18650s work just fine in this light, so I think that risk is negligible.
The light uses 3x Nichia 519A 5000K (Hi CRI >90) emitters, under a triple TIR optic. This produces a very nice neutral white tint with excellent colour rendition. Beam pattern is somewhat spot-like, with a fainter spillbeam (scroll down for beamshots). It's a surprisingly smooth and even spotbeam, with relatively mild artifacts only around the edge of the dimmer spillbeam. There is none of the tint shifting I noticed on the larger E70 (due to its XHP70.2 emitter and lens AR coating).
The bezel has small scalloped crenelations on it, so you can tell if the light is on when head-standing. I haven't tried using it as a weapon, but I imagine it would be unpleasant to be struck with the business end of this light.
Overall, I find this to be a good looking light with very good ergonomics and a good beam pattern. It fits comfortably in the hand.
User Interface
The E70 Mini uses a single tail-mounted electronic switch to control the flashlight. Available constant output modes, as per the manufacturer labels, are: Ultralow (which I will refer to as Moonlight throughout this review), Low, Med1, Med2, Hi, Turbo. There is one blinking mode outside the main sequence: Strobe. User interface is identical to the E70.
From OFF:
Press and hold: Moonlight (release after light activates to maintain Moonlight)
Single click: Nothing
Double click: Turns on in last mode used
Triple click: Strobe
5 clicks: Activates lockout mode. Note the light will activate in Moonlight for ~3 secs, then flash three times, turn off and lock itself out. Press and hold 3 secs to disable lockout (or loosen-tighten the tailcap)
From ON:
Press and hold: Cycles through all the modes from Low to High (note that Turbo and Moonlight are not part of the main cycle)
Double click: Turbo (and a repeated double-click returns you to the previously used mode)
Triple click: Strobe
Shortcuts:
To Turbo: Double click from On to enter Turbo (or double-click twice from Off)
To Moonlight: Press and hold from Off
To Strobe: Triple-click from either On or Off
To Lockout: Press and hold the switch for more than 5 secs. Press and hold 3 secs to disable (or loosen-tighten the tailcap)
Mode memory:
Yes. The light remembers the last constant output used, and returns to it next time you turn on it (with the exception of Moonlight and Turbo).
Low battery warning:
No.
Reviewer Comments:
As before, I find this to be a decent enough interface, except for the need to double-click to turn on. Still, it isn't too hard to remember this little quirk, and the worst thing that will happen is the light won't come in with a single click (although you are forgoing the option of an extra shortcut this way). Alternatively, a press and hold will activate in Moonlight, and you can always cycle through to the main modes from there.
Note that Turbo requires a double click to enter (and only from On), and ramps down automatically after about a min or so (scroll down for runtimes). But see below for my comments on the new "Ultralow" mode that has replaced Moonlight on this model (see Testing Results for more info).
Circuit Measures
Pulse-Width Modulation (PWM):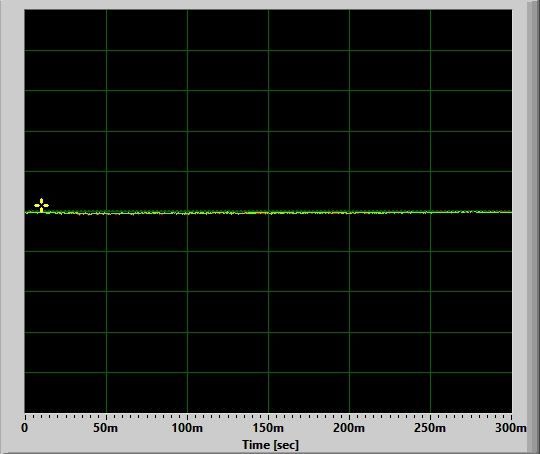 As before, there is no sign of PWM or circuit noise at any level. The light appears to be fully constant-current controlled. 🙂
Strobe: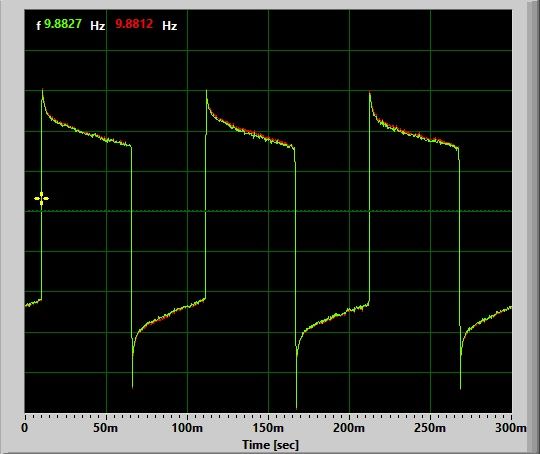 Strobe frequency is a fast 9.9 Hz. Fairly disorienting.
Resting voltage <3.0V

Resting voltage >3.0V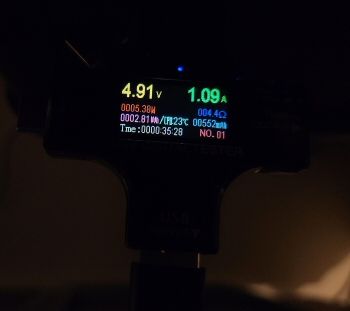 The Acebeam 21700 battery shows an initial low USB-C charging current of 0.08A when the cell is heavily depleted (<3.0V resting), which jumps up to 1.1A once the cell is >3.0V resting. This two-current charging is a good design, and indicates a safe integrated charging circuit. The max charging rate is also very reasonable for a 186500 battery (better than the lower current E70 model).
Standby / Parasitic Drain:
I have recently re-tested the standby current with an improved setup, and measured 59 uA.
This is quite low, and not a concern in practice (i.e., it would take 6 years to fully drain the battery). Still, I suggest you lock the light out when not in use to prevent accidental activation and completely cut this standby drain. A single twist of the head will lock out this light, thanks to the anodized screw threads.
Emitter Measures
This section is a new feature of my reviews, where I directly measure key emitter characteristics in terms of colour temperature, tint, and colour rendition. Please see my Emitter Measures page to learn more about what these terms mean, and how I am measuring them.
As explained on that page, since I am using an inexpensive uncalibrated device, you can only make relative comparisons across my reviews (i.e., don't take these numbers as absolutely accurate values, but as relatively consistent across lights in my testing).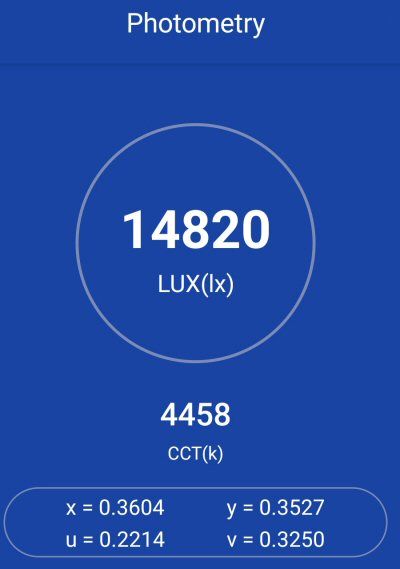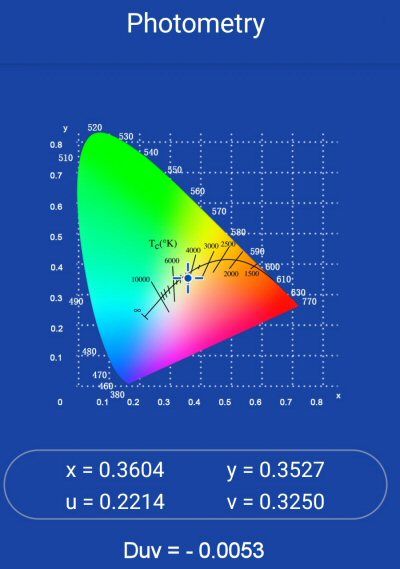 The key measures above are the colour temperature of ~4460K, and the moderately negative tint shift (-0.0053 Duv) to rose at this temperature.
For CRI (Ra), I measured a combined score of 95.
These values seem reasonable for neutral-white tinted Nichia 519A emitters (which tend toward negative Duvs in my experience), and match my visual experience of this light.
To give you an idea of the range across output levels, I measured Turbo mode as a CCT of ~4600K which dropped consistently down to the Ultralow mode of ~4400K. Duvs fluctuated mainly from -0.0053 to -0.0065 with no real pattern (with an unusually low reading of -0.0075 on Turbo).
Beamshots
All outdoor beamshots are taken on my Canon PowerShot S5 IS at f/2.7, 0.5 secs exposure, ISO 400, daylight white balance. The bend in the road is approximately 40 meters (~45 yards) from the camera. Learn more about my outdoor beamshots here (scroll down for the floody light position used in this review).
Click on any thumbnail image below to open a full size image in a new window. You can then easily compare beams by switching between tabs.
Here is an earlier pic I did last fall, of the larger model E70 in this location:
It is an interesting beam pattern; a very even spotbeam effect, with dimmer secondary spill. I find I quite like it. You can't really notice the mild multi-emitter artifacts in the spillbeam in practice.
Testing Results
My summary tables are generally reported in a manner consistent with the ANSI FL-1 standard for flashlight testing. In addition to the links above, please see my output measures page for more background.
All my output numbers are based on my home-made lightbox setup. As explained on that methodology page, I have devised a method for converting my lightbox relative output values to estimated lumens. My Peak Intensity/Beam Distance are directly measured with a NIST-certified Extech EA31 lightmeter.

E70 Mini Testing Results
| Mode | Spec Lumens | Estimated Lumens @0sec | Estimated Lumens @30 secs | Beam Intensity @0sec | Beam Intensity @30secs | Beam Distance @30secs | PWM/Strobe Freq | Noise Freq | Charging Current <3V | Charging Current >3V | Parasitic Drain | Weight w/o Battery | Weight with Battery |
| --- | --- | --- | --- | --- | --- | --- | --- | --- | --- | --- | --- | --- | --- |
| Ultralow | 12 | 14 | 14 | - | - | - | No | No | 0.08 A | 1.1 A | 1.39 mA | 71 g | 124 g |
| Low | 60 | 85 | 85 | - | - | - | No | No | 0.08 A | 1.1 A | 1.39 mA | 71 g | 124 g |
| Med1 | 170 | 240 | 240 | - | - | - | No | No | 0.08 A | 1.1 A | 1.39 mA | 71 g | 124 g |
| Med2 | 380 | 440 | 430 | - | - | - | No | No | 0.08 A | 1.1 A | 1.39 mA | 71 g | 124 g |
| High | 900-600 | 1,000 | 950 | - | - | - | No | No | 0.08 A | 1.1 A | 1.39 mA | 71 g | 124 g |
| Turbo | 2,000-600 | 2,300 | 2,150 | 6,020 cd | 5,670 cd | 151 m | No | No | 0.08 A | 1.1 A | 1.39 mA | 71 g | 124 g |
| Strobe | 1,000 | - | - | - | - | - | 9.9 Hz | No | 0.08 A | 1.1 A | 1.39 mA | 71 g | 124 g |
While the output levels are generally pretty well spaced, I'm disappointed to see the lack of a true Moonlight mode now (i.e., the "Ultralow" minimum output mode is much higher than Moonlight on the E70 model). I'm guessing they weren't able to produce a true moonlight with the multiple emitter setup (i.e., there's probably a boost driver in there now, which can help for runtime and regulation, but which can also limit both high and low levels).
At 71g/124g (without/with battery), the E70 Mini is noticeably lighter than the E70, which weighed in at 101g/175g in my testing.
To see full testing results for all modern lights in my testing, check out my Database page.
Runtimes
As always, my runtimes are done under a small cooling fan, for safety and consistency. To learn more about how to interpret runtime graphs, see my runtimes methodology page.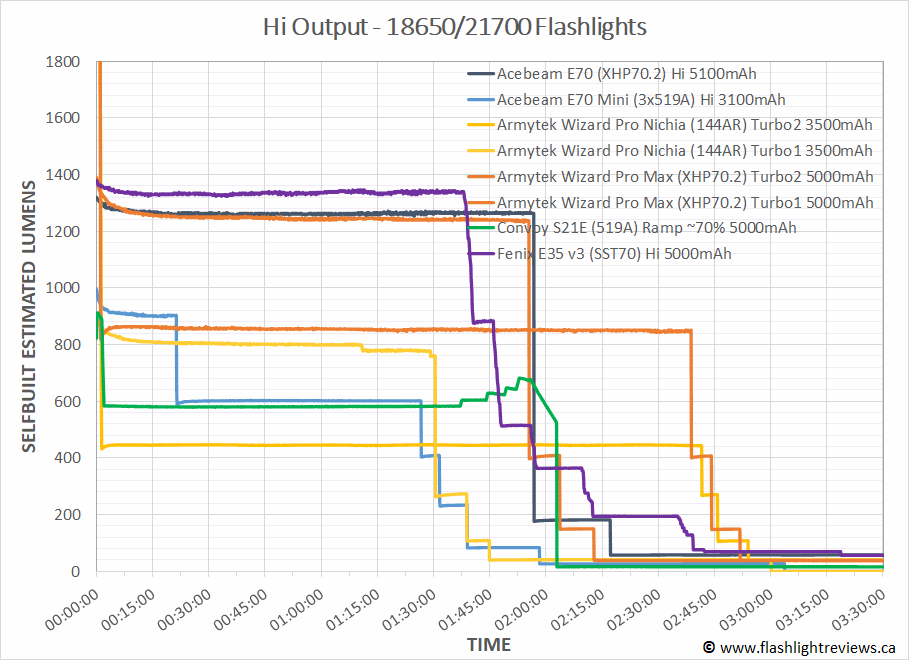 And here's a blow-up of the first few mins of the E70 Mini on Turbo/Hi, so you can see the initial Turbo step-down better.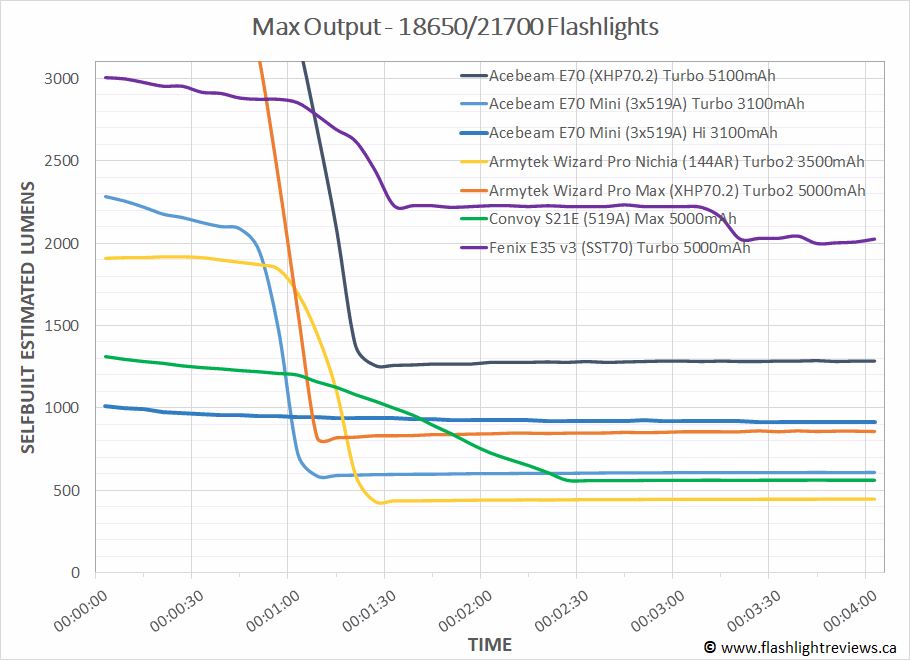 The E70 Mini shows very good efficiency and regulation at all levels tested, consistent with its sibling and other good current-controlled circuits. It also seems to accurately step-down (at Turbo/Hi) to a ~600 lumen level after a certain period of time (i.e., 1 min and 21.5 mins, respectively).
The use of multiple 519A emitters appear to be a bit less efficient than the single Nichia 144AR in the competing Armytek Wizard Pro Nichia, but its hard to say for certain given the larger battery capacity of that light. Regardless, this is very good performance on the E70 Mini.
Pros and Cons
| Pros | Cons |
| --- | --- |
| Very good current-controlled efficiency, with stable regulation in all modes. | Double-click to turn on is unusual, but easy enough to remember. |
| Multiple Hi CRI emitters, with a very clean beam. | Standby drain higher than typical, leading to a rapid draining of the battery. |
| Compact and comfortable to hold in the hand. | Lacks a true Moonlight mode now. |
| Included high-capacity battery with USB-C charging port. | |
In comparison to the E70, the smaller size here is likely to be a plus for many. Both lights have great beams for their classes, but I prefer the E70 Mini for its neutral tint and lack of the spillbeam tint shifing. But the E70 Mini unfortunately lacks the Moonlight mode now.
Overall Rating
Preliminary Conclusions
I was initially hoping this light would actually would go up in rating from my E70 review, given some of the relative benefits here – namely the more compact size, higher charge rate, and improved beam pattern with higher CRI. But the lack of a true Moonlight mode now (or even a really low low) really knocks down the value of this light as an all-purpose EDC (i.e., every day carry).
The beam pattern is distinctive, with its defined spot and dimmer spillbeam. It is frankly lovely, as there are (impressively) no artifacts in the spotbeam, and a very even tint throughout. A great job on the spotbeam TIR optic – I see these have come a long way from my earlier reviewing days. And the ~5000K is right up my alley for a preferred colour temperature.
Everything else about this light is consistent with my review of the E70. I find it to be a great looking light, and it is very comfortable to hold and operate. Another improvement over the E70 is the faster charge rate of the bundled 18650 cell, in keeping with most chargers of this class.
Another great light to consider in the rechargeable compact class of modern flashlights. If it weren't for the missing Moonlight mode (less than optimal UI) this would be a 5 star light.
UPDATE May 11, 20223: I originally reported an unusually high parasitic standby drain on my sample, as I was getting inconsistent readings and so went with the highest value. I've upgraded my DMM leads and more carefully masked off the surfaces, and am pleased to report much more reasonable (and inconsequential) drain levels consistent with the competition.
Acknowledgement
The E70 Mini was provided for review by Acebeam. All opinions are my own however, and the light received the same rigourous and objective testing as all other lights that I have reviewed. At the time of review, this light retails for ~$70 USD (~$105 CDN).
Acebeam is making available a discount code for readers of my reviews. If you purchase the light from the Acebeam.com website, you can use the code "selfbuilt" (without the quotation marks) for 10% off.