The D4K is a multi-emitter Hank light built for general purpose use, and running on a single 21700 battery. It features a wide range of customizable options, and uses the sophisticated Anduril user interface.
Introduction
Upon my return to reviewing this year, it became very clear that "Hank lights" have a huge following. The individual models are known commercially under the Emisar or Noctigon name, and can be purchased directly from Hank's site at intl-outdoor.com.
The thing to understand about the individual models is that there really isn't an off-the-shelf or "stock" version of a Hank light. Rather, any given model (and there many, in different form factors) is available with a wide range of options that you can select from – including emitters, circuits, button colours, optics, etc.. So all lights are effectively custom-built, within the range of the form factor.
Hank also uses the latest implementations of the open-source Anduril user interface. Taken together, this all points to the fact that these lights are primarily intended for flashaholics who understand what they are looking for. It is basically an opportunity to get a largely custom light assembled and shipped relatively quickly and cheaply.
Having reviewed a number of Anduril-equipped lights from more mainstream makers, I was curious to see how it would perform in a light specifically designed to take advantage of it. I'll get into the details of my selected build below, but this is probably the best opportunity to take maximal advantage of the Anduril feature set. Indeed, the creator of Anduril, Selene (aka ToyKeeper) specifically recommended the D4K and D1 to me as good models to start with.
First up in this review is the quad-emitter, 1×21700 Emisar D4K. Scroll down for my specific configuration. I'm excited to see how it performs in my testing.
Manufacturer Specifications
Note: as always, these are simply what the manufacturer provides (although in this case, specific to my custom specs). Scroll down to see my actual runtimes.
| Feature | Specs |
| --- | --- |
| Maker | Emisar |
| Model | D4K |
| Emitter | 4xNichia 519A dome on |
| Tint | 4500 K CRI>90 |
| Max Output (Lumens) | 3,800 (FET) |
| Min Output (Lumens) | - |
| Max Runtime | - |
| Max Beam Intensity (cd) | - |
| Max Beam Distance (m) | - |
| Constant Levels | 150 |
| Flashing | 6 |
| Battery | 1x21700 |
| Weight (w/o battery) | - |
| Weight (with battery) | 58 g |
| Length | 103 mm |
| Head Diameter | 28 mm |
| Body Diameter | 26.5 mm |
| Waterproof | IP67 1m |
Again, you can select other options here if you wish.
Package Details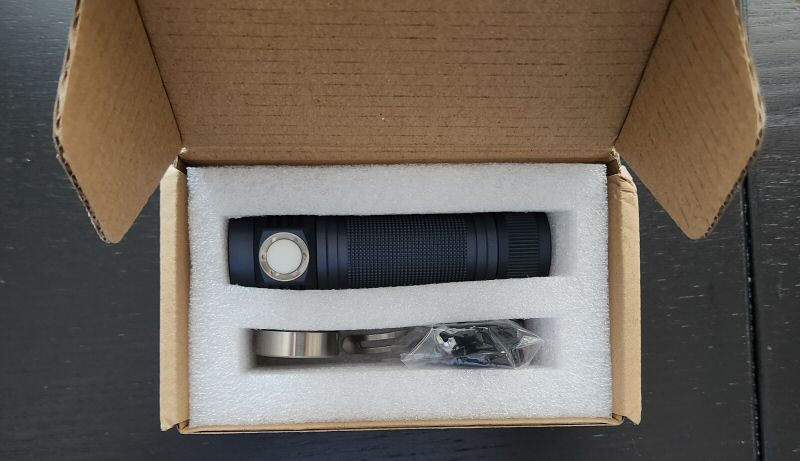 The packaging for Hank's lights is fairly basic – a cardboard box with some hand-written description of the features selected. Inside is some cut-out foam holding the light and your extras. Here is what I selected, reflected in the package above:
D4K in Dark Grey
Flat threaded switch ring
Cool White switch backlight
LEDs: 519A 4500K with dome on
Standard optic
Optional boost driver
Optional steel bezel (comes with one spare large o-ring)
Optional pocket clip
All lights also come with:
Wrist lanyard
2 Spare body tube o-rings
Hank provides a lot of emitter and switch options. I choose the 519A 4500K dome-on to better match some of the other lights I've tested (there are plenty of de-domed options to consider as well). The cool white switch backlight can be used as a fairly bright "moonlight" (there are plenty of other options available here as well).
The boost driver was a key selection for me. I've tested many budget lights running Anduril that lack a boost driver (i.e., just running a basic linear driver, like FET). That translates into a fairly quick drop-down to a relatively low output level – with a "noisy" regulation pattern followed by a slow unregulated drop-off. With a good boost driver, you should be able to sustain better regulated runtimes, and at higher thermally sustainable brightness levels. However, the trade-off is typically lower dynamic range (i.e., lower highs and higher lows). Given how quickly (and how low) FET-based Anduril lights drop-off, I think that's a reasonable trade-off for higher regulated outputs with a good boost driver. And for once I don't mind risking the loss of the lowest modes, as the switch light (which can be independently controlled with Anduril) can serve as an effective "Moonlight" mode in its own right.
To see the difference between the D4K with boost driver and other Anduril-based lights with simple linear drivers, check out my discussion in the Runtimes section of this review.
Build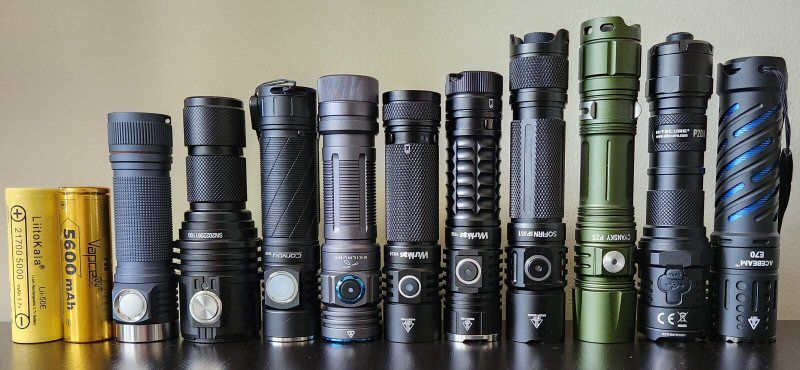 From left to right: LiitoKala 21700 (5000mAh), Vapcell 21700 F56 (5600mAh), Emisar D4K, Imalent MS03, Convoy S21E, Skilhunt M300, Wurkkos WK15, Wurkkos TS22, Sofirn SP35T, Cyansky P25, Nitecore P20iX, Acebeam E70.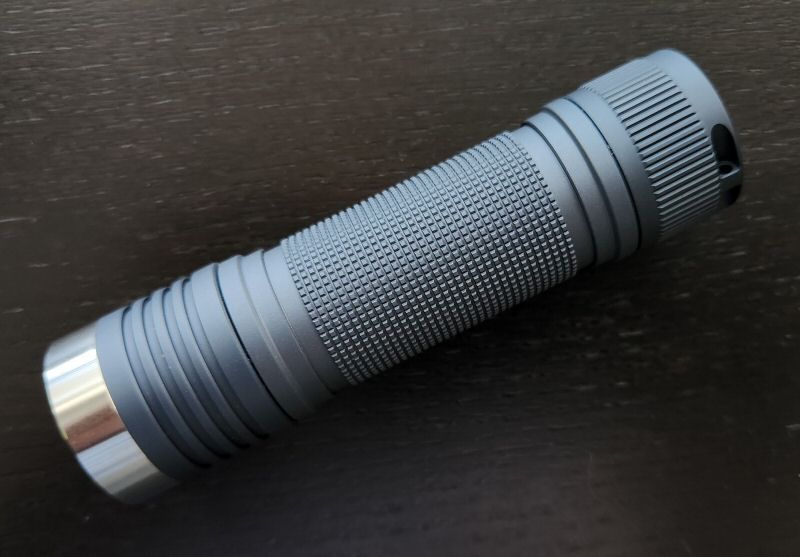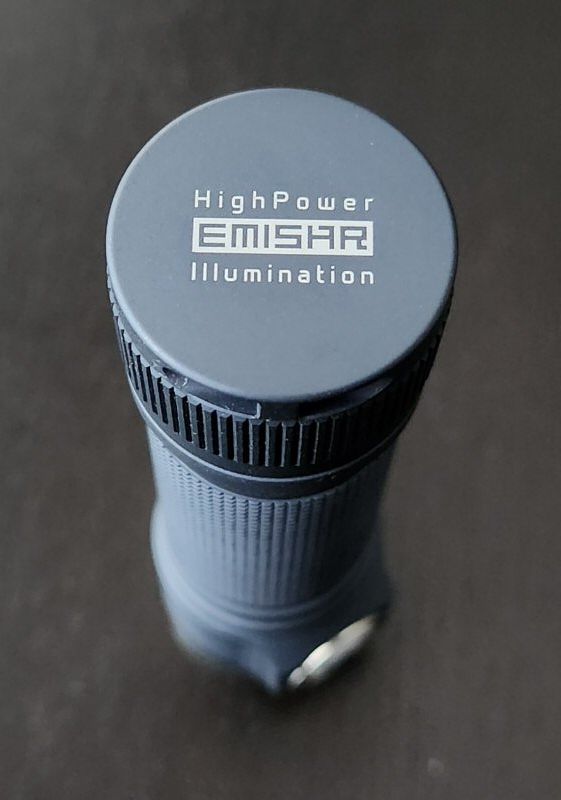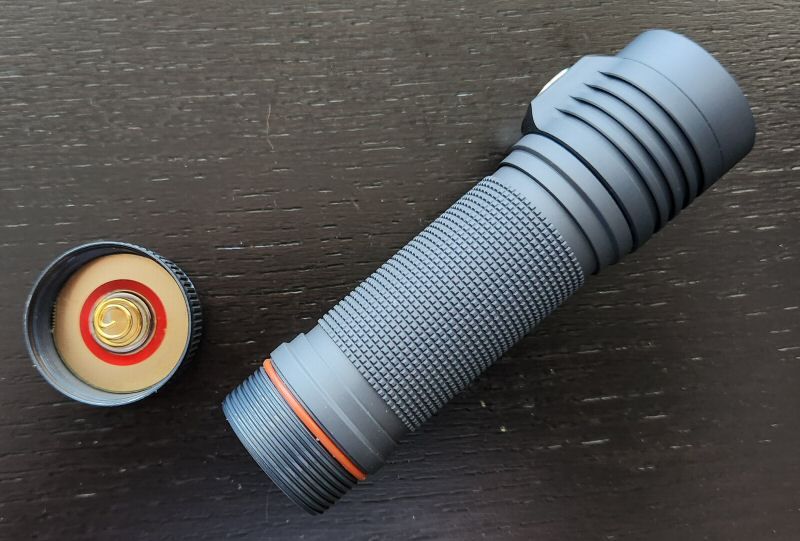 To start, I opted for the stainless steel bezel because I find the these enhance the  structural stability of the light. Aluminum is a great material to hold (or work with), but it is rather soft – to better protect the head from falls, etc., I prefer stainless steel.
The stainless steel pocket clip is another great option, as the body tube allows placement near the head or the tail of the light (for stable head-up or head-down carry). I didn't opt for the tailcap magnet, but that's a good option if you are considering using the light as a work light.
The light is controlled by an electronic side switch in the head, with a somewhat transparent rubberized cover. Feel and traverse of the electronic switch is good, with a firm click and typical traverse. There are a lot of options for the switch emitter LED, and I opted for cool white here (assuming it would produce max output). As you will see in my upcoming review of the D1, I opted for the multi-colour RGB LED option on that light.  Although set to off by default, you can configure the auxillary LEDs and the switch LEDs through Anduril to light up when a battery is connected (at two different intensities). See the user interface section below for more information.
I also went for the flat threaded switch ring, as I was worried the raised model might catch on clothing, etc. It is still easy to find the switch by feel, if you are leaving the standby indicator off.
The tailcap is perfectly flat, so the light is able to tailstand fairly stably. There is a small cut-out on the side for the simple wrist lanyard.
Tailcap threads are square-cut and anodized, with good feel – at both ends of the battery tube. Note there was no lubrication anywhere on the samples I received, so I recommend you add a good non-conducting lube for both the o-rings and the threads. I also always recommend you keep the light stored locked out when not in use. Thanks to the anodized tailcap threads, you can do this easily by a simple twist of the tailcap.
With the o-rings in place, I expect waterproofness to be good.
There is a stiff cylindrical spring in the head, along with a fairly thick conical tail spring. Resistance is high, so be careful about using longer cells in this light – you may dent the cell (or circuit board) if you use overly long cells. Note that Hank advises uprotected, flat top batteries only.
Unlike almost all the other lights I am reviewing these days, there is no built-in charger for batteries on the Emisar/Noctigon lights (or any bundled branded cells either). In keeping with the audience of flashlight enthusiasts, the assumption is that you have your own batteries and chargers on hand.
Knurling is not particularly aggressive – it is really more of a fine checkered or line pattern. It does feel a bit more grippy than most lights I've handled these days, which typically seem to be a bit smooth. Combined with the ridge detail, I would say overall grip is pretty good. Note that the light can roll, but the switch button cover helps limit this. Anodizing looks to be good quality (for presumed type II, give the colour range), with no damage on my sample. I would describe the finish as matte.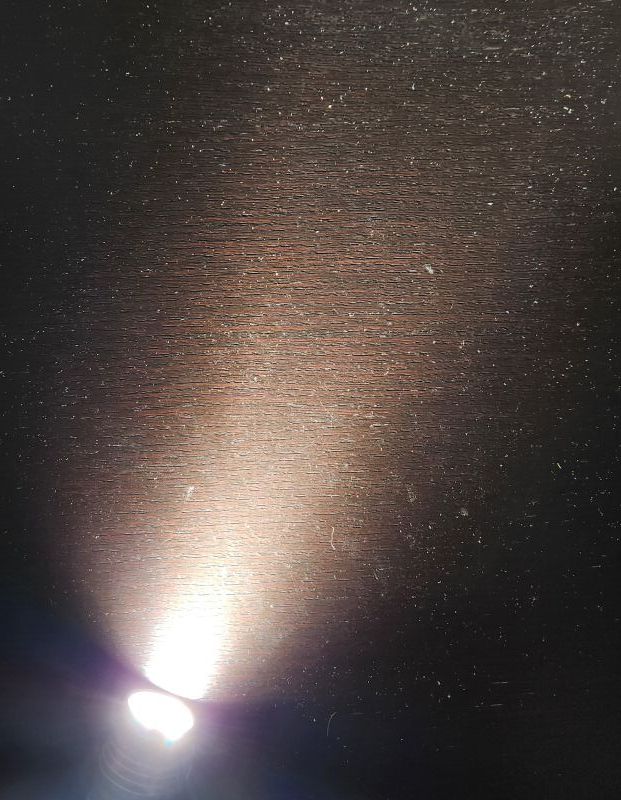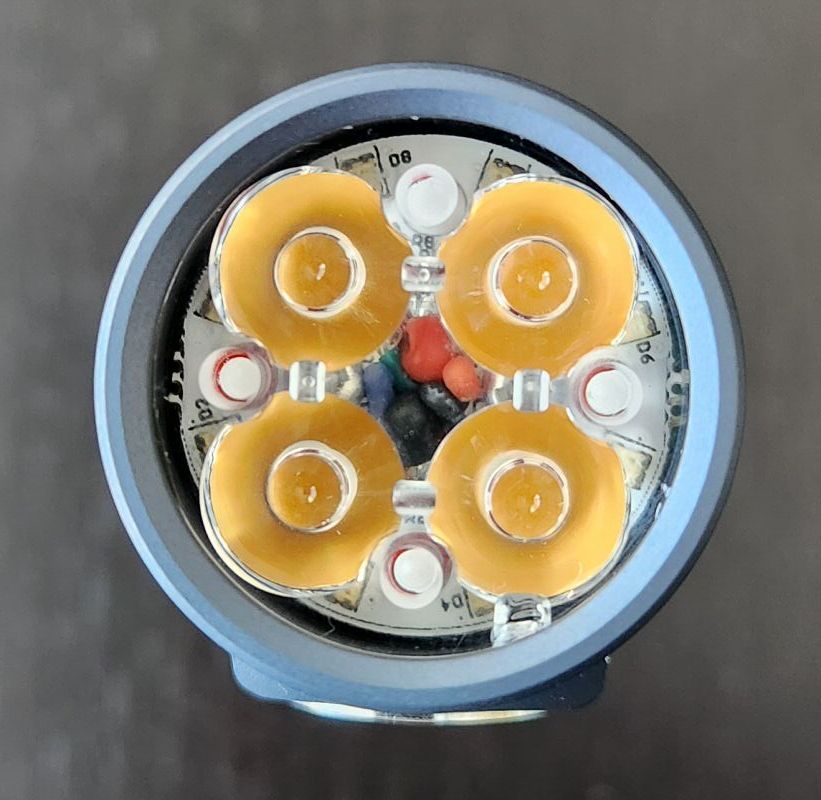 I opted for the standard optic, since I expect this should produce a decently floody beam with the quad-519A emitters (dome on). It doesn't show up well in my desk shot above, but the beam is indeed very broad and floody. Scroll down for actual outdoor beamshots. There is a slight greenish-tint AR coating on the lens.
One interesting feature of the circuit board is that there are actually 8 additional secondary multi-colour RGB emitters built-in here. These can be turned on and controlled just like the auxillary switch LED in Anduril.
Here is what they look like on the high output AUX setting, in sequence: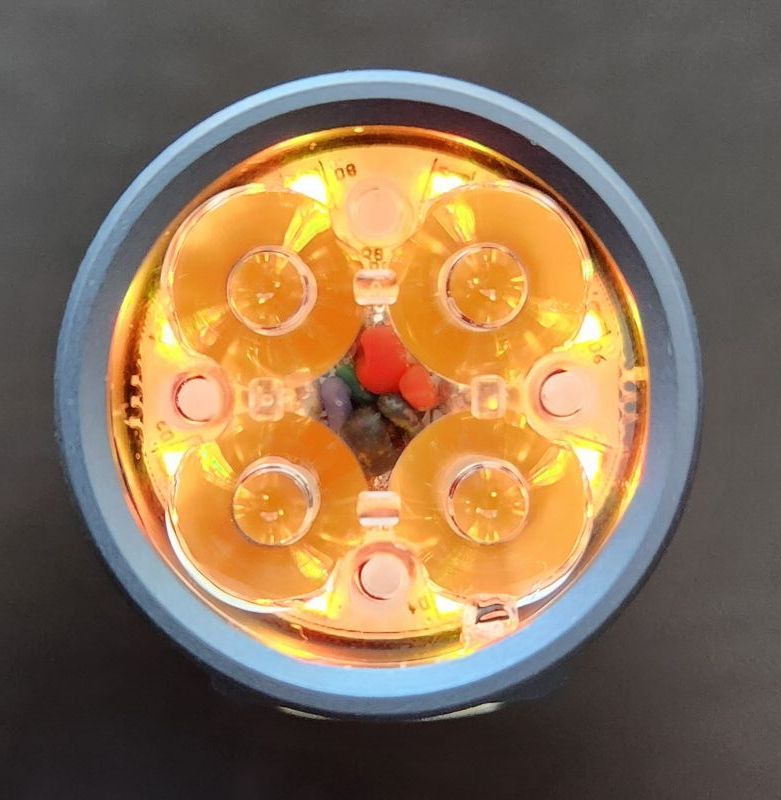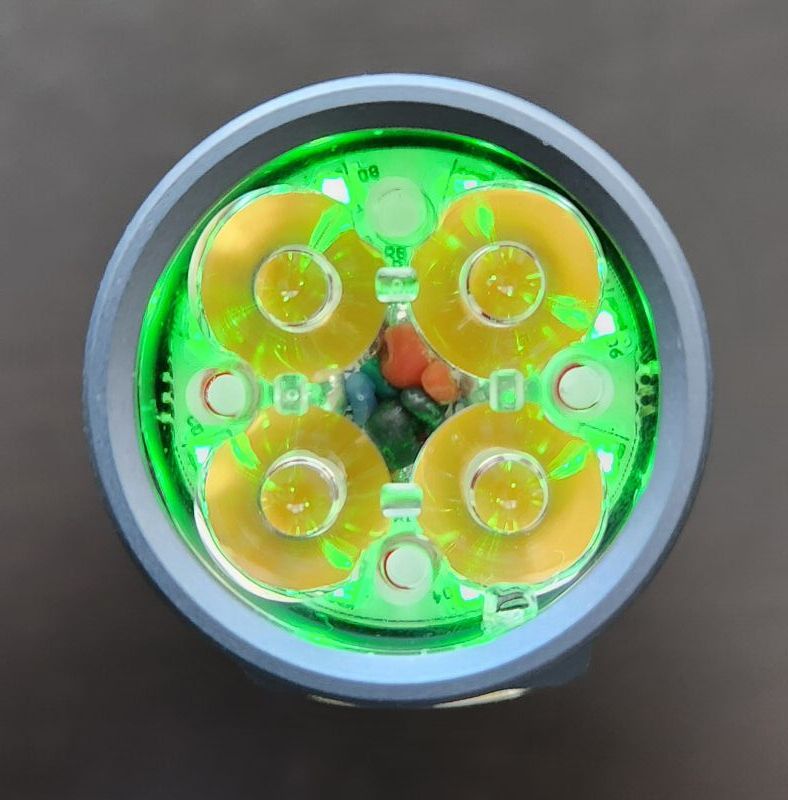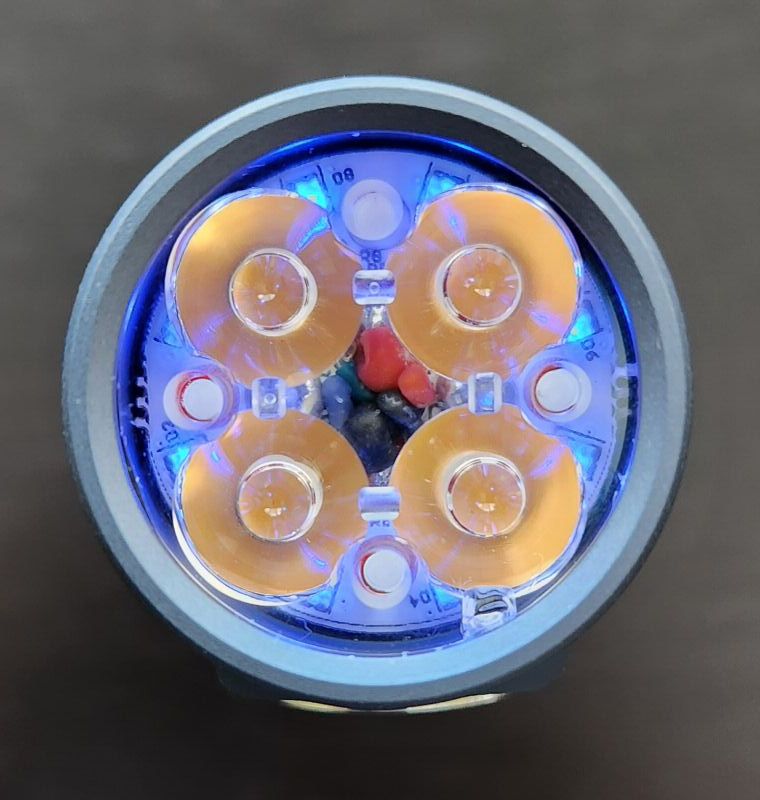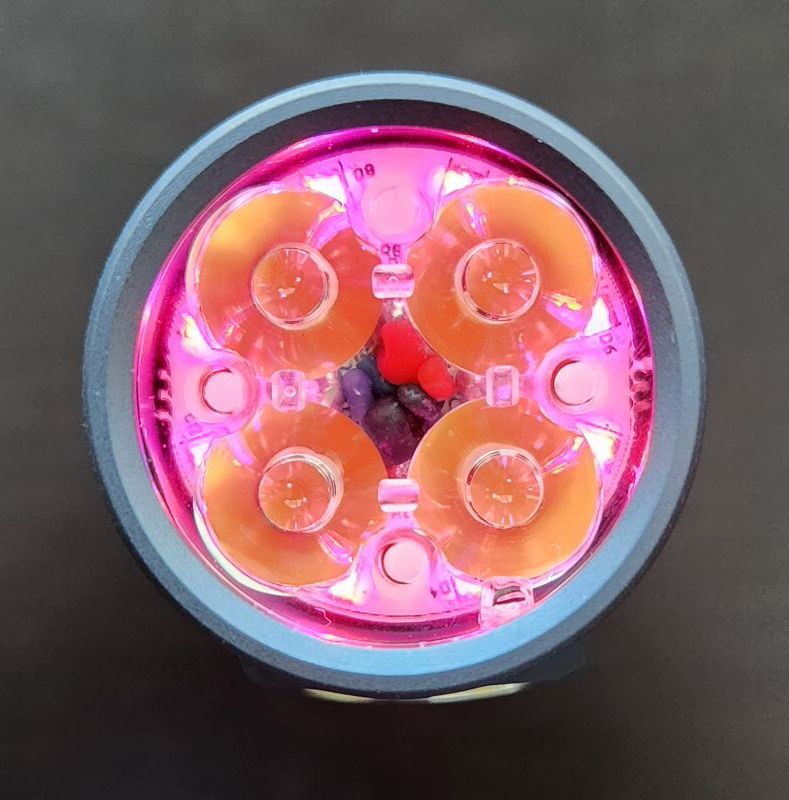 You can configure the AUX LEDs to select an individual colour, or have it cycle through all colours, or reflect the battery voltage visually. You can turn these on at one of two intensities, or flash, or leave off. The AUX LEDs are linked to the side switch LEDs, so setting changes apply to both. But of course the RGB features are limited to the AUX emitters (unless you also get RGB under the switch too, in which case they would be synchronized).
In my handling, I find the High level for the AUX/Switch LEDs is surprisingly bright – and the Low level is surprisingly low (scroll down for specific output measures). In fact, the white LEDs on the side switch on Low are virtually impossible to see except in complete darkness, and the AUX LEDs are very dim (so dim that they don't register in my lightbox). Here are a couple of pictures showing both switches in ambient room light on an overcast day, first on High and then Low: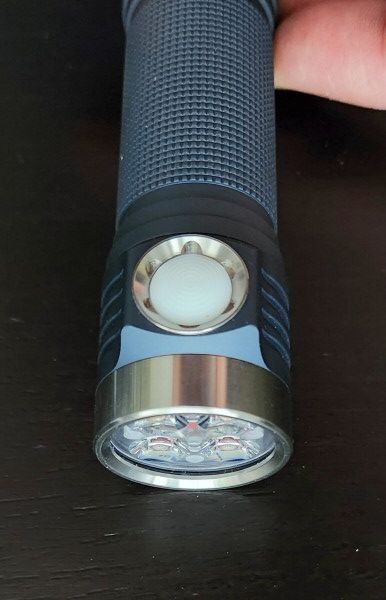 As you can tell, it doesn't even look like the switches are on in the Low setting. But here are a couple of pictures in the dark, again on Hi and then Lo: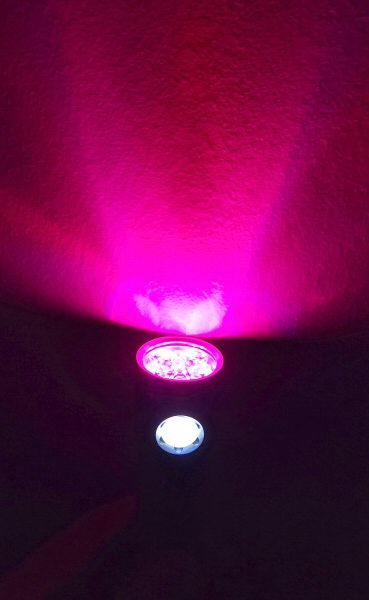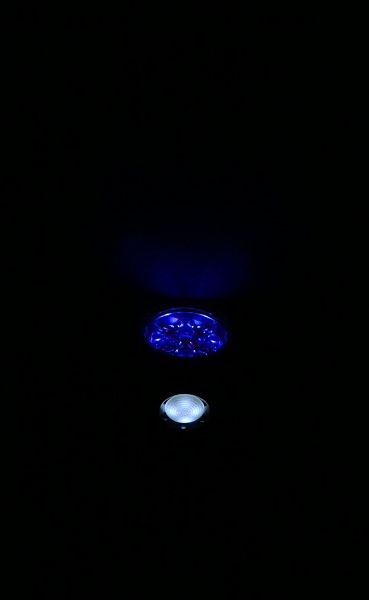 It's not exactly a perfect comparison, as I'm using my cell phone camera's auto-adjust, but this gives you a general idea of the significant difference between the modes. Scroll down for current draws and output measures, where possible.
User Interface
As mentioned above, the D4K uses the open-source Anduril 2 user interface (UI). Anduril has two distinct UIs mode sets: Simple and Advanced. The labels are a bit misleading, as both are fairly sophisticated – it is just that the Advanced UI has a lot of extra options not available on the scaled-down Simple UI. Both UIs have the option for a discrete Stepped level mode, in addition to the continuously-variable Smooth Ramping mode.
To switch from the default Simple UI to Advanced UI, you need to do 10 clicks from Off with a hold on the 10th click (10H), with 10 clicks (10C) to return to simple UI. Advanced UI has a lot more options available. It's easier to show the UIs rather than explain them in words, so here is a helpful pic:
You can also download a plain text-based manual from Anduril creator Toykeeper, or a more interactive one with version control here.
This implementation of Anduril 2 has eight discrete Stepped levels, which I've numbered in this review as L1 through L8 (with L1 being the lowest level, and L8 being Turbo).
According to the firmware Version Check, my D4K sample is model 0273. Full info is 2022-10-21-02-73 (version code is Year-Month-Day the firmware was compiled, followed by a 2-digit brand ID and 2-digit product ID).
Again, check the image and link above for more info, but here is a simplified description of the UI to get you started.
From OFF:
Press-and-hold (1H): Turns On in lowest output, in either Ramping mode or Stepped mode depending on which mode is enabled (and which UI you are in)
Single-click (1C): Turns on in last memorized mode used (Ramping or Stepped)
Double-click (2C): Turns on to Turbo (aka the Ramping max output)
Triple-click (3C): Battery check (voltage read out a single time) and basic flashing/strobe modes.
Triple-click-and-hold (3H): Special strobe modes, but only when in Advanced UI (remembers last strobe mode used)
4 clicks (4C): Lockout mode. In lockout mode you have different options available:

Press-and-hold (1H): Momentary Moonlight
Double-click-and-hold (2H): Momentary Low
4 clicks (4C): Turns On in memorized output level
4 clicks and hold (4H): Turns On in the lowest level
5 clicks (5C): Turns On in Turbo
10 clicks and hold (10H): Configure the lock timeout threshold (in Advanced UI only), allowing you to pre-set the timeout time of the lock.

7 clicks (7C): (Advanced UI only) Enters AUX/Button LED config for the next mode. There are four modes you can switch between; constant low, blinking low, off, constant hi. Click 7 times again to advance to the next option, in sequence. The light auto-memorizes the last option you select.
7 clicks-and-hold (7H): (Advanced UI only) Enters AUX/Button LED config for the next colour. The colours follow the sequence: Red, Yellow (Red+Green), Green, Cyan (Green+Blue), Blue, Purple (Blue+Red), White (Red+Green+Blue), Disco (fast random colors), Rainbow (cycles through all colors in order more slowly), and Voltage read-out (uses colour to display battery charge). See the video in the section above for what Rainbow looks like.
From ON:
Press-and-hold (1H): Ramps up (or Steps up, depending on the mode). Ramps/steps down if you do it again.
Single-click (1C): Turns Off
Double-click (2C): Jumps to Turbo
Double-click-and-hold (2H): Ramps down (or Steps down)
Triple-click (3C): Switch between Ramping and Stepped modes
4 clicks (4C): Lockout mode (see above for options)
Mode memory:
Yes, the circuit memorizes the last constant On output level in either Ramping or Stepped modes.
Strobe/Blinking modes:
Yes, quite a few actually. The strobe/blinking modes are accessible from Off with a triple-click (3C) or triple-click-and-hold (3H), but in Advanced UI only. You can switch between strobe/blinking modes with 2 clicks (2C), in the following sequence (see testing results below to see what these look like):
Triple-click (3C):
Battery check
Temperature check
Beacon mode
SOS mode
Triple-click-and hold (3H):
Candle mode
Bike flasher mode
Party strobe mode
Tactical strobe mode
Lightning mode
Low voltage warning:
Sort of. In operation, the light drops in brightness in steps, and runs for an extended time at a very low level. Apparently it shuts off when the cell is ~2.8V (although I haven't run it that long to confirm).
Lock-out mode:
Yes. In either Simple UI or Advanced UI, lockout is accessed by 4 clicks (4C) from On or Off (repeat to unlock). The lockout mode is unusual with Anduril, as it actually enables momentary operation in the minimum modes. There are other lockout modes available, as explained above. As always though, I recommend you physically lock out at the light at the tailcap, if you want to guarantee no accidental activation.

Temperature check and thermal calibration mode:
This is a little complicated (and beyond the needs of most users), so I will just refer you to the diagram from the manual above. With default settings, I find this light steps down fairly quickly due to heat (unsurprising, given default Anduril settings are conservative). I have not tried to reconfigure my sample. Note that if you get into any trouble (or wish to reset any custom configurations), you can easily reset the light to the factory defaults by 13 clicks-and-hold (13H).
Reviewer Comments:
Anduril is a sophisticated setup – a choice of Simple or Advanced UI, Stepped and Ramping modes, AUX LEDs, etc. Of course, you will never please everyone, and many may prefer a simpler interface. But as this light is directed toward flashaholics, I think it is a very good choice.
Circuit Measures
Pulse-Width Modulation (PWM):
There is no sign of PWM on any level, the circuit appears to be fully current-controlled. There is no sign of high frequency noise at any level (unlike many of the budget Anduril lights with simple FET drivers).
L1: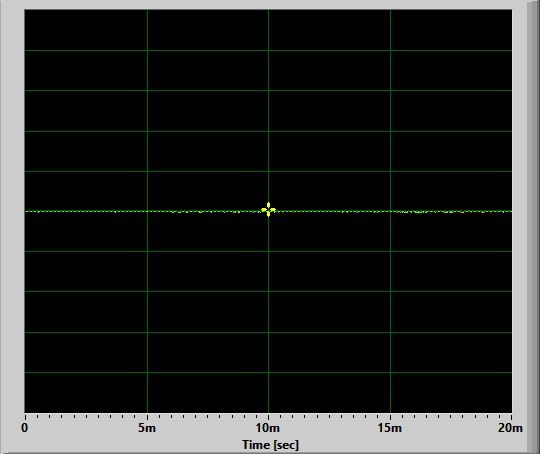 L2:

L7: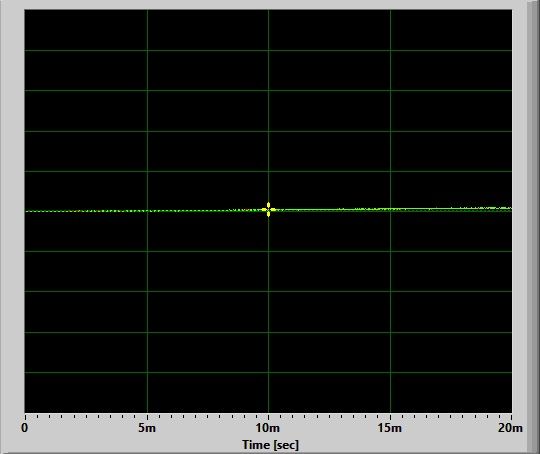 L8:

Nice to see the lack of circuit noise on this model.
Strobe Modes:
Note that for most of the strobe / flashing modes below, the actual frequency and intensity are both configurable. What I am showing below is the default speed and/or brightness setting. By pressing and holding the switch (1H or 2H) you can select the frequency. And in some cases, brightness is set from the last-used ramp level.
Beacon: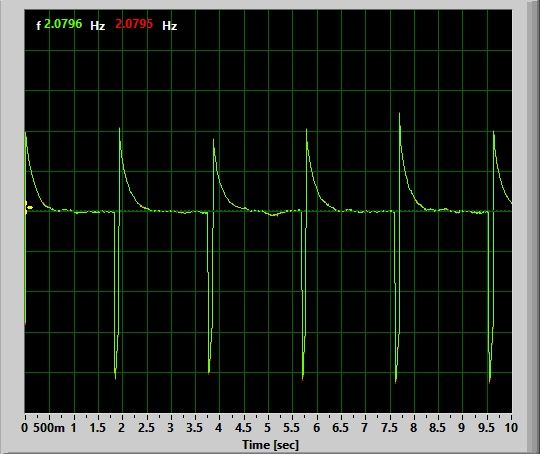 Beacon strobe is a single flash every ~1.8 secs (so, 0.55 Hz) by default.
SOS:

A fairly typical SOS mode.
Candle:

Candle strobe is a continuous flicker, of varying intensity (again, accurately simulating a candle).
Bike Strobe:

Bike strobe is a bit unusual. It is constant On at a lower level, with four brief flashes to max (over ~0.25 secs) every ~1 sec or so by default. It certainly is an attention grabber.
Party Strobe:

Party strobe is a super-fast (and annoying) frequency of ~20 Hz by default.
Tactical Strobe:

Tactical strobe is basically ~10 Hz, by default.
Lightning Strobe:

I've shown three 10-sec cycles above, so you can a feel for the frequency and intensity of light flashes. Lightning strobe is a fairly realistic lightning simulation, with variable intensity and time between flashes.
Charging:
The Emisar D4K does not come with built-in charging. You will have look into stand-alone battery chargers.
Standby / Parasitic Drain:
With the switch and AUX LEDs set to off, I measured the standby drain as fluctuating between 45 and 50 uA, but with a very brief jump to ~285uA every 3 secs or so. It's hard to provide a good estimate, so I've just gone with ~50uA for now. For a 5000mAh cell, that would translate into over 11 years before the cell would be fully drained – which is extremely low, and not a concern. Regardless, I recommend you store the light locked out at the tailcap when not in use (which disables the standby drain).
Note that ToyKeeper tells me this current jump quirk is due to a bug in this firmware version. There is an updated firmware for this model that resolves the current jump, and lowers the overall standby drain by ~15 uA or so. You can kit to flash the firmware yourself, but I haven't tried this yet.
With both the switch and AUX LEDs activated on the Low AUX output setting (i.e., barely visible, except in low light), I measured the combined drain as 105 uA with current firmware. For a 5000mAh cell, that would give you almost 5.5 years before the cell would be drained. This is similarly low enough to not be a concern, and could be useful as a signaling indicator, especially as a colourfull voltage readout (with the electronic lockout in place).
With both the switch and AUX LEDs activated on the High AUX output setting, I measured the combined drain as 3.58mA. For a 5000mAh cell, that would give you just under two months of continuous runtime on the higher AUX mode. While this is fine for the occasional use, it doesn't make for a very effective or efficient Moonlight mode. Indeed, based on my experience, the low smooth Ramping minimum on the main emitters would likely have a slightly lower drain – but for much greater output with a better beam pattern.
Emitter Measures
In this section, I directly measure key emitter characteristics in terms of colour temperature, tint, and colour rendition. Please see my Emitter Measures page to learn more about what these terms mean, and how I am measuring them. As tint in particular can shift across levels, I typically stick with the highest stably regulated level for all my reported measures.
As explained on that page, since I am using an inexpensive uncalibrated device, you can only make relative comparisons across my reviews (i.e., don't take these numbers as absolutely accurate values, but as relatively consistent across lights in my testing).
D4K on L6: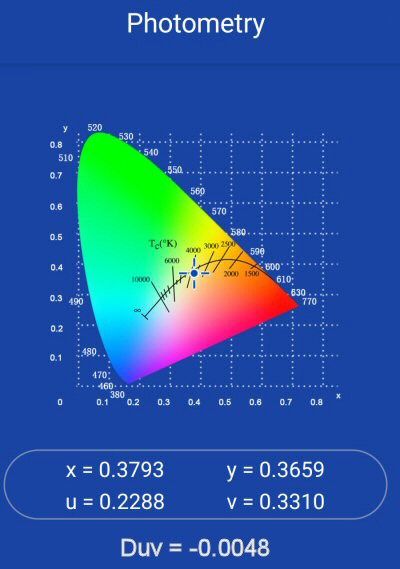 The key measures above are the colour temperature of ~3950K, and a noticeably negative tint shift (-0.0048 Duv) to pinkish-red at this temperature. For CRI (Ra), I measured a combined score of 95 (Hi CRI).
These results are very consistent with other neutral-warm Nichia 519A emitters I've tested.
Just out of curiosity, I thought I'd measure the AUX LEDs set to red.
AUX Red LEDs: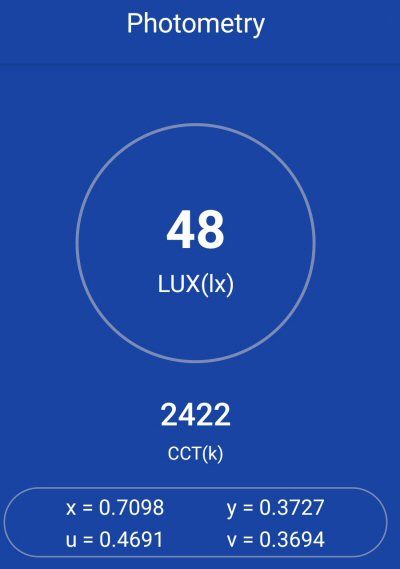 The simple Light Master lightmeter that I am using is not rated for monochromatic sources, but the reading above is very consistent with a dedicated red light – it is well off the blackbody radiation curve at the red end of the spectrum.
How about the cool white switch emitter?
Cool White side switch: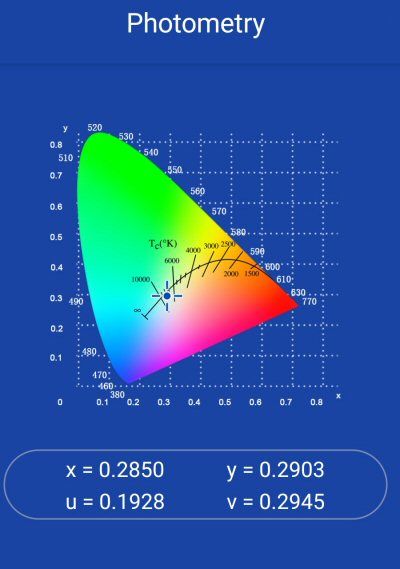 The cool white switch emitter is very bluish to my eyes, so the ~9350 CCT with slight negative tint shift is very consistent with my observation.
Beamshots
All outdoor beamshots are taken on my Canon PowerShot S5 IS at f/2.7, 0.5 secs exposure, ISO 400, daylight white balance. The bend in the road is approximately 40 meters (~45 yards) from the camera. Learn more about my outdoor beamshots here (scroll down for the floody light position used in this review).
Click on any thumbnail image below to open a full size image in a new window. You can then easily compare beams by switching between tabs.
As you can see above, the D4K's 4x Nichia 519A 4500K emitters perform similarly to the Acebeam E70 Mini's 3x 519A 5000K emitters – but with a bit more output, and slightly warmer tint, as expected. Tint is pretty similar to my lower output Skillhunt M300's 1x Nichia 144ART 4500K. In comparison, the the TS10's 3xCSP 4000K emitters are considerably warmer in tint.
Testing Results
My summary tables are generally reported in a manner consistent with the ANSI FL-1 standard for flashlight testing. In addition to the links above, please see my output measures page for more background.
All my output numbers are based on my home-made lightbox setup. As explained on that methodology page, I have devised a method for converting my lightbox relative output values to estimated lumens. Note that my lightbox calibration seems to run higher than most hobbyists today, but I've kept it to remain consistent with my earlier reviews (when the base calibration standard was first established).
My Peak Intensity/Beam Distance are directly measured with a NIST-certified Extech EA31 lightmeter.

D4K Testing Results
| Mode | Spec Lumens | Estimated Lumens @0sec | Estimated Lumens @30 secs | Beam Intensity @0sec | Beam Intensity @30secs | Beam Distance @30secs | PWM/Strobe Freq | Noise Freq | Charging Current <3V | Charging Current >3V | Parasitic Drain | Weight w/o Battery | Weight with Battery | CCT (K) | Duv | CRI |
| --- | --- | --- | --- | --- | --- | --- | --- | --- | --- | --- | --- | --- | --- | --- | --- | --- |
| Cool White Switch LED + AUX Red LEDs (High) | - | 0.06 | 0.06 | - | - | - | No | No | - | - | 3.6 mA | 65 g | - | - | - | - |
| Smooth Ramp Min | - | 1.1 | 1.1 | - | - | - | No | No | - | - | ~50 uA | 65 g | - | - | - | - |
| L1 | - | 1.5 | 1.5 | - | - | - | No | No | - | - | ~50 uA | 65 g | - | - | - | - |
| L2 | - | 17 | 17 | - | - | - | No | No | - | - | ~50 uA | 65 g | - | - | - | - |
| L3 | - | 74 | 74 | - | - | - | No | No | - | - | ~50 uA | 65 g | - | - | - | - |
| L4 | - | 220 | 220 | - | - | - | No | No | - | - | ~50 uA | 65 g | - | - | - | - |
| L5 | - | 490 | 480 | - | - | - | No | No | - | - | ~50 uA | 65 g | - | - | - | - |
| L6 | - | 860 | 850 | - | - | - | No | No | - | - | ~50 uA | 65 g | - | 3,960 | -0.0048 | 95 |
| L7 | - | 2,050 | 2,000 | - | - | - | No | No | - | - | ~50 uA | 65 g | - | - | - | - |
| L8 | 3,800 (FET) | 3,150 | 2,650 | 6,320 cd | 5,720 cd | 151 m | No | No | - | - | ~50 uA | 65 g | - | - | - | - |
| Candle | - | - | - | - | - | - | No | No | - | - | ~50 uA | 65 g | - | - | - | - |
| Bike Strobe | - | - | - | - | - | - | 1 Hz | No | - | - | ~50 uA | 65 g | - | - | - | - |
| Party Strobe | - | - | - | - | - | - | 23 Hz | No | - | - | ~50 uA | 65 g | - | - | - | - |
| Tactical Strobe | - | - | - | - | - | - | 10.4 Hz | No | - | - | ~50 uA | 65 g | - | - | - | - |
| Lightning | - | - | - | - | - | - | No | No | - | - | ~50 uA | 65 g | - | - | - | - |
| Beacon | - | - | - | - | - | - | 0.48 Hz | No | - | - | ~50 uA | 65 g | - | - | - | - |
| SOS | - | - | - | - | - | - | No | No | - | - | ~50 uA | 65 g | - | - | - | - |
The effect of the optional boost driver shows up in the higher Ramping minimum output, compared to other lights that use simple linear FET drivers (e.g., Sofirn IF25A, Wurkkos TS30S Pro). Still, I'm actually quite impressed at the dynamic range of the main emitters on the D4K here – I had expected a lower max output, and even higher min output. Scroll down to see how it compares in terms of runtime patterns.
To view and download full testing results for all modern lights in my testing, check out my Database page.
Runtimes
As always, my runtimes are done under a small cooling fan, for safety and consistency. To learn more about how to interpret runtime graphs, see my runtimes methodology page.
The D4K didn't come with its own battery, but I had a brand new LiitoKala cell (5000 mAh) that I used for the main runtimes below.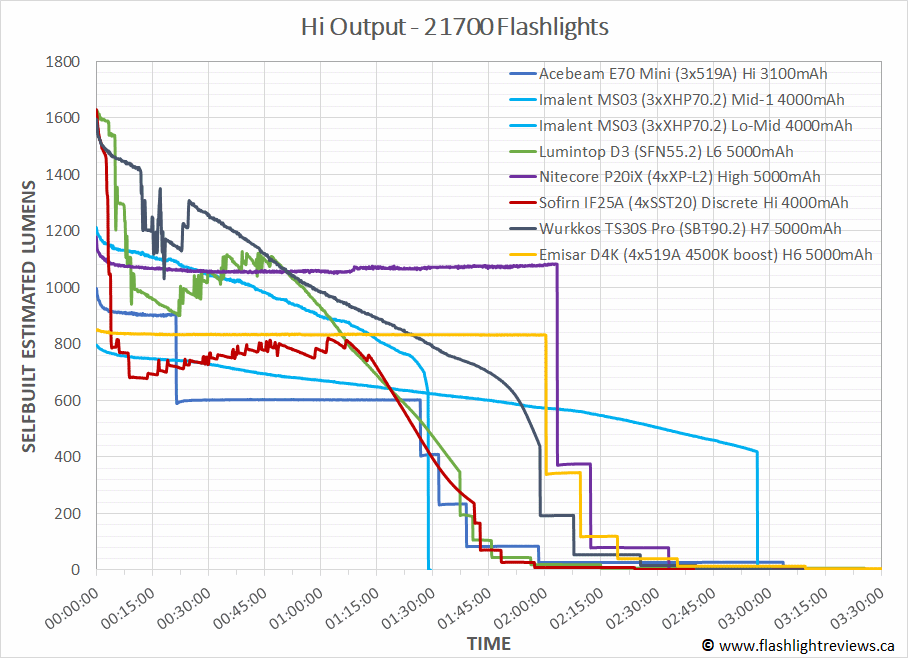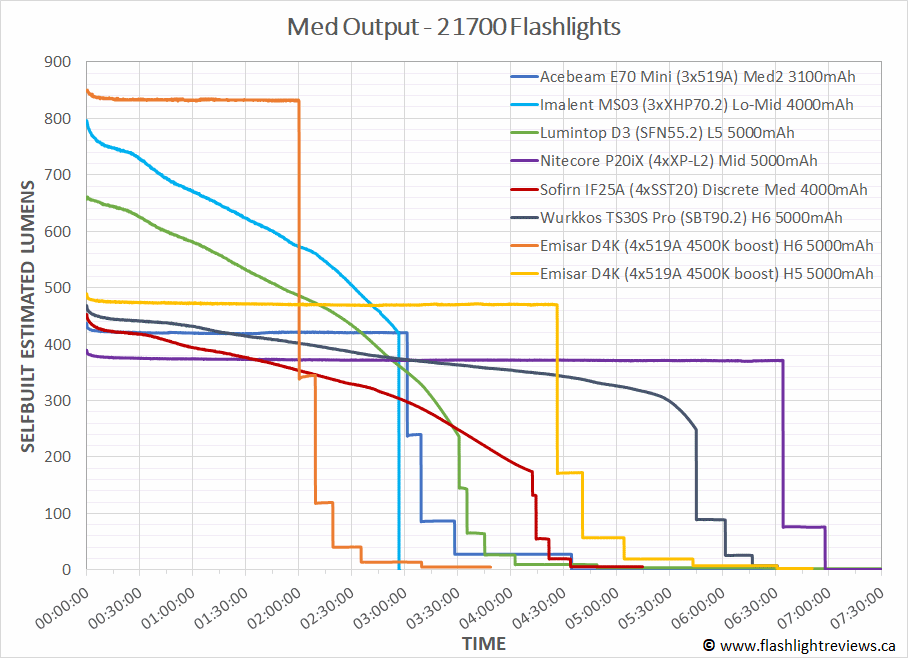 These results provide the opportunity to compare the optional boost driver on the D4K with a standard linear driver, as I alluded to in my build overview. Specifically, let's take the example of the somewhat comparable multi-emitter Sofirn IF25A, which has a basic FET driver. The emitters are different, so you can't directly compare overall output/runtime efficiency, but I think output levels and regulation patterns above are very revealing.
On Max, the IF25A starts out at a slighty higher initial output (~3400 lumens in my lightbox), but very quickly drops down to a "regulated" level of only ~700-800 lumens. It also shows a very "noisy" runtime pattern before dropping out of regulation. In contrast, the D4K with boost driver starts off at a slightly lower level (~3100 lumens in my lightbox) and drops off to a much higher regulated level of ~1300-1400 lumens. The regulated portion of the runtime also seems more stable on the D4K.
At the lower Hi levels, you can see the IF25A remains quite noisy at its regulated ~700-800 lumen level. But the D4K with boost driver is now perfectly flat-regulated at ~850 lumens.
At at the even lower Med levels, the IF25A shows a very typical direct-drive-like pattern of slow drop-off in output as the battery voltage drops (until some defined step-downs at the very end of the run). In contrast, the D4K with boost driver remains flat regulated at ~480 lumens until it steps down at the end of the run.
Again, you can't exactly directly compare these two lights – you would really need to get the D4K without the boost driver to quantify the exact difference. But these results are exactly what I would have expected given their general similarities outside of the circuit/emitters. That is, you get about the twice the stably-regulated output level here, with only some loss of dynamic range. This speaks to the value of using a good boost driver. I wish other makers would offer this for their Anduril-based lights.
As always, the relatively low thermal mass here means that the light will step-down fairly quickly on the highest output levels. But I am impressed by how high the step-down level is, and how well regulated.
To better show this initial step-down pattern, I've done some addition runtimes with another new cell, a Vapcell F56 5600mAh 21700 battery.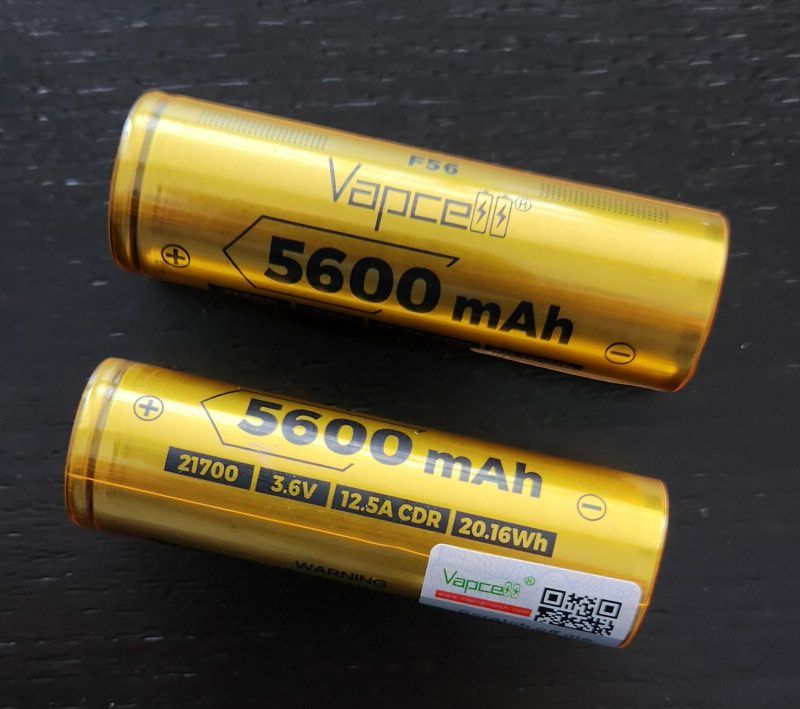 The Liitokala and Vapcell batteries are differentiated below by their rated capacity – 5000mAh vs 5600mAh. Note as well that both are a good length (the Vapcell F56 in particular), so there is a risk of denting the cells when using in a compact light with dual springs like this.
Not surprisingly, there is not much difference between the cells over the first minutes. Effectively, the early runtimes above look equivalent for their initial step-down patterns.
This longer resolution is where you can see a difference. The 5600mAh Vapcell runtimes last longer, at a med-high level near the end of the runs. Harder to interpret is the slightly higher regulated output on the L7 run, and lower regulated output on the L8 max run, on the Vapcell. This may be just variation from one run to the next – but it could also be that the higher capacity Vapcell doesn't respond as well to the initial high-drain on the max run.
I haven't tried adjusting the thermal management settings (these are configurable with Anduril), but you should be able to slightly extend the initial output before step-down (at the expense of greater heat, of course).
Pros and Cons
| Pros | Cons |
| --- | --- |
| Good physical build with a lot of possible customizations. | No in-light charging feature. |
| With the optional boost driver, you get better regulated output and step-down levels than other Anduril lights running on simple linear FET drivers. Best implementation of Anduril I've seen yet. | Due to small thermal mass, light will step-down quickly on Turbo - but maintains a higher brightness level here than other budget lights I've tested. |
| Even with the optional boost driver, there is a surprisingly wide dynamic range of output levels, but you do lose the <1 lumen moonlight levels. | Only unprotected, flat top cells should be used in the light. Longer batteries are likely to get dented by the stiff springs in this small build. |
| Excellent beam profile and tint with my chosen dome-on Nichia 519A emitters. | Body walls seem a bit thin, and threads come non-lubed. |
| RGB AUX LEDs are a nice feature, in addition to the switch options. | Anduril interface can be intimidating. |
| Surprisingly affordable given it is basically a custom light (on a standardized form factor). | |
Overall Rating
Preliminary Conclusions
The D4K with optional boost driver did not disappoint. This is exactly the performance I was hoping for with a better driver – a higher step-down level on max, and flatter regulation across the board. I was prepared for some loss of dynamic range, but it wasn't as much as I feared – except for the loss of <1 lumen Moonlight modes on the main emitter. But you do have the switch LEDs and AUX LEDs which can serve as impromptu Moonlight modes. While not as efficient or effective as a true Moonlight on the main emitter, it is enough for me to not knock down the star rating. I strongly recommend you opt for the boost driver upgrade on this model.
The other customizable features are really a question of personal preference. Now that I know the switch backlight and front circuit board AUX RGB emitters can't be independently controlled, I would probably opt for the RGB switch – in order the match the AUX RGB colours. But this is just a question of personal preference.
Although I think this light is worth 5 stars for the performance, I do miss seeing an integrated charging port (a minor issue given the target audience though). The physical build is also a little on the thin and lighter side for my tastes, but still seems robust enough.
Beam pattern was excellent with the standard optic and dome-on Nichia 519A emitters. I know a lot of people like dedomed emitters, but keep in mind that dedoming also tends to reduce the colour temperature significantly (i.e., these "4500K" temp emitters would wind up being a lot warmer after dedoming). Of course, that may be to your tastes, but I would suggest going with 5700K emitters if you plan to dedome.
As always, I find it a pleasure to work with the Anduril user interface. I know this UI is not to everyone's tastes, but there is something to be said for the consistency of knowing what to expect when a light arrives. By definition, there are a lot of arbitrary choices that have to be made when building in an advanced interface (by that I mean that multiple clicks-and-holds will be required, and one selection is not necessarily better or worse than another). So this is where consistency can be a more highly prized feature – especially when you own a lot of lights.
Certainly a very positive experience for my first Hank light!
Acknowledgement
The D4K was purchased from intl-outdoor.com for review. As always, all opinions are my own and the light received the same rigourous and objective testing as all other lights that I have reviewed. At the time of review, this light in this configuration (without battery) retails for ~$67 USD (~$92 CDN) shipped.