Introduction
This is another mini-review of a pocket-sized headlamp/keychain rechargeable light, the Armytek Crystal. Featuring both a cool white and a red LED, this innovative design lets you strap it to your head with the accompanying band, clip on to a jacket/bag with the built-in pocket clip, strap it to bike frame, or use as a keychain fob.
I won't be providing quite as much commentary as usual (and beamshots will definitely be out), but otherwise will provide my full suite of testing results so that you can make informed decisions around output, use and performance.
Let's see how it performs in my testing.
Manufacturer Specifications
Note: as always, these are simply what the manufacturer provides – scroll down to see my actual testing results.
| Feature | Specs | Specs |
| --- | --- | --- |
| Maker | Armytek | Armytek |
| Model | Crystal | Crystal |
| Emitter | LXNZPL696 (White) | LXNZPL696 (Red) |
| Tint | Cool white | Red |
| Max Output (Lumens) | 150 | 30 |
| Min Output (Lumens) | 0.1 | 0.1 |
| Max Runtime | 50 days | 30 days |
| Max Beam Intensity (cd) | 36 cd | 7 cd |
| Max Beam Distance (m) | 12 m | 5 m |
| Constant Levels | 4 | 4 |
| Flashing | Beacon | Beacon |
| Battery | Li-Pol 600 mAh | Li-Pol 600 mAh |
| Weight (w/o battery) | | |
| Weight (with battery) | 34 g | 34 g |
| Length | 63 mm | 63 mm |
| Head Diameter | 42.6 mm | 42.6 mm |
| Body Diameter | 14.8 mm | 14.8 mm |
| Waterproof | IP67 1m | IP67 1m |
Package Details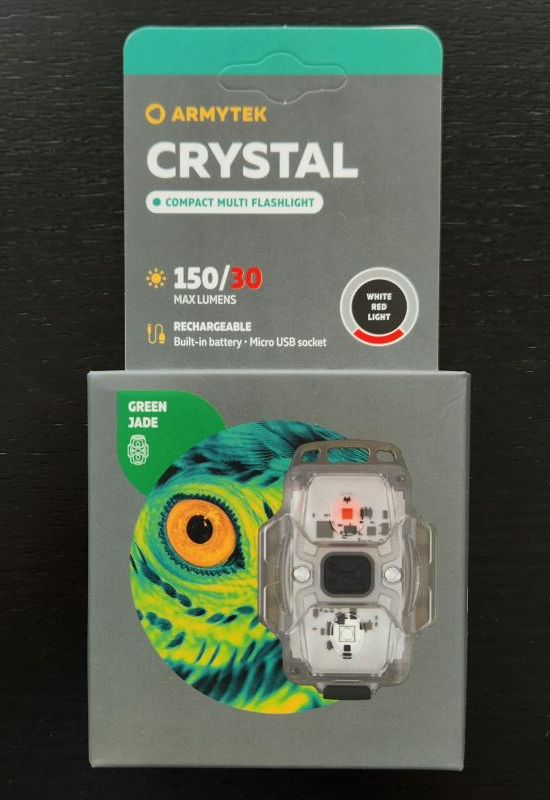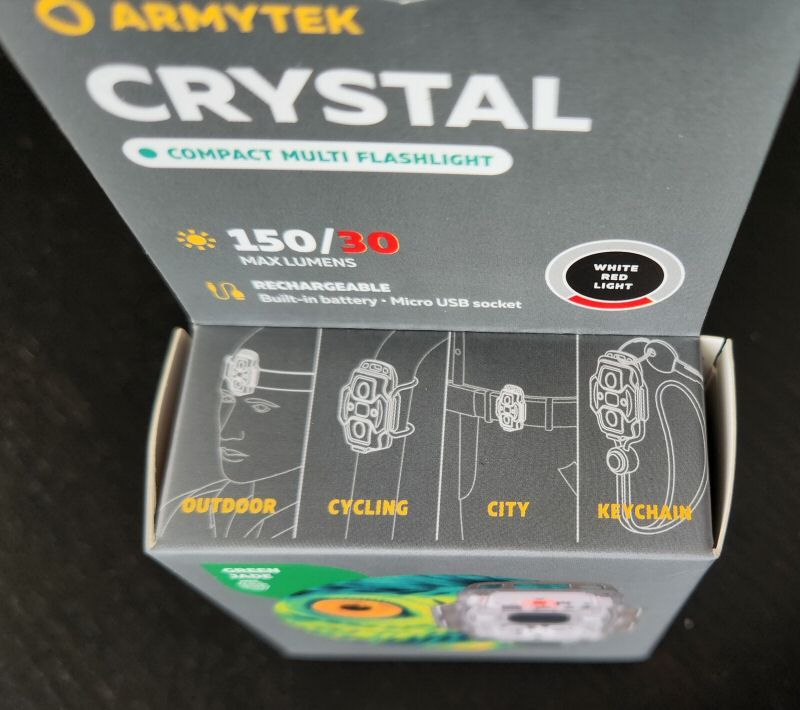 The light ships in a colourful cardboard box, with plenty of labels and product details.  Inside, you will find the following:
Crystal Headlamp/Keychain light, with built-in pocket clip
Headband
Adhesive pad
Two large black silicone rings (to secure to a bike frame)
Simple manual
It's a basic package, but has what you need to afix the light securely. No charging cable was included, and you will need one with a micro-USB port connector.
Build


From left to right: AAA NiMH, AA NiMH, Wurkkos Keychain SQ05, Armytek Crystal.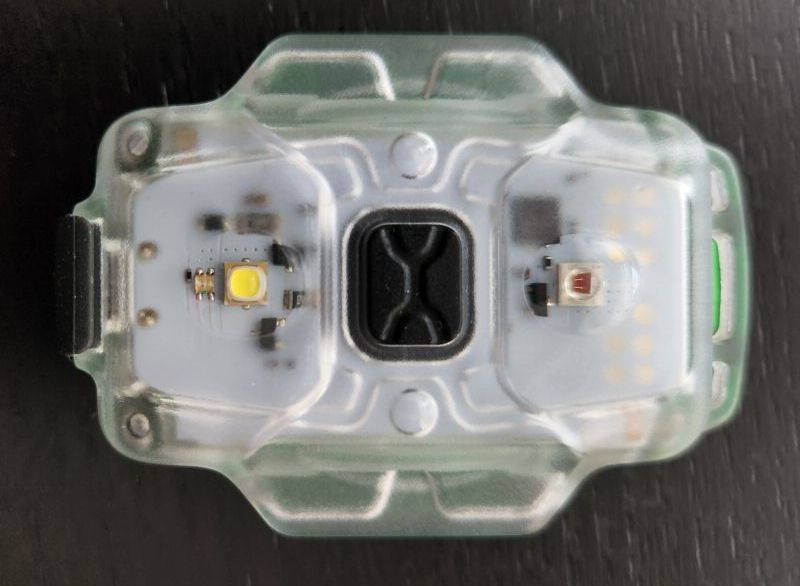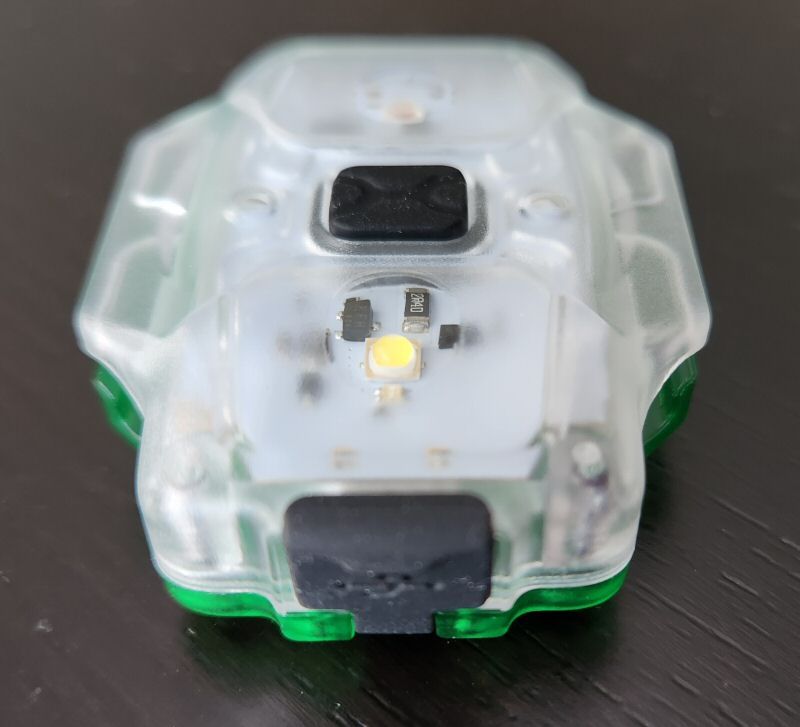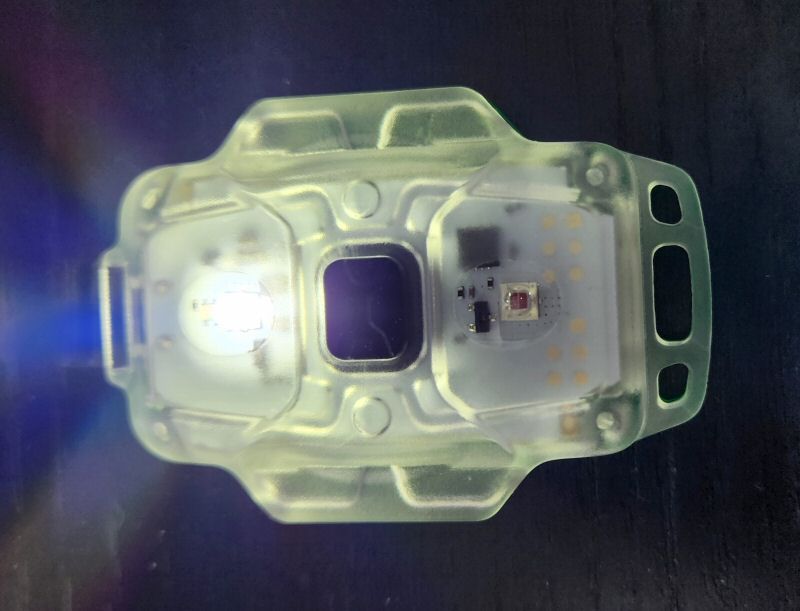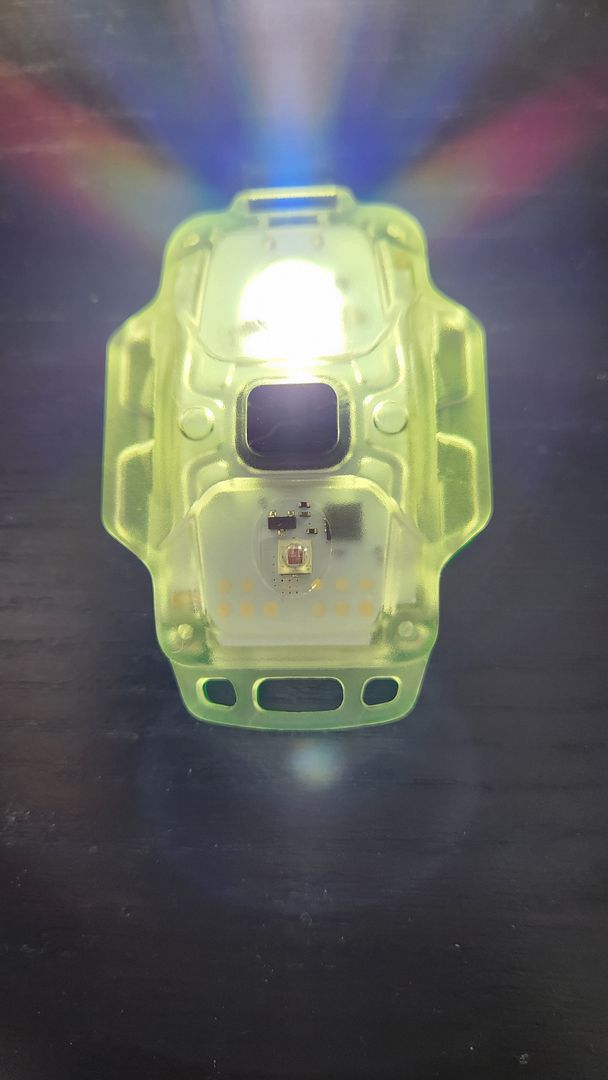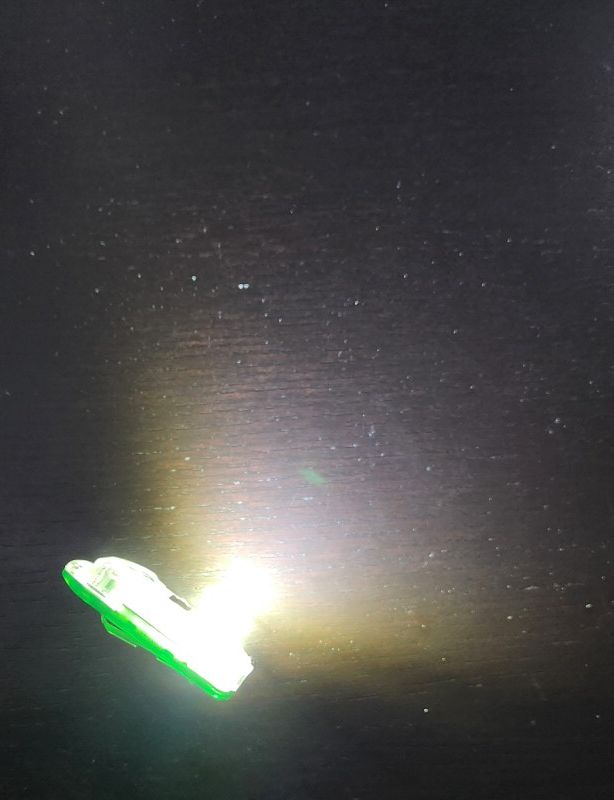 One comment to make up front – you can buy the Crystal with various coloured plastic backings. It is currently available in green, blue, red, yellow, or gray. There is also a WRB version, which features a flashing blue/red light, which comes with a blue or gray backing.
Build features a fullly transparent front cover, which allows you to see the bare emitters and the basic circuitry elements of the light. I'm guessing this is to prevent any significant colour distortions in the beam. On that front, most of the colour variations you are seeing above are really just from my camera's auto-adjust feature, or reflections off my desk. That said, the white emitter does seem to project a somewhat greenish-tint out the edges and sides of the light, likely by reflecting off or through the green plastic backing of my sample.
You can clearly see the main white and red emitters above, on either side of the switch.
You have nice and solid pocket clip on the back, which will hold the light securely to a front pocket. This is actually my preferred way to carry, as it is easy to clip on and go. Alternatively you can slip it into the included headband to use as a headlamp, or use the bike frame securing rings. On the short edge of the light by the red emitter is the keychain attachment point. Overall size is a bit big for keychain carry if you ask me, although I suppose it is not that much larger than a typical car key fob.
The power/mode button is located in the centre of the light. This seems like a bit of an odd placement to me, as it means you will turn the light on shinning in your eyes if you looking down at what you are pressing (makes more sense if you are using as a headlamp). At least it is easy to access by feel. Traverse is good, with a definite but soft click upon activation.
On the short edge of the light by the white emitter is the micro-USB charging port under a rubber cover. I find the cover to be fairly loosely fitting, with a slight hook to hold in place (I wouldn't consider this very waterproof at all). It's a shame they didn't opt for the more common USB-C emitter, but I gather this model has been around for awhile now. According to the manual, the light uses a lithium polymer rechargeable battery of 600 mAh capacity.
One interesting feature – according to the manual, the light can work in "lamp" mode when you plug it into a powerbank or other USB-charging source. I presume that means it runs directly off the power source, instead of the internal battery.
As noted in my other recent Armytek reviews, the included manual is actually fairly basic, and just describes the main functions of the light. You can download a more complete manual from their website here.
pretty simple, more a description of the features than an actual set of instructions. Here is a rundown from my testing:
From Off:
Press-and-hold the switch. Nothing initially. However, after 4 seconds the Lock out mode is engaged. The white LED will blink once, confirming the Lock out. Press-and-hold for another 4 seconds to re-activate.
Single-click the switch: Turns On in last memorized state.
From On:
Press-and-hold the switch: Start cycling through the modes of the current colour, in repeating sequence: Firefly > Main1 > Main2 > Main3 > Beacon. Release the switch to select.
Single-click the switch: Turns Off.
Double-click the switch: Switches between the two emitter choices (i.e., if you are in white light, it switches over to the red LED).
And that's it, fairly straight-forward and easy enough to remember. That said, I'm not personally a fan of having the flashing mode on the main sequence. But at least it is only a slow flash (i.e., not an obnoxious strobe).
Short-cuts:
No.
Mode memory:
Yes. The light remembers both the the last mode used and the last emitter, and returns to them upon re-activation.
Strobe/Blinking modes:
Yes, there is one beacon mode (available for each emitter).
Low voltage warning:
No.
Lock-out mode:
Yes. Press-and-hold the switch from Off for at least 4 secs to lock/unlock the light.
Reviewer Comments:
This is an OK interface, easy to remember and use (although I don't like the beacon on the main sequence). I do question the wisdom of a sustained press-hold to lock/unlock the light, but I suppose it removes the risk of an accidental quick-click.
Circuit Measures
Pulse-Width Modulation (PWM):
Firefly: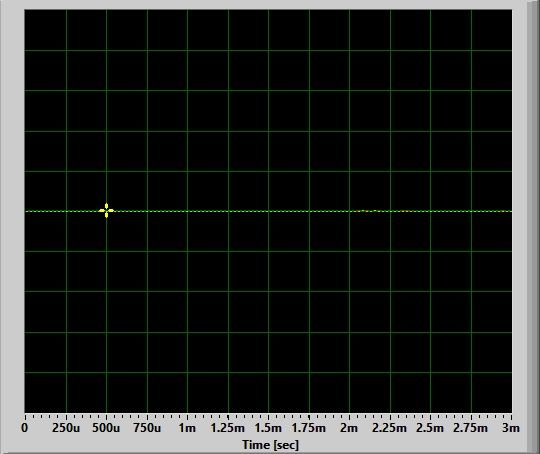 Main1: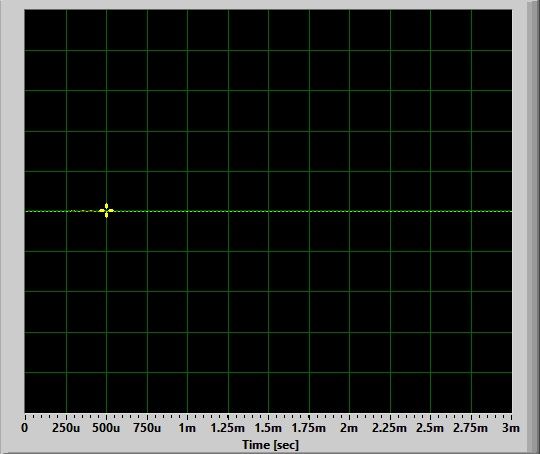 Main2:

Main3: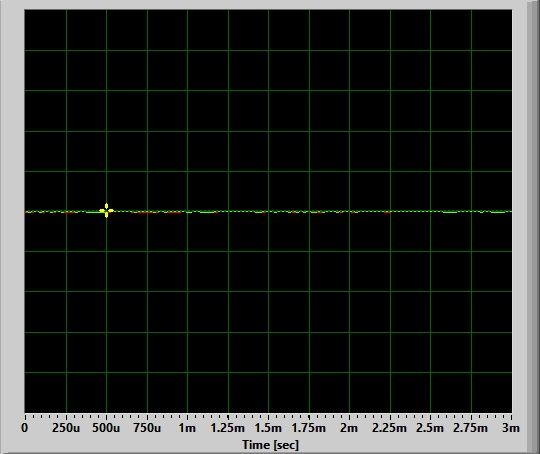 There is no sign of PWM or circuit noise on any level. The light is current-controlled, and fully flicker-free in both white and red modes. 🙂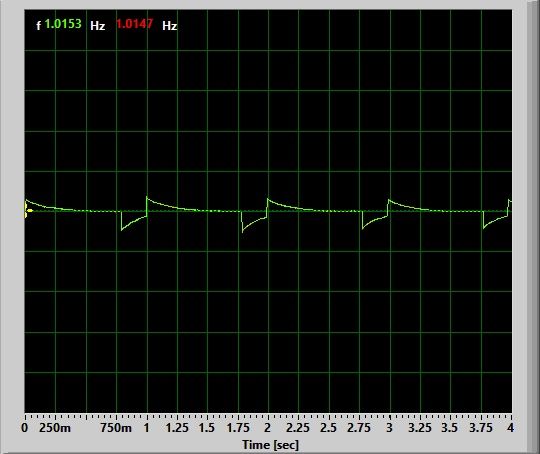 There is a single beacon mode on both red and white modes, which consists of one brief flash every second (i.e. 1 Hz). This is very reasonable as a signaling light, bike light, etc.
Charging: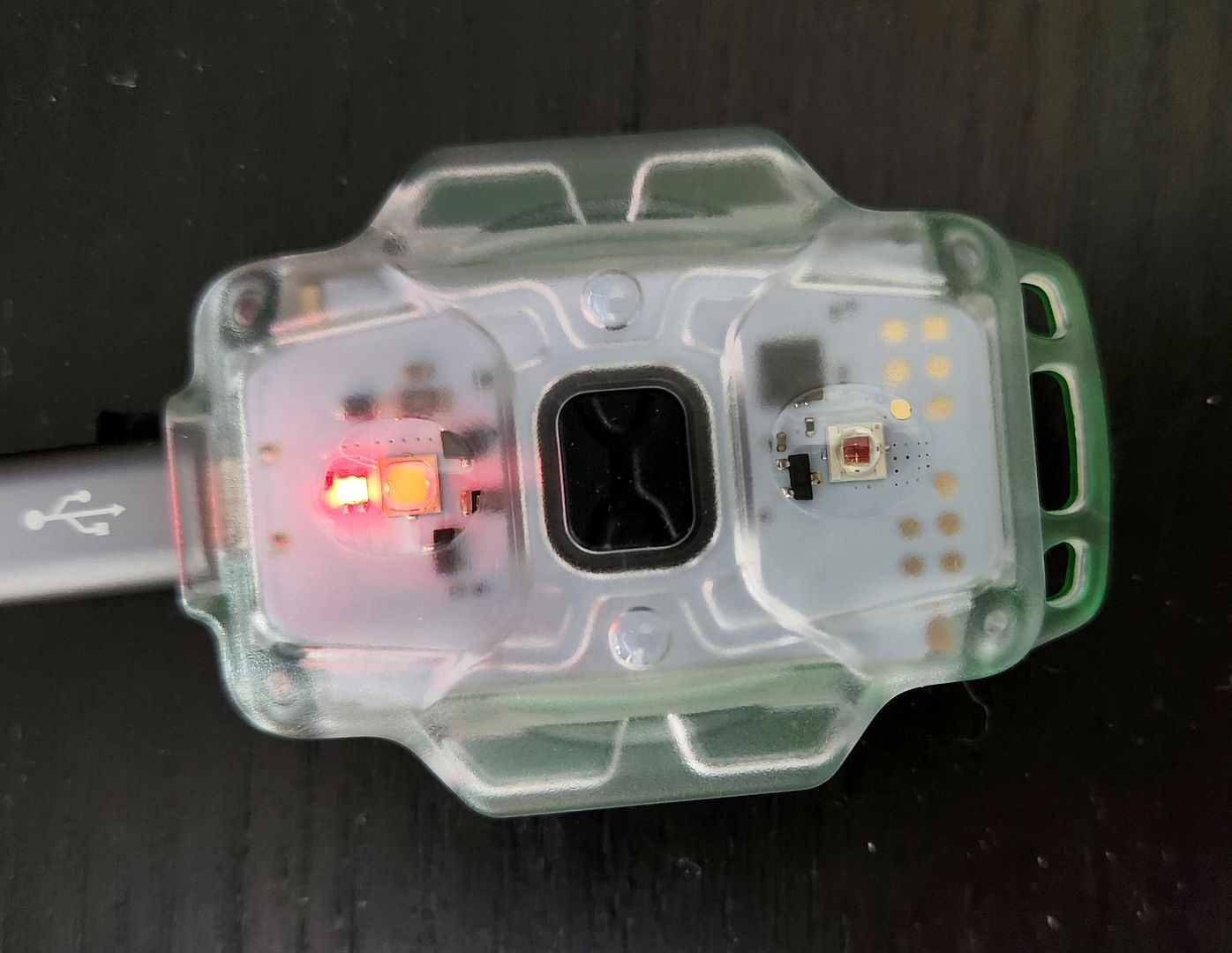 There a red/green charging indicator LED, near the white emitter. It glows solid red when charging, turning to green once it is fully charged.
Initial charging current when heavily depleted:

After a few mins: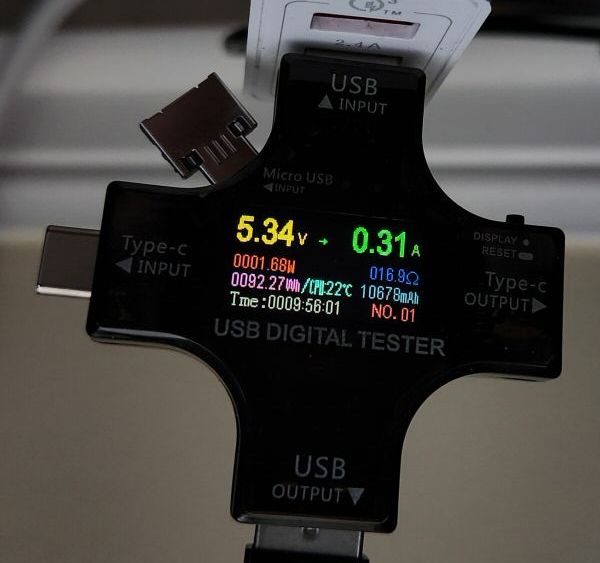 The initial charging current is ~0.10A, when the battery is nearly fully depleted (i.e., just a very low output from the emitters). As the light charges, the charging current quickly jumps to ~0.30A, and then slowly drops from there as the battery charges fully.
I didn't time how long it take to charge the light, but Armytek says is 2hr 50 mins to a full charge. Sounds about right, I don't think it took much longer than 2 hours on any of my tests.
Standby / Parasitic Drain:
Given the electronic nature of the switch, there must be a standby current at all times. However, without breaking it open, and I am not able to measure it.
Emitter Measures
In this section, I directly measure key emitter characteristics of my sample in terms of colour temperature, tint, and colour rendition. Please see my Emitter Measures page to learn more about what these terms mean, and how I am measuring them. As tint in particular can shift across levels, I typically stick with the highest stably regulated level for all my reported measures.
As explained on that page, since I am using an inexpensive uncalibrated device, you can only make relative comparisons across my reviews (i.e., don't take these numbers as absolutely accurate values, but as relatively consistent across lights in my testing).
White Main 2 Level: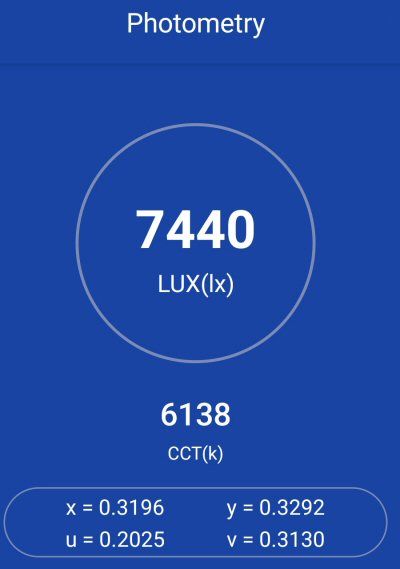 The key measures above are the colour temperature of ~6140K, and no measured tint  shift (-0.0001 Duv). For CRI (Ra), I measured a combined score of 75.
These values are very consistent with a cool white, and match my visual experience of this light. As mentioned above, I did notice a greenish-yellow tinge to the peripheral spill of the light, but I think that is from reflections off the green translucent plastic base of my sample.
Just out of curiosity, I decided to run the red emitter through my Light Master 2 meter, to see what it said. Although these are not designed for monochromatic light sources, its readings seemed reasonable:
Red Main2 level: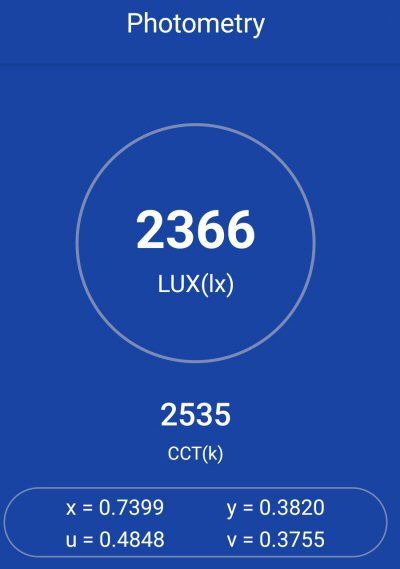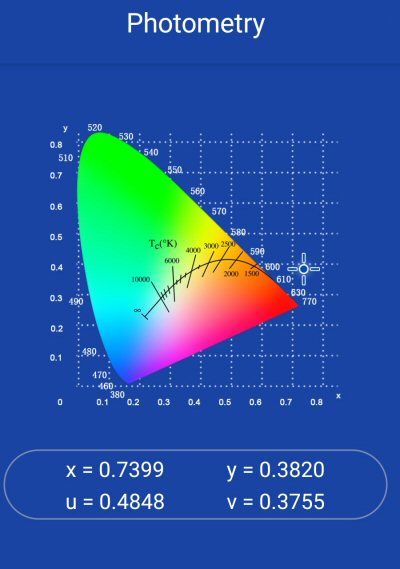 As you can see, the red light is well off the Planckian locus, well into the red end of the spectrum (and so, the CCT and Duv are meaningless here).
Beamshots
Sorry, no beamshots for keychain lights. 🙂
Testing Results
My summary tables are generally reported in a manner consistent with the ANSI FL-1 standard for flashlight testing. In addition to the links above, please see my output measures page for more background.
All my output numbers are based on my home-made lightbox setup. As explained on that methodology page, I have devised a method for converting my lightbox relative output values to estimated lumens. My Peak Intensity/Beam Distance are directly measured with a NIST-certified Extech EA31 lightmeter.

Crystal Testing Results
| Emitter | Mode | Spec Lumens | Estimated Lumens @0sec | Estimated Lumens @30 secs | Beam Intensity @0sec | Beam Intensity @30secs | Beam Distance @30secs | PWM/Strobe Freq | Noise Freq | Charging Current <3V | Charging Current >3V | Parasitic Drain | Weight w/o Battery | Weight with Battery | CCT (K) | Duv | CRI |
| --- | --- | --- | --- | --- | --- | --- | --- | --- | --- | --- | --- | --- | --- | --- | --- | --- | --- |
| White | Firefly | 0.1 | 0.11 | 0.12 | - | - | - | No | No | 0.10 A | 0.30 A | - | - | 34 g | - | - | - |
| White | Main1 | 5 | 4.9 | 4.9 | - | - | - | No | No | 0.10 A | 0.30 A | - | - | 34 g | - | - | - |
| White | Main2 | 36 | 35.0 | 35 | - | - | - | No | No | 0.10 A | 0.30 A | - | - | 34 g | - | - | - |
| White | Main3 | 150 | 170.0 | 160 | 101 cd | 94 cd | 19 m | No | No | 0.10 A | 0.30 A | - | - | 34 g | 6,140 | -0.0001 | 75 |
| White | Beacon | 150 | - | - | - | - | - | 1 Hz | No | 0.10 A | 0.30 A | - | - | 34 g | - | - | - |
| Red | Firefly | 0.1 | 0.04 | 0.04 | - | - | - | No | No | 0.10 A | 0.30 A | - | - | 34 g | - | - | - |
| Red | Main1 | 2 | 1.6 | 1.6 | - | - | - | No | No | 0.10 A | 0.30 A | - | - | 34 g | - | - | - |
| Red | Main2 | 12 | 16 | 16 | - | - | - | No | No | 0.10 A | 0.30 A | - | - | 34 g | - | - | - |
| Red | Main3 | 30 | 43 | 42 | - | - | - | No | No | 0.10 A | 0.30 A | - | - | 34 g | - | - | - |
| Red | Beacon | 30 | - | - | - | - | - | 1 Hz | No | 0.10 A | 0.30 A | - | - | 34 g | - | - | - |
Estimated output in my lightbox is pretty close to the rated specs across all levels. Indeed, the red emitter reports higher values in my lightbox – but I never calibrated my light sensor for monochromatic sources, so that could be artifactual.
It's great to see the true moonlight mode here, for both emitters.
To view and download full testing results for all modern lights in my testing, check out my Database page.
Runtimes
As always, my runtimes are done under a small cooling fan, for safety and consistency. To learn more about how to interpret runtime graphs, see my runtimes methodology page.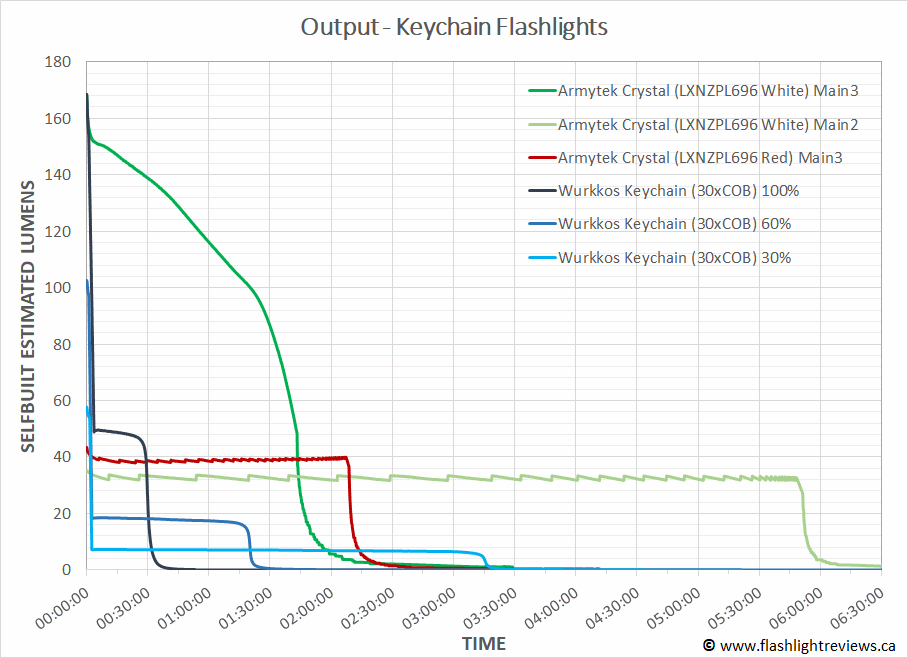 The white emitter Main3 output is basically direct-drive in appearance, slowly dropping off over 2 hours as the battery drains. In contrast Main2 is regulated over its ~6 hour run, with a slightly staggered pattern as it keeps the output within a narrow range around ~35 lumens in my lightbox.
The red emitter Main3 output resembles the white Main2 in its regulation pattern, and lasts for a little over 2 hours in my testing.
Here is how the Crystal compares to the lower output levels of my 18650 headlamps: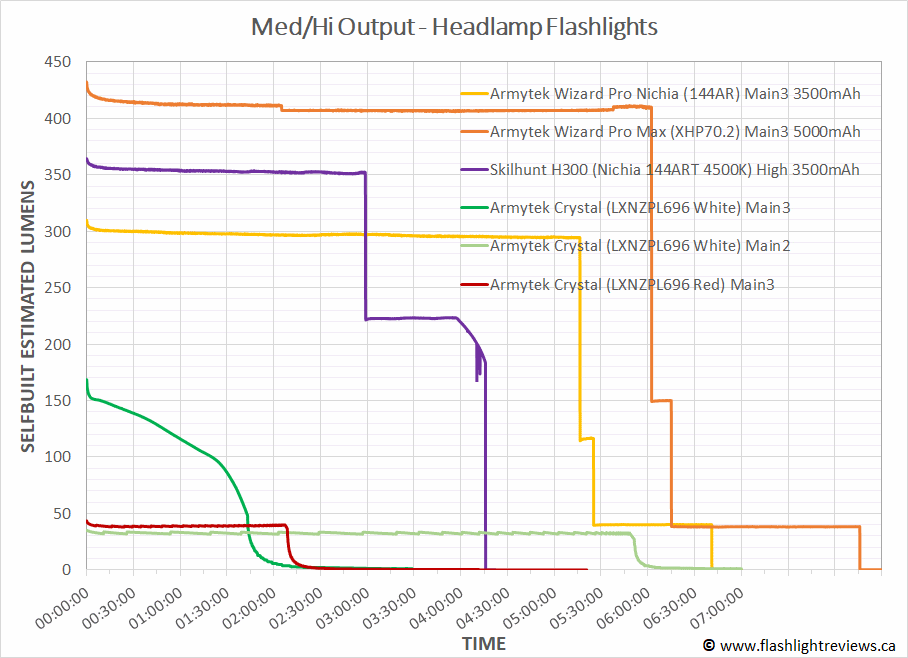 These results are very much in keeping with Armytek's specs, and seem reasonable for the stated 600 mAh capacity of the built-in battery. Performance is at least an order or magnitude or two higher than the budget keychain model from Wurkkos, in comparison.
Pros and Cons
| Pros | Cons |
| --- | --- |
| Good build quality and feature set, suitable as a headlamp, pocket clip or keychain,. | Fairly simple design, with power/mode button on front-face with the emitters. |
| Very good regulation pattern, with constant-current flat stabilization. | A bit too large for a keychain light, but works well as a headlamp/pocket clip. |
| Very floody beam without artifacts, for both cool white and red LEDs | |
| Rechargeable battery built-in, but with older micro-USB connector. | |
| Accurate product specs. | |
Overall Rating
Preliminary Conclusions
The Crystal is a surprisingly versatile little headlamp/keychain light. It is lightweight and easy to attach or carry in a variety ways. It has both white and red flood lights (the later is particularly good for maintaining night vision, or for not attracting bugs/animals). It has a good range of levels, including moonlight and a signaling beacon for each emitter. And its performance is excellent across all levels on its built-in rechargeable lithium polymer battery.
Frankly, there is not much to criticize here. By design, the light is a full flooder, without much throw (i.e., there is no optic to focus the emitters). Other than that, it is mainly small issues that I've noted above, like the simple UI, micro-USB port, and front switch location that are not my personal preference. It is also not particularly pretty to look at, with its transparent plastic cover – but I suppose some people may like the honest aesthetic. Personally, I care more about its functional use – and I find it to be a great little headlamp.
Price doesn't factor into my star rating system, but I find this light to be pretty reasonably priced considering what you get. It is is certainly a lot cheaper (and lighter) than a lot of other headlamp models out there. Of course, it won't last as longer as larger models with heavier batteries – but the runtimes are perfectly reasonable for what you are getting here.
If you are looking for a budget headlamp that does multiple duty as a front-facing pocket light, bike light, and keychain light, the Crystal could well suit the bill.
Acknowledgement
The Crystal was provided by Armytek for review. As always, all opinions are my own and the light received the same rigourous and objective testing as all other lights that I have reviewed. At the time of review, this light retails for $27 USD (~$36 CDN).