The S21E is a popular light from the budget flashlight maker Convoy, and is powered by a single 21700 battery. It comes with a variety of emitters options, and features a decent user interface.
Introduction
In my previous reviewing era, I stayed away from budget lights for the reasons I outlined here. But upon my return to reviewing, I've noticed a number of inexpensive brands seem to have good quality and consistency. So I thought it was time to start looking at some of the more popular budget models in the 1×21700 class.
Cue up Convoy, whose S21 series was up to its fifth iteration by last fall – the S21E – when I purchased these samples for testing. At the time, the S21E was available with a choice of three different emitters, so I picked them all up from the official store for comparison testing (although many more tint options are available). Specifically, these are ones with the standard "4 mode" circuit (which actually has constant output 5 modes, along with a continuously variable ramp).
I see there are a wider variety of anodizing colours available now, and a different battery than what came bundled with mine. But the specs remain the same, so your performance should match what you see below.
Manufacturer Specifications
Note: as always, these are simply what the manufacturer provides – scroll down to see my actual testing results.
| Feature | Specs | Specs | Specs |
| --- | --- | --- | --- |
| Maker | Convoy | Convoy | Convoy |
| Model | S21E | S21E | S21E |
| Emitter | Nicha 519A | SST40 | SFT40 |
| Tint | 5000K (Hi CRI>90) | 6500K | 6500K |
| Max Output (Lumens) | 1,300 | 2,400 | 1,800 |
| Min Output (Lumens) | - | - | - |
| Max Runtime | - | - | - |
| Max Beam Intensity (cd) | - | - | - |
| Max Beam Distance (m) | - | - | - |
| Mode Levels | 5 + Ramp | 5 + Ramp | 5 + Ramp |
| Flashing | Strobe | Strobe | Strobe |
| Battery | 1x21700 | 1x21700 | 1x21700 |
| Weight (w/o battery) | 88 g | 88 g | 88 g |
| Weight (with battery) | 168 g | 168 g | 168 g |
| Length | 116.4 mm | 116.4 mm | 116.4 mm |
| Head Diameter | 27.3mm | 27.3mm | 27.3mm |
| Body Diameter | 27.3 mm | 27.3 mm | 27.3 mm |
| Waterproof | IPX4 | IPX4 | IPX4 |
Package Details
Like many Convoys, the S21E can be purchased with any of a number of emitter choices and tints. Shown above are the Nichia 519A 5000K, Luminus SST40 6500K, and Luminus SFT40 6500K. But a wide range of 519A tints (from 2700K through 5700K) are possible, along with a limited number of Luminus tints (although not all options available for each emitter, nor at any given time on the store front).
The S21E is shipped in a simple cheap cardboard box, wrapped in thin bubble wrap. Inside, you will find the following:
Convoy S21E with removable pocket clip attached
Thin wrist lanyard, also attached
If you buy the version with a battery included, a thin filter pad is included to block contact during shipping
And that's it. There is no manual or instruction sheet, so you'll need to check out reviews like this to learn how it works and what all the features are. Minimalist to be sure, in keeping with the price.
Build

From left to right: LiitoKala 21700 (5000mAh), Fenix ARB-L21-5000U 21700 (5000mAh), Sofirm IF25A, Fenix E35 v3, Convoy S21E, Imalent MS03, Armytek Wizard C2 Pro Max, Acebeam E70, Nitecore P20iX, Nitecore MH12SE, Lumintop D3, Convoy M21F.
Note: in all photos below, the sequence from left to right (or top to bottom), are always the Nichia 519A, SST40, and SFT40 emitter versions. Also note that the SST40 version was bought in early fall 2022, and the other two were a couple of months later.
The S21E is a minimalist, compact build – but seems very well made.
There is a large switch cover over the side-mounted electronic switch. Feel is good, with smooth action. There is a red and a green LED underneath, to show you the charge status when charging (see below).
There is a small spring on the positive contact terminal in the head, so flat top cells can easily be used. Tailcap is flat with a standard spring and retaining ring. Note that my earlier SST40 sample (middle above) came with a stiff silver-coloured tail spring – that applied another enough pressure to dent the positive battery terminal against the head spring. Later specimens (left and right) came with gold-coloured springs than aren't as stiff – and so, no denting. This also like reflects the thinner metal on the LiitoKala cells.
As an aside, I'm actually impressed to see the rapid correction of this design issue – especially in a budget build. That said, I did notice a batch issue with lens, which I will explain below.
There is an integrated USB-C charging port on the head of the light, across from the switch, under an attached rubber cover. Cover fits well enough to make me think the light is water-resistant, but less so than more expensive offerings in this class (and so, I wouldn't recommend immersing it in water).
The light doesn't have knurling per se, but rather a series of cut-outs along with the concentric circle "reeling." While serviceable, this can be slippery in practice – so I recommend you leave the removable pocket clip attached to help with grip. The pocket clip attaches firmly. It is not reversible, but due to the design can be used for both upward and downward carry (although may be a bit tight, depending on what you want to clip it to).
Anodizing looks to be decent quality, in matte finish (I presume it is only type II, given you can get the light in a variety of colours). Tailcap screw threads are anodized, so you can lock out the light by a twist of the tailcap. I haven't shown it above, but you can unscrew the head from the body too (screw threads there are not anodized there).
Thanks to the spring in the head, any regular-sized 21700 cell (without an integrated USB-C charger) should fit and work in the lights. You are best sticking with flat-top cells though, as longer cells (i.e., with a button top) may be too tight given the relatively short body.
The Nichia 519A comes with a lightly textured reflector, while the Luminus models come with a smooth reflector. Reflectors are relatively shallow, and really seem to be designed best for the SST40 emitter (the SFT40 emitter has quite a few bright rings in its outer spillbeam, for example).
Note that my Nichia 519A and SFT40 samples both show a noticeable amount of purple fringing on the periphery of the spillbeam, due to a heavy purplish AR coating on the lens of those samples (the earlier SST40 sample lens has a milder greenish AR coating, which doesn't affect the beam as much). Scroll down for beamshots, but I don't find this purplish AR coating to be as noticeable or a problem on the Nichia model, likely due to the warmer tint and smoother beam profile. The AR tint difference may have been a batch effect of that particular point in time, because I have seen a SST40 model purchased more recently that has the lighter greenish AR coating.
The bezel is stainless steel, and is smooth without crenelations. So you may not be able to tell if the light is on when it is headstanding. The head opens easily at the bezel ring (i.e., no thread locker), and the lens and reflector come right out for easy access to the emitter. I am glad to note an o-ring on both the underside of the lens (toward the reflector) and on the bezel ring itself. This reassures me as to water-proofness.
Overall, I find this to be a very decent quality build – nothing flashy, but serviceable and much better than I expected for the price. Note that this is where having purchased 3 separate samples (over time) to evaluate is important, as I have found in the past that one of the issues with budget lights can be inconsistency. It's good to see them all equally well made overall, and showing at least one incremental improvement over time (i.e., that prompt revision to a less stiff tail spring). But the lens AR coating issue, which appears to have been limited to a particular intermediate batch, shows that you may still have issues there.
User Interface
The S21E driver is a lot more advanced than I would have expected for a budget offering. It has a choice of two distinct multiple-output mode sets you can select: one with a smooth ramp in output from min to max, and one with four discrete steps (1%, 10%, 40%, 100%/Turbo) plus a 0.2%/Moonlight level. Also available is a "Tactical" mode which only has the Turbo level. A strobe mode is also available, along with some other bonus features.
So, let's go through the user interface in detail:
From OFF:
Press and Hold: Moonlight
Single click: Turns on to the memorized brightness level
Double click: Turbo
Triple click: Strobe
4 clicks: set to Tactical mode (i.e., only momentary 100% brightness)
5 clicks: Voltage check. The light will blink out the voltage to one decimal place, first by the main volt, then by the decimal point (e.g., 3 blinks, a pause, and five more blinks would mean 3.5V).
6 clicks: Switch between ramping mode and stepped mode
10 clicks: Electronic lock out. Click for another 10 times to re-activate the light. Note that I suggest you simply lock the light out by a twist of the tailcap instead.
From ON:
Press and Hold (in Ramping mode set): Ramp up to 100%/Turbo. Press and hold again to ramp down to 0.2%/Moonlight. Release at any time to select the desired level. Note that when you restart the ramp after selecting a level, it reverses direction on the next press and hold.
Press and Hold (in Stepped mode set): Step up to next level (4 main levels on the sequence, Moonlight is not on the main sequence). Press and hold again to step down in levels.
Single click: Off
Double click: Turbo
3 clicks: Strobe
5 clicks: Voltage check
6 clicks: Switch between ramping mode and stepped mode
Shortcuts:
To Moonlight: Hold from off
To Turbo: Double-click from any mode except Tactical
To Strobe: Triple-click from any mode except Tactical
Mode memory:
Yes. The S21E will memorize any brightness level except for Moonlight and Strobe.
Low voltage warning:
Yes. The light will drop down to ~1% output and the button will blink red before eventually shutting off at ~3V. Note that it can run for a very long time at this level before shutting down.
Reviewer Comments:
This is a very impressive interface – surprisingly versatile, but also very easy to use (i.e., very intuitive). Hand the light to someone, and it wouldn't take them long to get used to it, the modes make a lot of sense. Switching between ramping and stepped mode sets is a bit peculiar with the six clicks, but it's not like it's something you will want to switch between often anyway.
Note that the highest output modes step down automatically after a period of time (and heat build up – scroll down for runtimes). And while I'm glad to see the "Moonlight" mode here, it is not actually low enough to be what I would consider a true moonlight (see Testing Results for more info).
Circuit Measures
Pulse-Width Modulation (PWM):
There is no sign of PWM at any level – the lights appear to be current-controlled. However, I did detect an oscillating noise pattern on several of the levels, include Turbo, as shown below.
Turbo/100% (Nichia 519A, SST40, SFT40)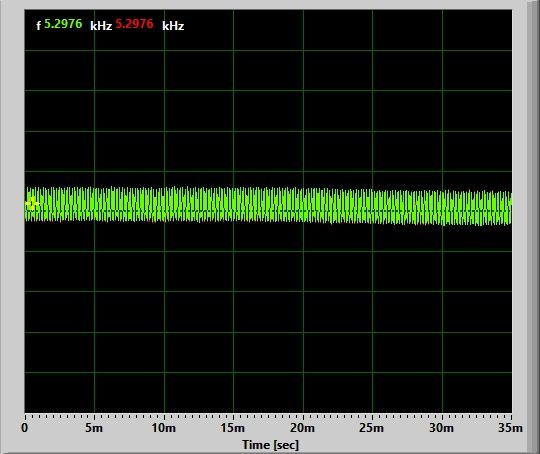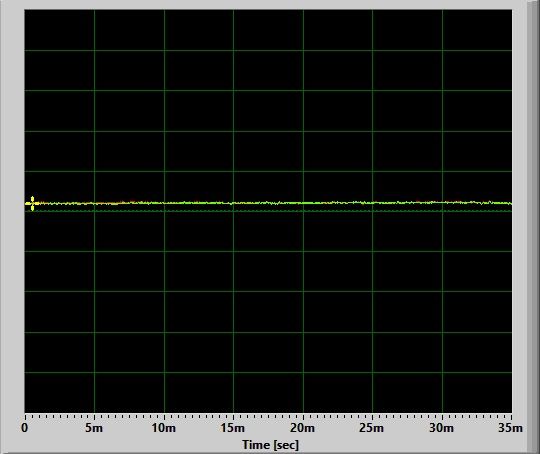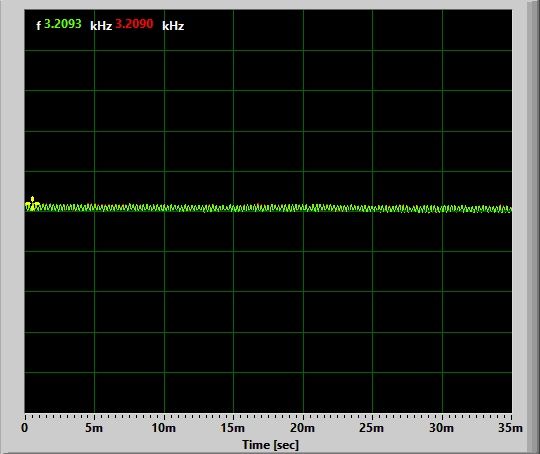 As you can see, the pattern is variable in intensity, and at a high frequency (~3-6kHz). But rest assured it is not something that you can see visually. It is even more detectable at the higher intermediate outputs, as shown below.
Step 40% (Nichia 519A, SST40, SFT40)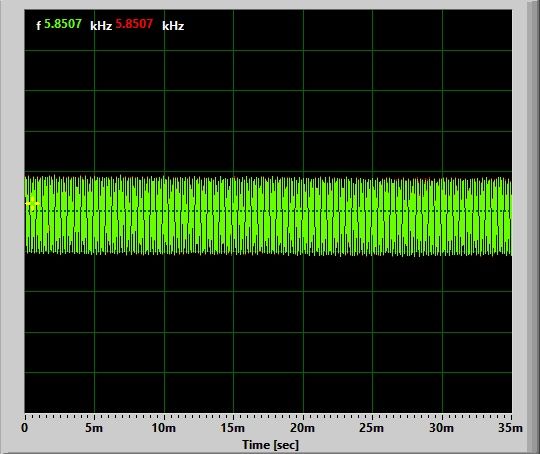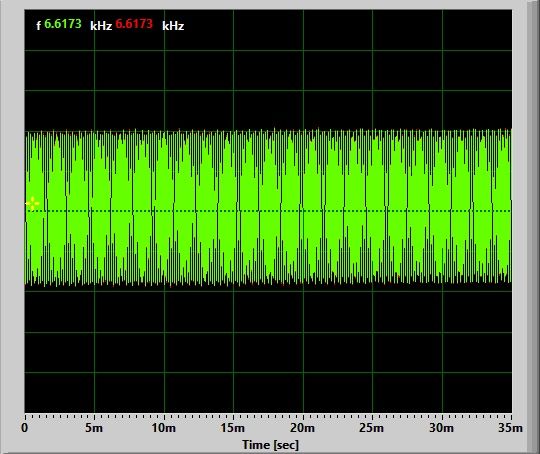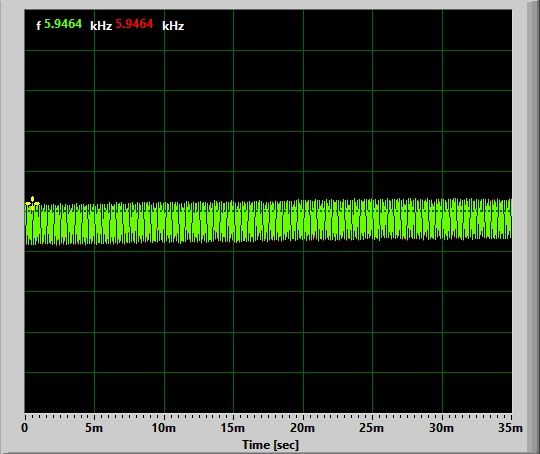 Here is a blow-up of one of the 40% levels, which clearly shows a simple sine-wave oscillation (i.e., no PWM here). Some people call this a saw-tooth noise pattern.
40% SS40 Zoomed in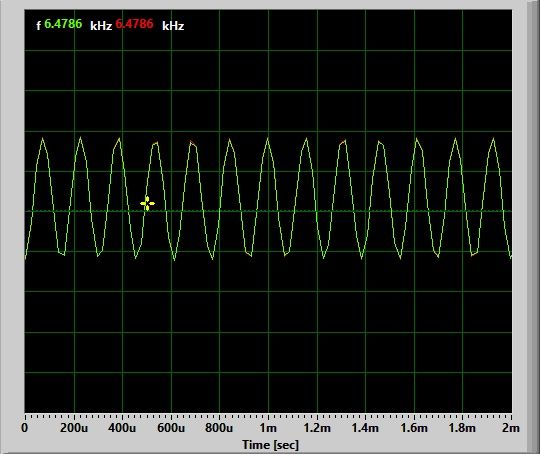 Still present at the 10% output level:
Step 10% (Nichia 519A, SST40, SFT40)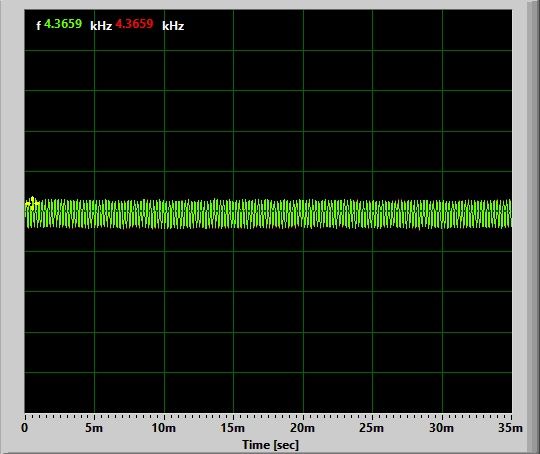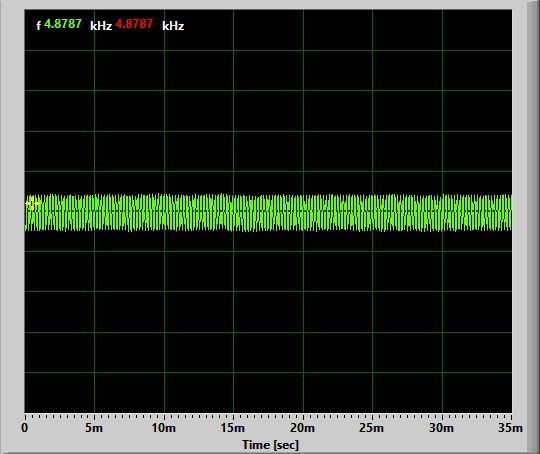 But it seems to disappear by the lower outputs, as shown below for both the stepped and ramp outputs – but that may just be because the output is too low for my oscilloscope to detect.
Step 1% (Nichia 519A, SST40, SFT40)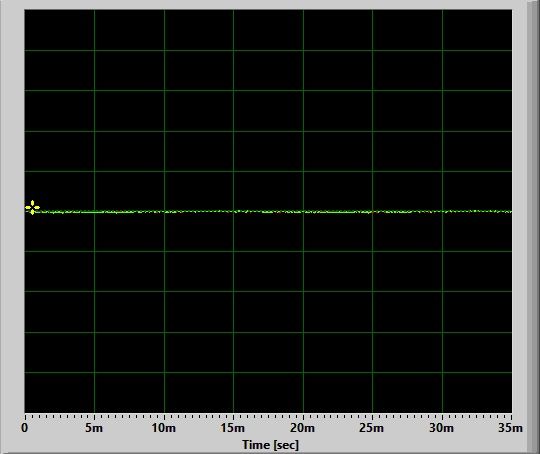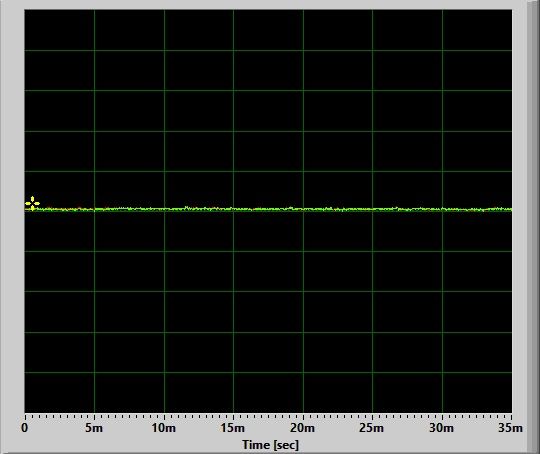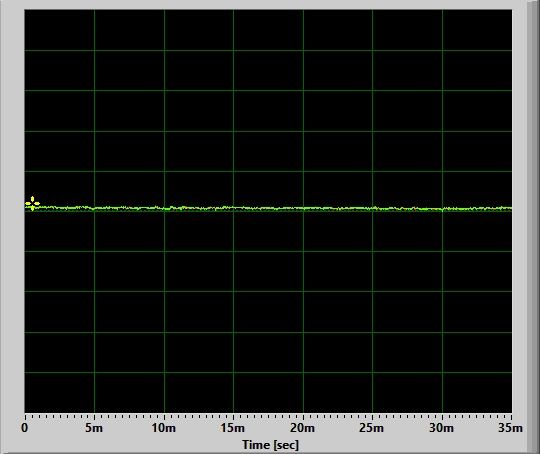 Ramp Lo (Nichia 519A, SST40, SFT40)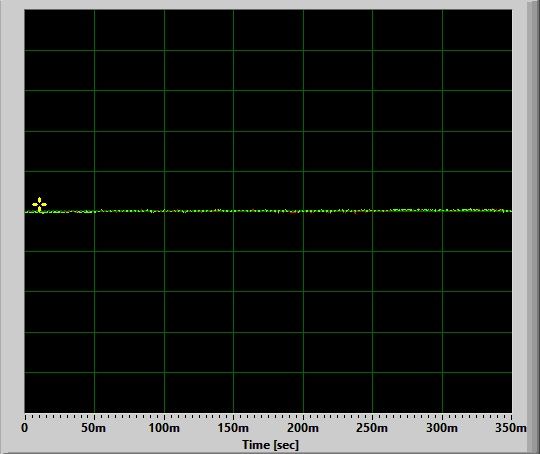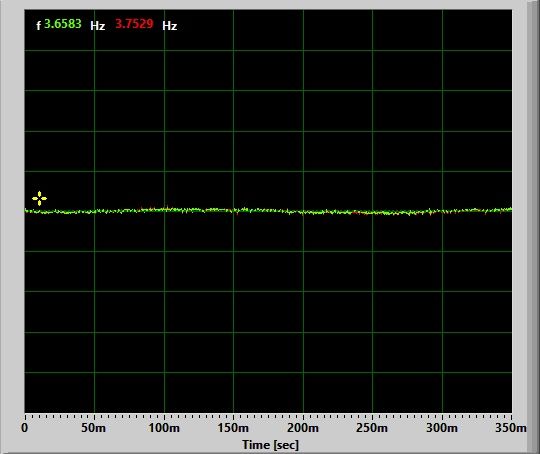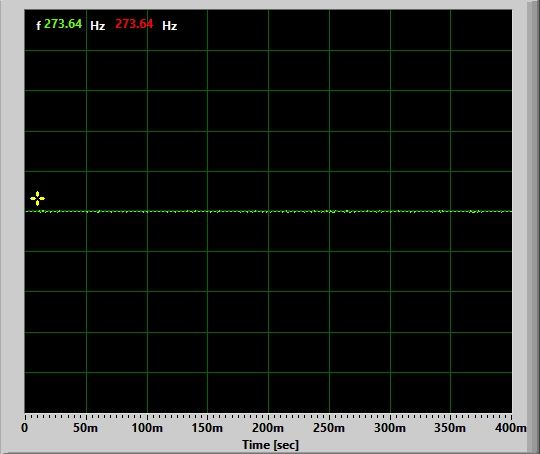 Again, none of the above is an issue in use. I am simply including the scope readings for completeness.
Strobe:
Strobe (Nichia 519A, SST40, SFT40)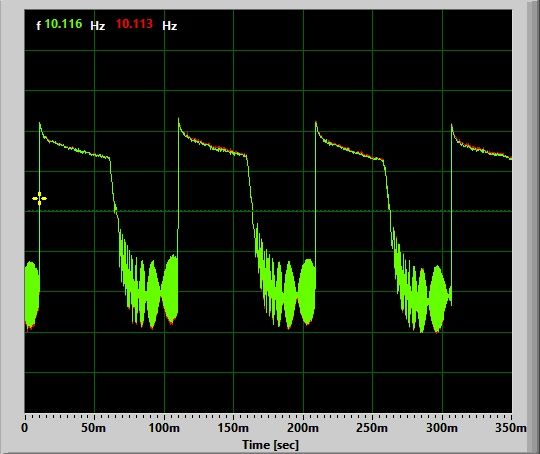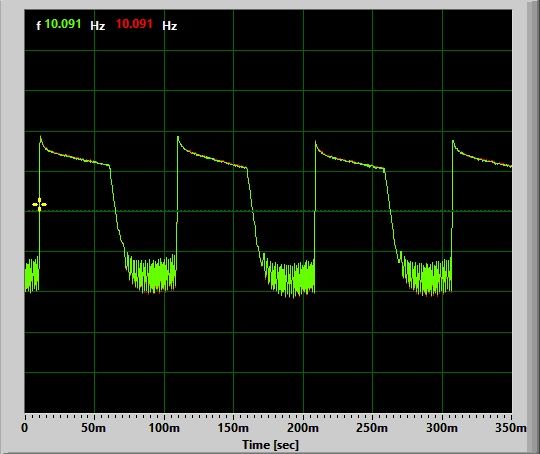 Strobe frequency is a very consistent fast 10.1 Hz, which most would consider a tactical frequency.
Note that the red/green LEDs are very bright when charging.
Charging rate for the Nichia 519A, SST40, SFT40: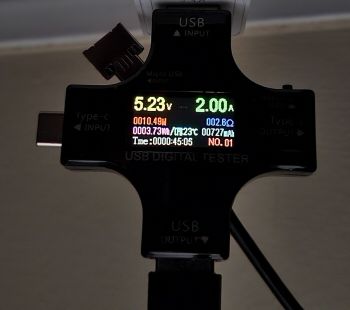 The S21E has a single high-current charging rate of ~2.0A-2.1A, as shown for the 3 specimens above.
I normally like a two-stage charging feature (i.e., with a lower charging rate for when cells are heavily discharged). But the light output drops down to a super low mode when the battery is running low, and big red button flashes incessantly, warning you to shut down. In fact, it is actually very hard to get the cell below ~3.0V in this light. As such, this is reasonable compromise to stick with a single high charging rate.
Standby / Parasitic Drain:
I measured the standby current across the 3 samples at a negligible 31.5 uA, 30.5 uA, and 31.0 uA.
This is nice and ultra-low standby current, and is not a concern for draining the cells. However, I always suggest you lock the light out when not in use to prevent accidental activation (and cut the negligible standby drain in this case). A single twist of the tail will lock out this light, thanks to the anodized screw threads.
Emitter Measures
This section is a new feature of my reviews, where I directly measure key emitter characteristics in terms of colour temperature, tint, and colour rendition. Please see my Emitter Measures page to learn more about what these terms mean, and how I am measuring them.
As explained on that page, since I am using an inexpensive uncalibrated device, you can only make relative comparisons across my reviews (i.e., don't take these numbers as absolutely accurate values, but as relatively consistent across lights in my testing).
S21E Nichia 519A: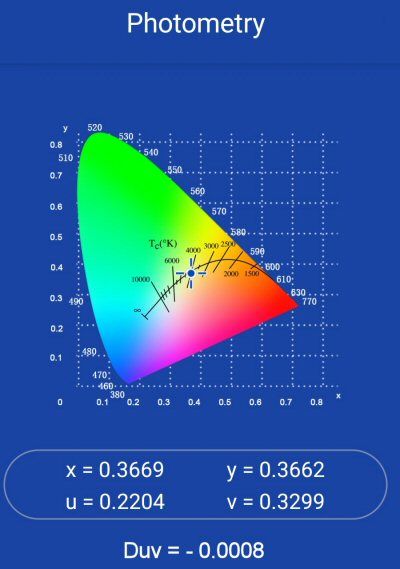 The key measures above are the colour temperature of ~4330K, and a slight negative tint shift (-0.0008 Duv) to rose at this temperature.
For CRI (Ra), I measured a combined score of 94.
These results are consistent with neutral-white Nichia 519A emitters, and match my visual experience of this light.
S21E SST40: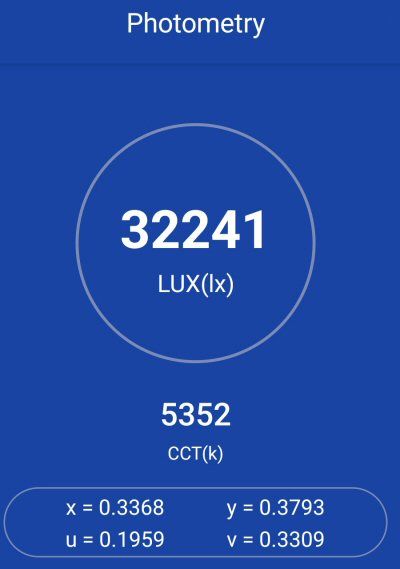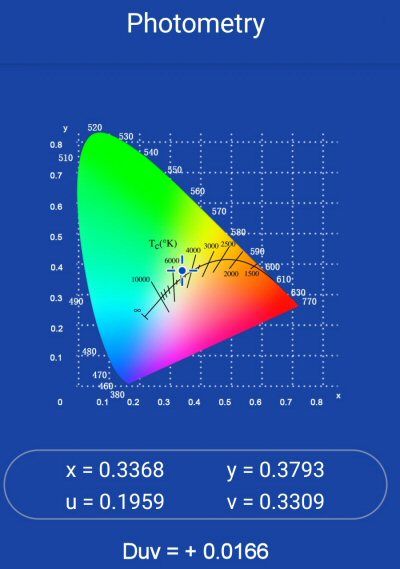 The key measures above are the colour temperature of ~5350K, and the very noticeable positive tint shift (+0.0166 Duv) to green-yellow at this temperature.
For CRI (Ra), I measured a combined score of 50.
These results are consistent with high output Luminus SST emitters (although CRI is a bit low on my sample), and match my visual experience of this light.
S21E SFT40: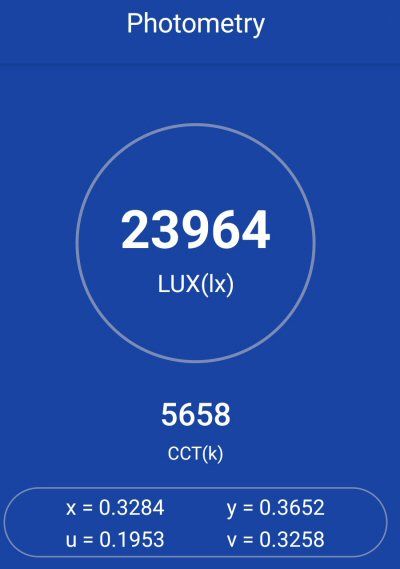 The key measures above are the colour temperature of ~5660K, and a noticeable positive tint shift (+0.0136 Duv) to green-yellow at this temperature.
For CRI (Ra), I measured a combined score of 65.
These results are again consistent with high output Luminus SST emitters, and match my visual experience of this light.
Beamshots
All outdoor beamshots are taken on my Canon PowerShot S5 IS at f/2.7, 0.5 secs exposure, ISO 400, daylight white balance. The bend in the road is approximately 40 meters (~45 yards) from the camera. Learn more about my outdoor beamshots here (scroll down for the floody light position used in this review).
Click on any thumbnail image below to open a full size image in a new window. You can then easily compare beams by switching between tabs.
Testing Results
My summary tables are generally reported in a manner consistent with the ANSI FL-1 standard for flashlight testing. In addition to the links above, please see my output measures page for more background.
All my output numbers are based on my home-made lightbox setup. As explained on that methodology page, I have devised a method for converting my lightbox relative output values to estimated lumens. My Peak Intensity/Beam Distance are directly measured with a NIST-certified Extech EA31 lightmeter.

S21E Testing Results
| Emitter | Mode | Spec Lumens | Estimated Lumens @0sec | Estimated Lumens @30 secs | Beam Intensity @0sec | Beam Intensity @30secs | Beam Distance @30secs | PWM/Strobe Freq | Noise Freq | Charging Current <3V | Charging Current >3V | Parasitic Drain | Weight w/o Battery | Weight with Battery |
| --- | --- | --- | --- | --- | --- | --- | --- | --- | --- | --- | --- | --- | --- | --- |
| Nicha 519A | Moon 0.2% | - | 10 | 10 | - | - | - | No | No | 2.0 A | 2.0 A | 31.5 uA | 89 g | 154 g |
| Nicha 519A | 1% | - | 19 | 19 | - | - | - | No | No | 2.0 A | 2.0 A | 31.5 uA | 89 g | 154 g |
| Nicha 519A | 10% | - | 230 | 230 | - | - | - | No | 4.4 kHz | 2.0 A | 2.0 A | 31.5 uA | 89 g | 154 g |
| Nicha 519A | 40% | - | 550 | 540 | - | - | - | No | 5.9 kHz | 2.0 A | 2.0 A | 31.5 uA | 89 g | 154 g |
| Nicha 519A | Turbo 100% | 1,300 | 1,300 | 1,250 | 11,510 cd | 10,550 cd | 205 m | No | 5.3 kHz | 2.0 A | 2.0 A | 31.5 uA | 89 g | 154 g |
| Nicha 519A | Strobe | - | - | - | - | - | - | 10.1 Hz | No | 2.0 A | 2.0 A | 31.5 uA | 89 g | 154 g |
| SST40 | Moon 0.2% | - | 16 | 16 | - | - | - | No | No | 1.65 A | 2.0 A | 30.5 uA | 87 g | 153 g |
| SST40 | 1% | - | 29 | 29 | - | - | - | No | No | 1.65 A | 2.0 A | 30.5 uA | 87 g | 153 g |
| SST40 | 10% | - | 340 | 340 | - | - | - | No | 4.9 kHz | 1.65 A | 2.0 A | 30.5 uA | 87 g | 153 g |
| SST40 | 40% | - | 750 | 740 | - | - | - | No | 6.6 kHz | 1.65 A | 2.0 A | 30.5 uA | 87 g | 153 g |
| SST40 | Turbo 100% | 2,400 | 2,050 | 2,000 | 27,300 cd | 26,000 cd | 322 m | No | 6.9 kHz | 1.65 A | 2.0 A | 30.5 uA | 87 g | 153 g |
| SST40 | Strobe | - | - | - | - | - | - | 10.1 Hz | No | 1.65 A | 2.0 A | 30.5 uA | 87 g | 153 g |
| SFT40 | Moon 0.2% | - | 13 | 13 | - | - | - | No | No | 2.1 A | 2.1 A | 31 uA | 90 g | 156 g |
| SFT40 | 1% | - | 26 | 26 | - | - | - | No | No | 2.1 A | 2.1 A | 31 uA | 90 g | 156 g |
| SFT40 | 10% | - | 280 | 280 | - | - | - | No | 4.5 kHz | 2.1 A | 2.1 A | 31 uA | 90 g | 156 g |
| SFT40 | 40% | - | 650 | 640 | | | - | No | 6.0 kHz | 2.1 A | 2.1 A | 31 uA | 90 g | 156 g |
| SFT40 | Turbo 100% | 1,800 | 1,750 | 1,700 | 41,400 cd | 37,500 cd | 387 m | No | 3.2 kHz | 2.1 A | 2.1 A | 31 uA | 90 g | 156 g |
| SFT40 | Strobe | - | - | - | - | - | - | 10.1 Hz | No | 2.1 A | 2.1 A | 31 uA | 90 g | 156 g |
To see full testing results for all modern lights in my testing, check out my Database page.
Runtimes
As always, my runtimes are done under a small cooling fan, for safety and consistency. To learn more about how to interpret runtime graphs, see my runtimes methodology page.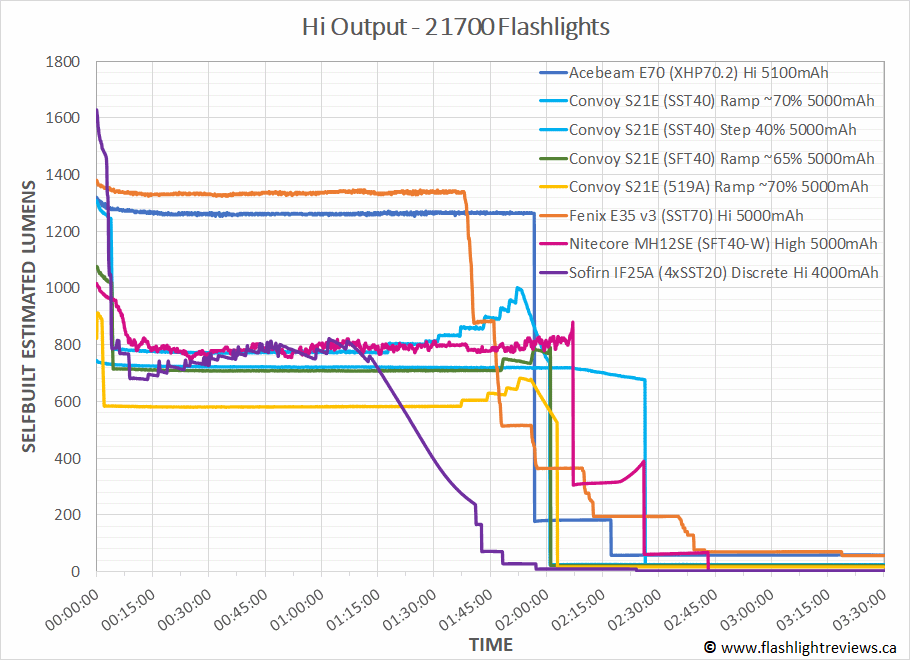 As you can see above, the S21E circuit is well regulated, with thermal-mediated step-downs at the higher levels. Note that output tends to rise a little bit near the end of the runs on these levels, before stepping down to the low output.
Here is an expanded view of the max runtime graph, so that you can see the first few minutes with better resolution: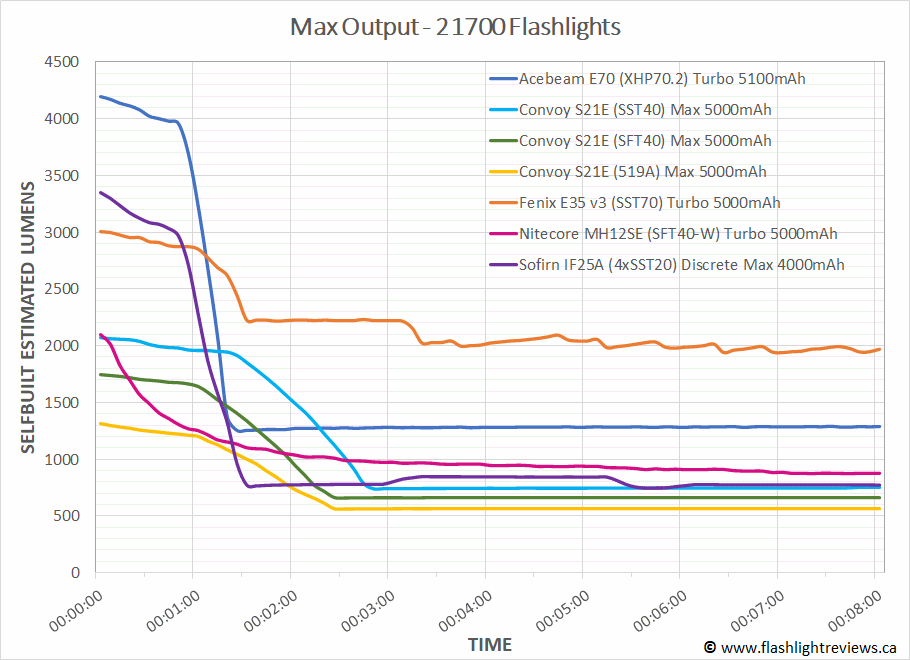 Overall efficiency is quite good for each given emitter type. I'm taking the budget cell's 5000mAh rated capacity as face value here (always a stretch for budget cells), but the SST40 specimen shows nearly comparable efficiency to brand name lights, which is impressive. So this suggests the overall efficiency of this circuit is high.
Pros and Cons
| Pros | Cons |
| --- | --- |
| Very good current-controlled efficiency for each emitter type, across all modes/levels. | Stepped mode spacing is not ideal, and Moonlight mode is too bright to qualify as a true moonlight. |
| Great feature set with both ramping and discrete output levels, including Turbo and Moonlight modes. | Light heats up quickly on Turbo, given low thermal mass. |
| Nicely balanced beam profile for SST40 and Nichia 519A models. | Significant purple fringing at the edge of the spillbeam on two samples, due to a batch of heavy AR coated lens. |
| Very compact build, quite petite for the class. | Green/Red LEDs under the switch covers are very bright, and the low-voltage warning flash can be distracting. |
| Optional included high-capacity battery. | Older models came with a very stiff tail spring that caused denting of LiitoKala cells (seems resolved on more recent versions). |
Another minor issue I noted is the ramping speed is rather quick. But given how few lights actually give you a choice of a continuous ramp option, this is hardly a complaint!
Overall Rating
Preliminary Conclusions
My new rating system above is based solely on the features of the light, without taking cost into account. And so, given the very low cost of these lights, this is a really impressive showing.
I'm particularly impressed by the performance and versatility of the circuit, and the option for both discrete stepped levels and a continuous ramp. Yes, the discrete levels are not really well spaced, and the ramp is a bit fast, but these seem like relatively minor quibbles. It is frankly surprising to see such a versatile circuit in a budget light, with such good regulation and efficiency.
Charging performance was very good under the circumstances, with a negligible standby drain. All said, this is quite an impressive set of of circuit features for the price. It's definitely few frills in terms of extras, but it has what you need where it counts.
Physically, the light is a very good build, quite serviceable with decent hand feel and use. There is not a lot of mass however, so it does heat up quickly. And of course, as is often the case with budget lights, you can get variability in components over batches (i.e., the too-strong tail spring on my SST40 sample, the heavy purple AR lens coating on the other two, etc.). So that is one thing you will have to accept in a budget brand.
Beam pattern is reasonably good for all three emitters. That said, the rather small improvement in throw of the SFT40 over the brighter overall SST40 doesn't seem worth it to me. And the small reflector here seems to be introducing brighter defined rings in the periphery of the SFT40 spillbeam (which is accentuating the purple fringing of the AR coating on that particular sample). I think a light with a larger head/reflector would really be necessary to take best advantage of the SFT40 emitter. So I recommend you stick with the SST40 or Nichia 519A in this series, in your preferred colour temperature (and very nice that they offer that).
I'm glad I decided to pick these up to test. Based simply on their own merits, they are worthy contenders to consider in the 1×21700 space. When you factor in their incredibly low-cost budget price, I'd say these lights are well recommended (at least the Nichia 519A and Luminus SST40 versions).
I'm looking forward to seeing how other budget lights perform.
Reviewer's Additional Comment: A new model in the S21-series has just come out, the S21F. However, this is a significant build change from the earlier S21-series lights, with a blended multi-emitter design. The S21E remains the most advanced version of the compact, single-emitter 1×21700 light from Convoy.
Acknowledgement
The S21E samples were personally purchased from the Convoy store of Aliexpress in the fall of 2022. At the time of review, these lights retail for ~$30 USD (~$40 CDN) with a bundled battery.