The TS22 is a very compact but high output general-purpose flashlight, running on a single included 21700 battery. It features a well-regulated and efficient boost circuit for maximum performance.
Introduction
Upon my return to reviewing this year, I quickly discovered that Wurkkos is a well-regarded newer "budget" flashlight maker. Indeed, like Convoy and Sofirn, I soon started receiving user requests to review their lights as well. The Wurkkos TS22 was always on my radar, given my initial focus on compact, EDC-style 1×21700 lights. I'm pleased that Wurkkos agreed to send me this model for review.
Building on their earlier popular FC12 and TS21 models, the TS22 features the high-output XHP70.2 emitter, and is rated for max output up to 4500 lumens. Note that my sample has a neutral white colour temperature (5000K) while still rated at the same 4500 max lumens as the cool white (6000K) version. FYI, according to the Wurkkos website, I see a new XHP70.3 HI emitter option (in cool white only) is also now available.
That's a lot in a compact light, so I'm curious to see how it compares in my testing.
Manufacturer Specifications
Note: as always, these are simply what the manufacturer provides – scroll down to see my actual testing results.
| Feature | Specs |
| --- | --- |
| Maker | Wurkkos |
| Model | TS22 |
| Emitter | XHP70.2 |
| Tint | 5000 K |
| Max Output (Lumens) | 4,500 |
| Min Output (Lumens) | 10 |
| Max Runtime | 280 hrs |
| Max Beam Intensity (cd) | 9,150 cd |
| Max Beam Distance (m) | 191 m |
| Constant Levels | 5 |
| Flashing | Strobe |
| Battery | 1x21700 |
| Weight (w/o battery) | 95 g |
| Weight (with battery) | - |
| Length | 122 mm |
| Head Diameter | 28 mm |
| Body Diameter | - |
| Waterproof | IP68 2m |
Package Details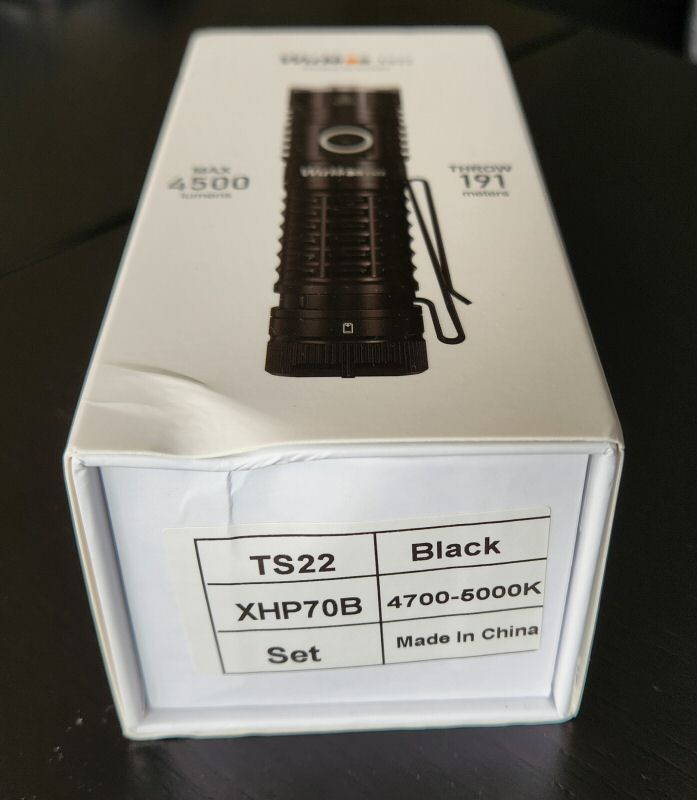 One thing you may notice is the packaging looks virtually identical to the Sofirn C8L I just reviewed. Indeed, there are many aspects to the lights that also seem identical (see Build details below), making it clear to me that Wurkkos and Sofirn are sharing the same manufacturing plant (at least for these two models). Researching online, it seems the two firms have an association, with Sofirn providing the contract manufacturing capabilities for Wurkkos (though Wurkkos is a separate company).
The second thing you'll notice is that a corner of the box on this sample got heavily dented/damaged in shipping (it was just wrapped in a waterproof packaging with no extra protection). But that's just fine – the box is made of very hard cardboard with cut-out form inserts inside, so nothing important got damaged.
The box comes with a lot of printed specs and a clear separation of items and components inside (reminds me a bit of modern cell phone packaging). Inside the box, I found:
Wurkkos TS22 flashlight, with stainless steel pocket clip attached
Wurkkos-branded 5000mAh 21700 battery
Wrist lanyard
USB-C charging cable
2 Spare O-rings
Manual
It's a decent package, consistent with other lights of this class. I particularly like the included bi-directional pocket clip, a nice touch given the low price.
Build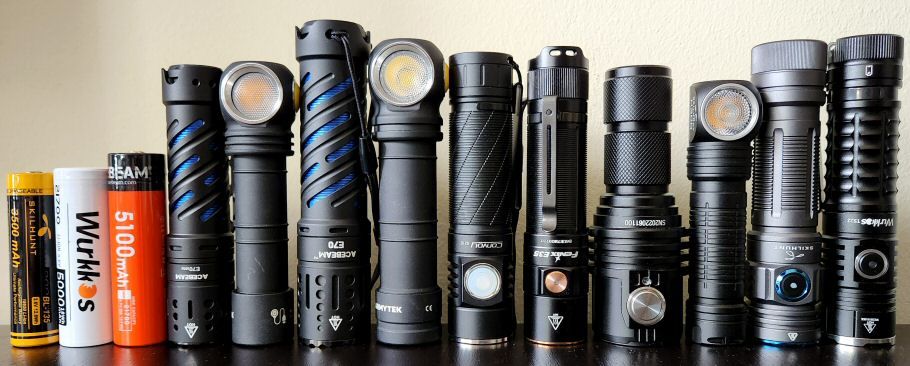 From left to right: Skilhunt 18650 (3500mAh), Wurkkos 21700 (5000mAh), Acebeam 21700 USB-C (5100mAh), Acebeam E70 Mini, Armytek Wizard C2 Pro Nichia, Acebeam E70, Armytek Wizard C2 Pro Max, Convoy S21E, Fenix E35 v3, Imalent MS03, Skilhunt H300, Skilhunt M300 V2, Wurkkos TS22.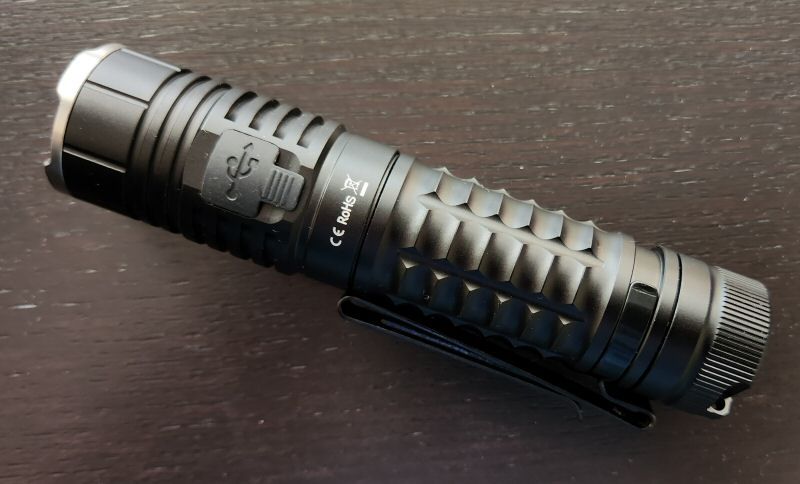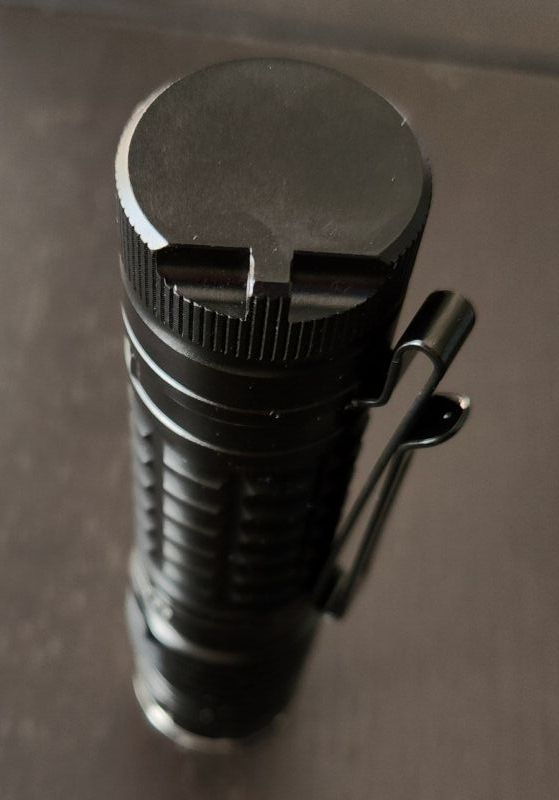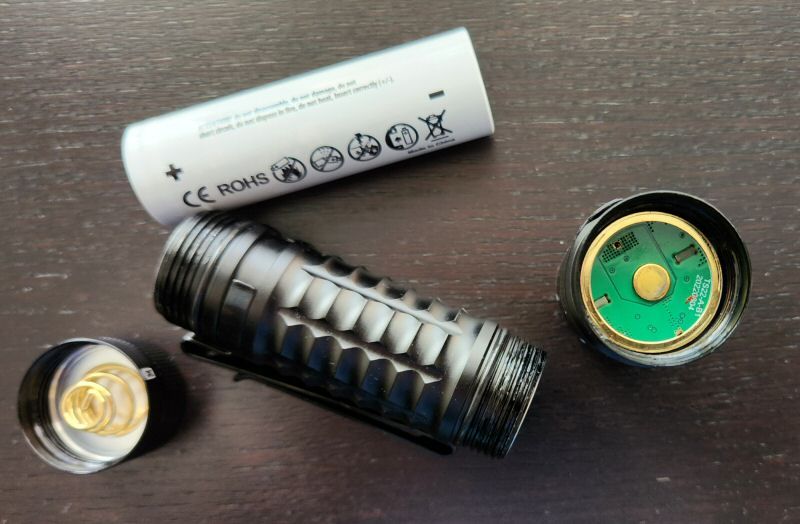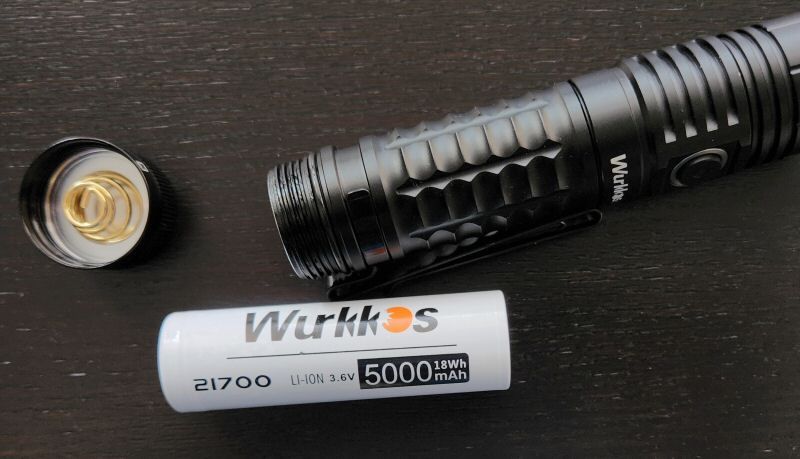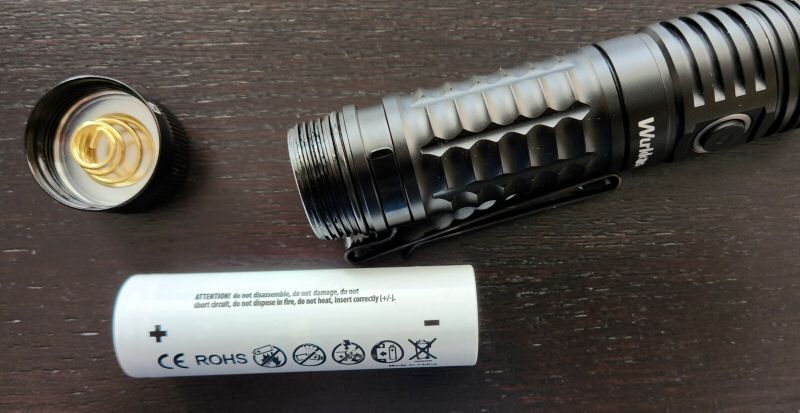 The TS22 is a nice and solid build, with distinctive ridged cutouts along the body tube. This provides excellent grip without using actual knurling (and so, will be easier on fabric/clothes). Grip is especially good with the clip attached. It feels very solid and high quality, similar in handfeel to the Acebeam E70 (but a little smaller and lighter overall).
However, the light it most reminds me of is the Sofirn C8L that I recently reviewed. Just like I noted for the packaging above, I'm struck here by how the electronic switch cover looks and feels identical. The tailcap has the same battery orientation label (as well as the same body certification labels, the same heat warning on the head, etc). Even the base of the circuit board in the heads looks very similar. Although the actual ridge detailing is different, it is clear these two models are produced at the same manufacturing plant.
I am impressed with the physical build of this light. The bidirectional clip is a nice touch, and one I like seeing on a compact EDC-style light. The electronic switch has both green and red LEDs underneath, and light up to illustrate aspects of operation. I'm not crazy about the switch feel though – just like the C8L, I find there is just a bit too much play on the hard switch cover, and it's possible that a glancing press may not properly connect. Note that like the Sofirn IF25A, you can activate a locator beacon function for the switch – but it is set by default to off on this light (see User Interface section for more info).
Tailstanding is very stable, thanks to the flat tailcap (there is a side cut-out to allow you thread the basic wrist lanyard through). Tailcap threads are square-cut and anodized, with good feel. I always recommend you keep a light stored locked out when not in use. Thanks to the anodized tailcap threads, you can do this easily by a simple twist of the tailcap.
Note there is a magnet in the tailcap, allowing you stably mount the light horizontally (or upside-down) on any metal surface. Strength of the magnet is just about right in my view – enough to hold stably, but not as super-strong as some lights (e.g. Armytek, which tend to attract nearby metal objects).
The light's USB-C charging port is located on the head opposite to the electronic switch. The port has a thick rubber cover. Just like the C8L, I found the cover to fit rather tightly, making it hard to full depress. But I suppose that should help with waterproofness if you can press it down enough.
Note that the light can roll easily if you take the pocket clip off, so I recommend you keep it on. Anodizing looks to be good quality, with no damage on my sample. I would describe the finish as satin – not as glossy as some, but not completely matte either. Its a nice package, comfortable and well-balanced in the hand with decent grip.
Inside, the light comes with a Wurkkos-branded standard-sized 5000mAh 21700 battery, with a slightly raised flat-top. There is a small post in the head, ensuring good contact given the decently robust tailspring (which is often required to support higher current draws).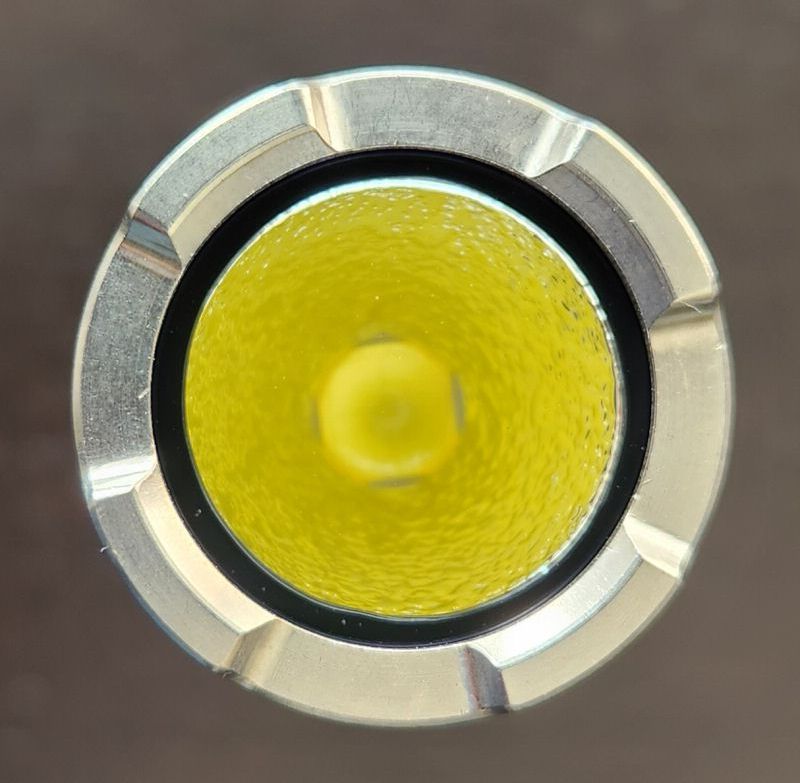 The TS22 uses a XHP70.2 emitter, coupled with a deep textured reflector (moderate orange peel, OP). As always, there is some colour shifting across the periphery of the beam (a well-known issue with XHP70.2 emitters). Unfortunately, this is accentuated by the purplish anti-reflective (AR) coating on the lens of my TS22 sample. That said, it's still not as bad as some I've seen.
The bezel is crenelated bare aluminum – scalloping is not too aggressive, so you can headstand stably.
There is a very interesting option with this light, which is to turn on the switch indicator (green LED) when the battery and tailcap are connected. As I will explain below, this is a good way to give yourself an effective "moonlight" mode, depending on how you want to configure the UI.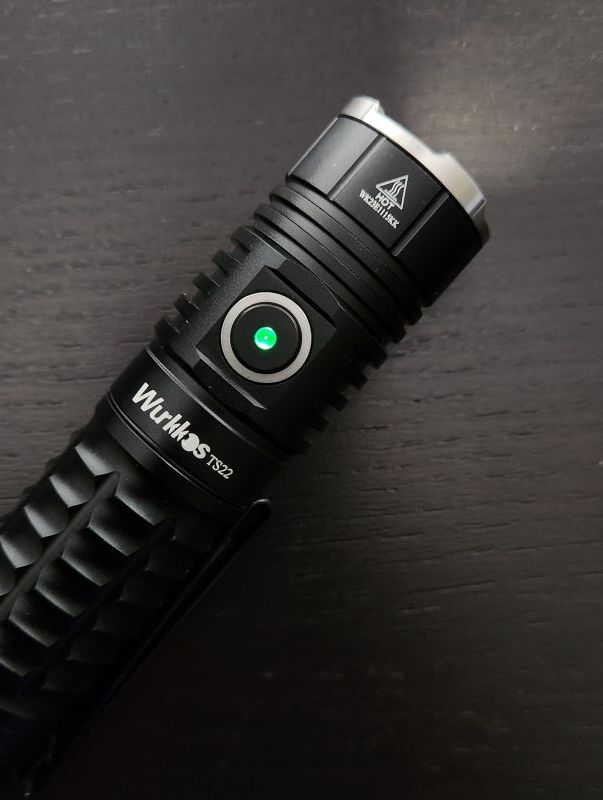 The second pic above is a close-up on a white wall in the dark (not really this bright, using my cellphone's auto-adjust mode). As you can see, the green is a bit uneven (i.e., center hotspot and semi-circular crescent below), but it does work well enough for dark-adapted eyes. Scroll down for more details on how to turn it on.
User Interface
Unlike the previous model it replaces, the TS22 is not using Anduril. Instead, it has its own customized user interface – which also has a lot of advanced features, and is at least comparable to many of the good quality Convoy and Sofirn lights.
To start, you have a choice between Stepped Ramping mode (default), or continuously-variable Smooth Ramping mode. To switch between these modes, click 4 times when the light is On.
Stepped Ramping mode (default) levels: Eco, Low, Mid, High, Turbo, and Strobe

From OFF:
Press-and-hold: Turns on in Eco mode.
Single-click: Turns On in last memorized mode.
Double-click: Turns On in Turbo (or, if auto lock-out engaged, turns On in the last memorized mode).
Triple-click: Turns On in Strobe (or, if auto lock-out engaged, turns On in the last memorized mode).
4 clicks: Manually activate Lock-out mode. Double-click to unlock.
5 clicks: Set the switch indicator button to constant-on green, flashing green (roughly one quick flash every 2 secs), or off (default setting). The setting is memorized for when you next reconnect the battery/tailcap. This allows the switch LED to serve as a locator beacon for the flashlight, or an impromptu moonlight mode (see below). Note that setting either constant or flashing green disables the auto lock-out function (again scroll down for a discussion).
From ON:

Press-and-hold: Cycle between Lo > Med > Hi (in sequence).
Single-click: Turns Off.
Double-click: Jumps to Turbo. Note that doing a double-click from Turbo jumps you to Eco mode (which is odd, I would have expected it to jump back to whatever was previously memorized).
Triple-click: Jumps to Strobe.
4 clicks: Switch between Stepped Ramping mode and Smooth Ramping mode
Mode memory:
Yes, for non-Turbo constant output modes.
Shortcuts:
Eco mode: Press-and-hold the switch from Off.
Turbo mode: Double-click the switch from On or Off (if not auto-locked out).
Strobe: Triple-click the switch from On or Off (if not auto-locked out).
Smooth Ramping mode levels: continuously-variable ramp from the Eco-level to Turbo, and Strobe.

Smooth ramping functions basically the same as Stepped ramping above, with the same shortcuts to Eco, Turbo and Strobe. The main difference is that a press-and-hold of the switch when On smoothly ramps across the entire output range (from Eco through Turbo), rather than just the 3 discrete levels in Stepped Ramping.
Low voltage warning:

Sort of. The main light will step down as the battery is running low. It will then turn Off by ~2.7V.
Lock-out mode:
Yes, but an unusual one. After 3 minutes of inactivity, the light will automatically lock it itself out so that a single-click won't activate (i.e., the same as if you did 4 clicks from Off to enter the lock-out state). When locked out, the main emitter just does a quick double-flash if you single-click the switch, to indicate the lock out status. I have to say this auto lock-out surprised me the first time it happened (which is what you get for not reading the manual, doh!). A double-click of the switch deactivates the lock-out, and let's you use the light normally again.
Alternatively, you can do a twist loosen/tighten of the tailcap, which also resets and deactivates the lock-out. Or, you can turn on the locator feature for the button indicator, which also disables the auto lock-out.
Given the unusual standby current (see below), I recommend you always store the light physically locked-out by a twist of the tailcap. If you do this, then you have a great opportunity to add an additional "green moonlight" mode to the light by setting the switch indicator to constant green. Simply twist the tailcap tight to turn on the "green moonlight" indicator LED, and then then use the switch as you normally would to activate all the regular modes of the main emitter.
Note that setting either indicator disables the auto lock-out feature, and will result in a much fast standby drain (again, scroll down for details). But I find that it's more versatile to have the switch indicator set to constant on, and physically lock out the light at the tailcap.
Battery indicator:

Yes. The LED under the switch indicates the battery status for the first ~5 secs after turning on:
Solid Green: >30% Battery power remaining
Solid Red: <30% Battery power remaining
Flashing Red: Battery critically low, recharge as soon as possible.
Regardless to how you have set the switch indicator, it does shut off after 5 secs of continuous main LED use.
I have to say, this doesn't seem like the best range of power levels to indicate (personally, I liked the Sofirn C8L settings better). Also, I did notice some inconsistencies on my sample where a nearly-full cell would sometimes (infrequently) show red or even flashing red. Not sure why that happened.
Video Overview:
Please see the video below, which walks you through the UI and build features of this light:
Reviewer Comments:
The UI is surprisingly versatile, although it is a bit quirky in some of its settings. Case in point, automatically entering the lock-out mode after 3 mins is a new one for me, and was more annoying than practical during my testing. Ultimately not a huge deal for me, as I always store my lights locked out at the tailcap when not in use anyway. And as I explain above, this opens up the opportunity to effectively turn the switch LED into an ad hoc "green moonlight" mode, as this also disables the auto lock-out. It's also unusual nowadays to be limited to a single disorienting strobe – I would prefer to see a slow signaling strobe/beacon.
Note there is one other interesting feature to the TS22 – the light remembers the state of the electronic switch, even if you break the current at the tailcap. So if the light were in the on-state and you twist the tailcap loose to turn off, the next time you twist it tight again the light comes on automatically. This is unusual, as most lights simply revert to the electronic off-state once current is broken. But it does add versatility here if you want to use the light as a twisty – you don't need to also click the electronic switch again to activate.
All that said, there are a good range of options here, on par with the better budget makers. In particular, I also like the option of switching between discrete Stepped ramping and continuously-variable Smooth ramping.
Circuit Measures
Pulse-Width Modulation (PWM):
Eco:

Low: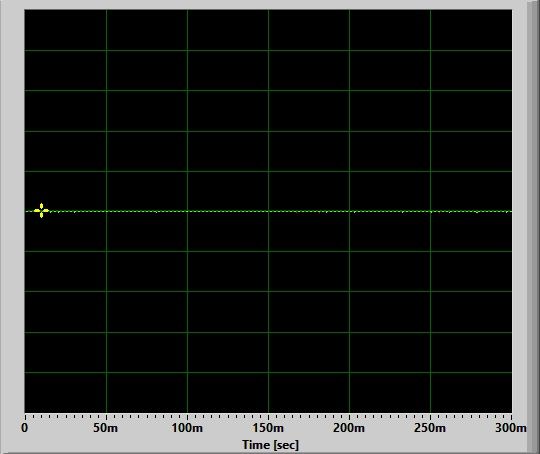 Mid: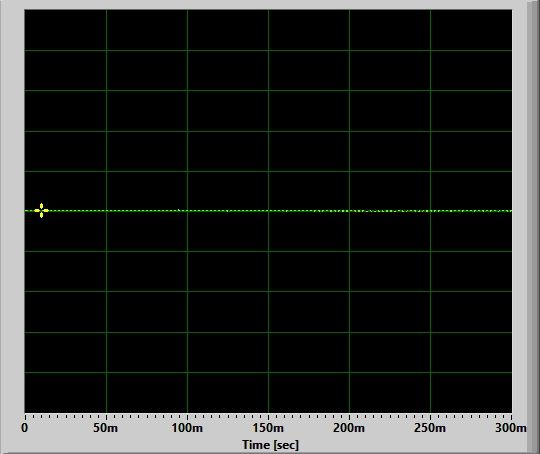 High: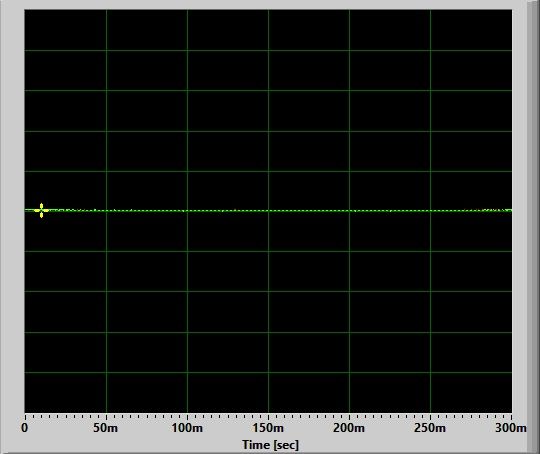 Turbo: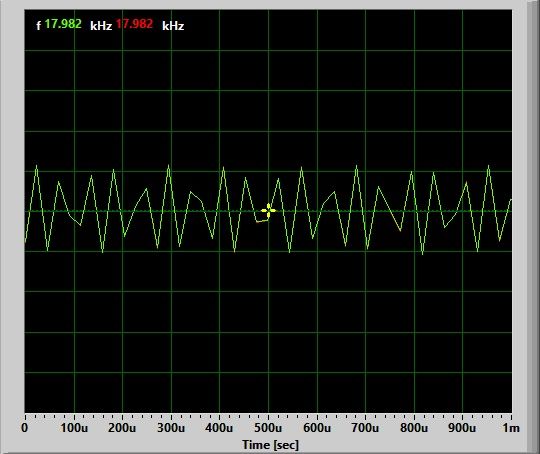 There is no sign of PWM, the circuit appears to be fully current-controlled. There is no circuit noise on any level until Turbo, where you can see some high-frequency noise around 18 kHz. This is completely undetectable and not a concern.
Strobes:
Strobe:

Strobe alternates between 6 Hz and 14 Hz every 1.75 secs or so. Very distracting.
There are no beacon or SOS modes.
Charging: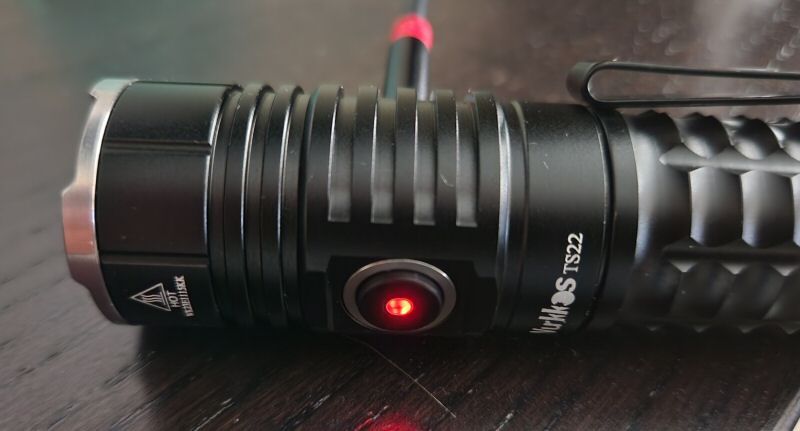 The switch button flashes red when the light is charging (roughly one second on, one second off). Switches to solid green when the charging is complete.
Resting voltage <3.0V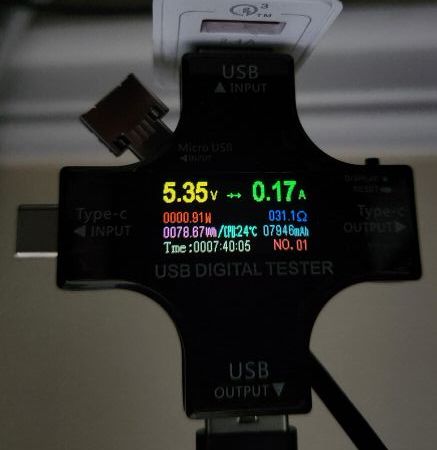 Resting voltage >3.0V

The TS22 has a two-stage charging feature, as seen on many modern lights (i.e., with a lower charging rate for when the cell is heavily discharged). Main charging rate is nice and high at 2A, which is good for a 21700 cell. Charging terminated at ~4.19V on my sample.
Note that the light can also serve as power bank to charge other USB-devices, like your cell phone. Simply plug the device into the USB-C power port, as shown below.
That's a pretty impressive charge rate of 2.15A (shown charging my Samsung Galaxy S21+).
Standby / Parasitic Drain:
In the default state (i.e., no switch LED indicator), I measured the standby current as fluctuating between ~100-110 uA, with periodic jumps every couple of seconds to 1.82 mA. I'm not sure why it keeps jumping to the higher level.
UPDATE July 6, 2023: I had initially speculated that this may have to do with the power bank feature (i.e., I wondered if it keeps checking to see if a device is connected for charging). But I have determined this is not the case. I have gone and measured the standby drain for over 3 mins, and found that the periodic jumps to 1.82mA stop as soon as the auto lockout engages. The light stays within ~100-110 uA from that point on – and yet the power bank feature still works just fine.
For a 5000mAh battery, that would mean a little under 5 and half years before the battery would be fully drained. This is very reasonable for the class, and not a major concern, but I recommend you store the light locked out at the tailcap to cut the current completely.
As a comparison, I decided to test the other two switch indicator states (i.e., flashing once every 2 secs, or constant-on green). Interestingly, the flashing mode is 1.82 mA during the off-state, with a jump to 3.60 mA every time the green light illuminates. And not surprisingly, the constant-on green LED is a constant 3.60 mA drain. Note those levels would result in a 5000 mAh battery being fully drained in just under 3 months and 2 months, respectively.
As explained above though, this does give you the option to basically take advantage of a "green moonlight" mode to the light, by activating the constant green indicator LED under the switch. Just use the tailcap as a "twisty" for on/off of the moonlight, and click the switch for main mode illumination. And I would say 2 months of constant moonlight output is not bad.
Emitter Measures
This section is a new feature of my reviews, where I directly measure key emitter characteristics in terms of colour temperature, tint, and colour rendition. Please see my Emitter Measures page to learn more about what these terms mean, and how I am measuring them. As tint in particular can shift across levels, I typically stick with the highest stably regulated level for all my reported measures.
As explained on that page, since I am using an inexpensive uncalibrated device, you can only make relative comparisons across my reviews (i.e., don't take these numbers as absolutely accurate values, but as relatively consistent across lights in my testing).
TS22 on Hi: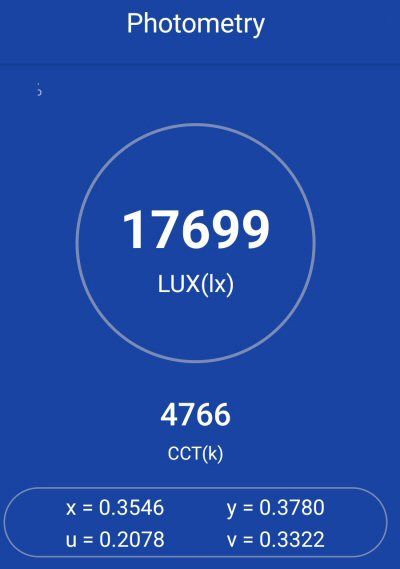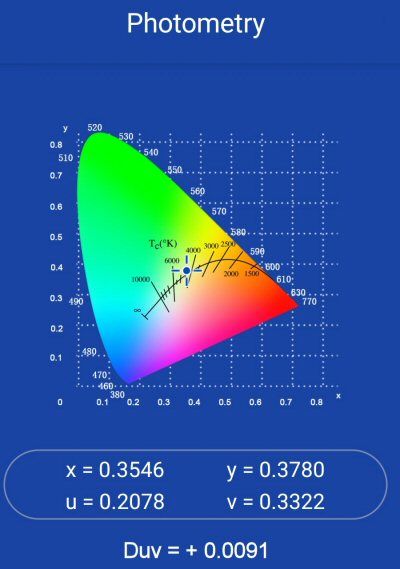 The key measures above are the colour temperature of ~4765K, and the slight positive tint shift (+0.0091 Duv) to yellowish at this temperature. For CRI (Ra), I measured a combined score of 67.
These values are very consistent with the rated specs for the neutral white XHP70.2 emitter on my sample, and match my visual experience of this light.
Beamshots
All outdoor beamshots are taken on my Canon PowerShot S5 IS at f/2.7, 0.5 secs exposure, ISO 400, daylight white balance. The bend in the road is approximately 40 meters (~45 yards) from the camera. Learn more about my outdoor beamshots here (scroll down for the floody light position used in this review).
Click on any thumbnail image below to open a full size image in a new window. You can then easily compare beams by switching between tabs.
As you can see above, the TS22 is a very bright floody light, with a lot of output into the foreground. As expected, it doesn't throw as far as the larger head-size lights.
Testing Results
My summary tables are generally reported in a manner consistent with the ANSI FL-1 standard for flashlight testing. In addition to the links above, please see my output measures page for more background.
All my output numbers are based on my home-made lightbox setup. As explained on that methodology page, I have devised a method for converting my lightbox relative output values to estimated lumens. My Peak Intensity/Beam Distance are directly measured with a NIST-certified Extech EA31 lightmeter.

TS22 Testing Results
| Mode | Spec Lumens | Estimated Lumens @0sec | Estimated Lumens @30 secs | Beam Intensity @0sec | Beam Intensity @30secs | Beam Distance @30secs | PWM/Strobe Freq | Noise Freq | Charging Current <3V | Charging Current >3V | Parasitic Drain | Weight w/o Battery | Weight with Battery | CCT (K) | Duv | CRI |
| --- | --- | --- | --- | --- | --- | --- | --- | --- | --- | --- | --- | --- | --- | --- | --- | --- |
| Eco | 10 | 10 | 10 | - | - | - | No | No | 0.17 A | 2.0 A | 1.82 mA | 94 g | 163 g | - | - | - |
| Low | 100 | 95 | 95 | - | - | - | No | No | 0.17 A | 2.0 A | 1.82 mA | 94 g | 163 g | - | - | - |
| Mid | 500 | 565 | 560 | - | - | - | No | No | 0.17 A | 2.0 A | 1.82 mA | 94 g | 163 g | - | - | - |
| High | 1,800 | 2,200 | 2,100 | - | - | - | No | No | 0.17 A | 2.0 A | 1.82 mA | 94 g | 163 g | 4,765 | 0.0091 | 67 |
| Turbo | 4,500 | 5,150 | 4,800 | 11,500 cd | 11,100 cd | 211 m | Yes | 18 KHz | 0.17 A | 2.0 A | 1.82 mA | 94 g | 163 g | - | - | - |
| Strobe | 4,500 | - | - | - | - | - | 6-12 Hz | No | 0.17 A | 2.0 A | 1.82 mA | 94 g | 163 g | - | - | - |
This is a rare light where both my lightbox and my NIST-calibrated luxmeter actually report slightly higher output and beam distance measures than what the manufacturer reports. An impressive showing!
To view and download full testing results for all modern lights in my testing, check out my Database page.
Runtimes
As always, my runtimes are done under a small cooling fan, for safety and consistency. To learn more about how to interpret runtime graphs, see my runtimes methodology page.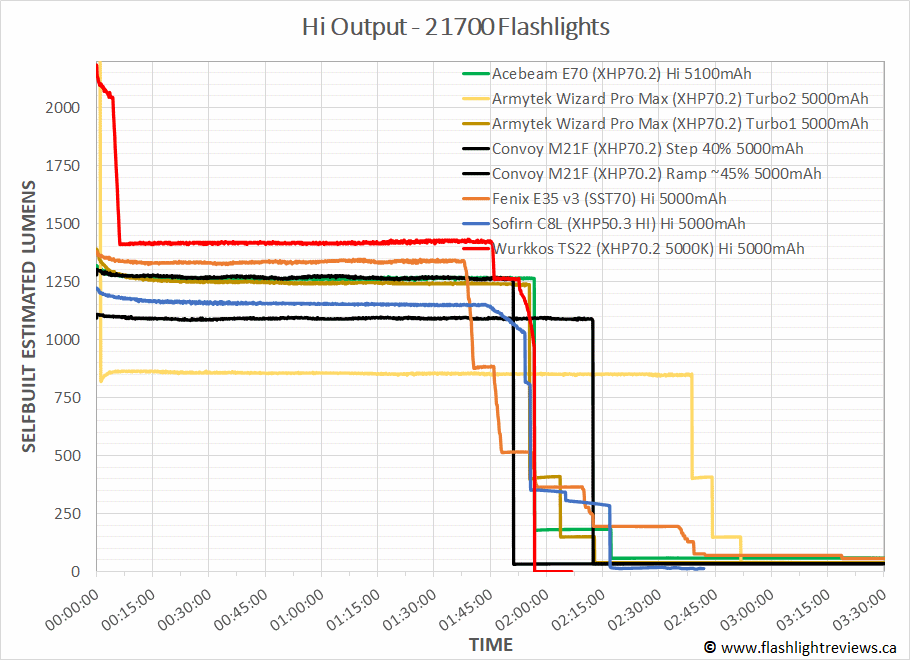 One thing these results make very clear: Wurkkos has invested in an excellent quality constant-current boost driver. This is evidenced by the simply outstanding output/runtime efficiency on the higher levels above – and the lack of a true Moonlight level. However, as I explained in the UI and Circuit Feature sections above, you can set the switch indicator to effectively function as a "green moonlight" mode. So you really can have the best of both worlds here!
I really am blown away by the performance above. The comparison to the Acebeam E70 is particularly telling, as the drop-down levels on the TSS22 Turbo/Hi, and the constant Med level, are basically identical to the E70 (facilitating direct comparisons). What you can see is that the TS22 is up to 20% more efficient than the E70 (!). This is shown by either longer runtime for the same output (i.e., Med), more output for equivalent runtime (i.e., on Hi), or a combination of the two (i.e., Turbo).
These results are all the more impressive when you consider the ~5000K neutral white emitter on my TS22 sample. In the past, it was common to see lower rated output on neutral white emitters compared to cool white ones (due to the extra phosphor required). I can only assume my TS22 sample must have a particularly good output bin, as I doubt the circuit driver alone would account for such an efficiency boost (i.e., Acebeam has very good drivers too in my experience). But I didn't expect this best-of-class performance from a "budget" model!
I'll be honest, I was initially doubting these results, thinking my lightbox sensor might a little too sensitive to warmer whites than cooler ones. But I confirmed the TS22 and E70 output levels by a ceiling bounce using my calibrated lux lightmeter, and everything tracks. And that same calibrated lightmeter also reports greater beam distance (compared to the rated specs), making me think I just happened to get a particular good TS22 sample and/or XHP70.2 5000K emitter.
The regulation pattern is also top notch, with perfectly flat outputs until the battery is nearly exhausted. At that point there is a distinctive rounded step-down pattern.
To better show the initial step-down pattern on Turbo/Hi, here is a expanded view of first few minutes of the runtimes:
Note again that all my runtimes are done under a small cooling fan. I have tested the light without it, and the TS22 simply steps down sooner – but to the same levels shown above.
The light is certainly well regulated at every level, with outstanding efficiency.
Pros and Cons
| Pros | Cons |
| --- | --- |
| Light has outstanding output/runtime efficiency, best-in-class I've seen for a XHP70.2 emitter so far. | User interface is fairly sophisticated, and reasonable for the class, but it does have a few unusual quirks (most especially auto lock-out, see the UI and circuit measures above for an explanation). |
| Circuit shows excellent regulation, with thermally-mediated ramp down on Turbo/High, and step-downs as the battery is almost drained. | There are some minor tint shifts across the beam periphery (common on this emitter class). |
| By configuring the switch indicator LED for constant on, you can have an effective "green moonlight" mode. | Light has a relatively high standby drain if the auto lockout is disabled by activating the indicator feature. In any case, I always recommend locking out at the tailcap when not in use. |
| Compact build with good quality and decent handfeel. | |
| Includes a bidirectional pocket clip | |
| Can function as a power bank, to charge external devices. | |
Overall Rating
Preliminary Conclusions
Many of my observations of the Sofirn C8L are true here as well – consistent with their similar overall build quality and packaging (reflecting the common factory they are produced at, despite being different companies). There even seem to have exactly the same electronic switch cover (which is one minor negative for me – I find it a bit "soft" in feel).
But the TS22 is a stand out performer for the compact 1×21700 class – best-in-class output and overall efficiency to date in my testing. And with my preferred neutral white tint to boot! Regulation pattern is excellent as well, this light is an outstanding performer, and at a budget price. Of course, that kind of performance comes at a cost – the TS22 clearly has a strong boost circuit, which often means you have to sacrifice a main emitter moonlight mode. As with everything, there are trade-offs.
However, a saving grace here is the ability to activate the switch indicator green LED for constant-on when the battery is connected. Thus by simply connecting the light at the tailcap, you have an additional rudimentary "green moonlight" mode available to you. It's good practice to get into locking out this light physically at the tailcap anyway (given the high relative standby current, presumably due to the innovative powerbank feature). And special bonus, using this constant-on indicator LED deactivates the auto-lock-out feature (which I found less than helpful anyway). So, a win-win all around.
The main beam pattern, while floody overall, is a bit more throwy than I expected for the size light and type of emitter – the reflector is relatively deep for the size. As with all XHP70.2 emitters, there is some tint shifting across the periphery of the beam (accentuated by the purplish AR coating here), but it is minor on my sample.
Wurkkos went with a custom user interface for this model. It has a decent number of customizable features, and is very reasonable for the class (i.e., similar or more advanced to many Convoy and Sofirn lights). Sure, it has a few quirks, but nothing you can't get used to.
When considering all the considerable positives above, and the relatively minor issues, I think this light is worthy of a full 5 stars. Not something I give out often!
This is clearly a top pick for this class, and all for a budget price. Very impressive, and I look forward to trying out additional Wurkkos lights.
Acknowledgement
The TS22 was supplied by Wurkkos for review. As always, all opinions are my own and the light received the same rigourous and objective testing as all other lights that I have reviewed. At the time of review, this light retails for ~$45 USD (~$60 CDN). Wurkkos has provide me a 20% discount code to share with my readers, but their codes expire quickly (expected to expire in mid July): WURKKOS20 for use on their website here.