The P25 is a tactical-style, general-purpose flashlight running on a single included 21700 battery. It features the high output XHP70.3 emitter, in cool white.
Introduction
This is the first Cyansky light that I've reviewed since my recent return to reviewing. Cyansky is another in a line of new makers that has sprung up in recent years. I've heard good things about their models, so was curious to test out this new version of the P25.
According to the specs, the P25 v2.0 features the XHP70.3 emitter (HD version, from the appearance), and is rated for relatively high output in the 1×21700 class. What really caught my eye here though was the tactical tailcap switch, in addition to the electronic side switch. That's not something you see commonly any more.
Let's see how it performs in my testing.
Manufacturer Specifications
Note: as always, these are simply what the manufacturer provides – scroll down to see my actual runtimes.
| Feature | Specs |
| --- | --- |
| Maker | Cyansky |
| Model | P25 V2.0 |
| Emitter | XHP70.3 |
| Tint | Cool |
| Max Output (Lumens) | 3,600 |
| Min Output (Lumens) | 5 |
| Max Runtime | 80 hours |
| Max Beam Intensity (cd) | 10,800 cd |
| Max Beam Distance (m) | 208 m |
| Constant Levels | 5 |
| Flashing | Strobe, SOS |
| Battery | 1x21700 |
| Weight (w/o battery) | 98 g |
| Weight (with battery) | - |
| Length | 145.4 mm |
| Head Diameter | 30 mm |
| Body Diameter | 24.4 mm |
| Waterproof | IPX8 2m |
Package Details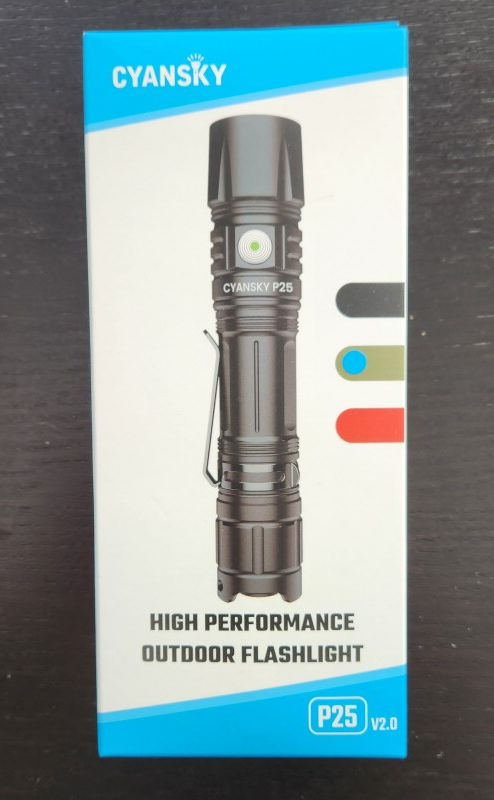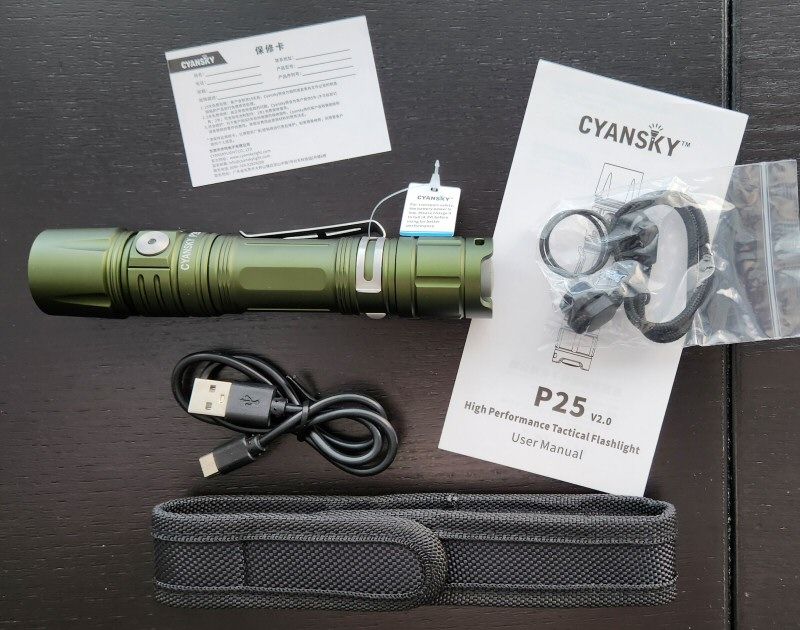 The P25 comes in fairly basic packaging, nothing too fancy in its appearance. Inside the box I found:
Cyansky P25 V2.0 flashlight, in green for my sample (also comes in red or black)
Cyansky-branded 5000mAh 21700 battery
Pocket clip
Holster with velcro closing flap
Wrist lanyard
USB-C charging cable
2 Spare O-rings
Manual
It's a very decent package, and I am glad to see the holster included – very rare these days.
Build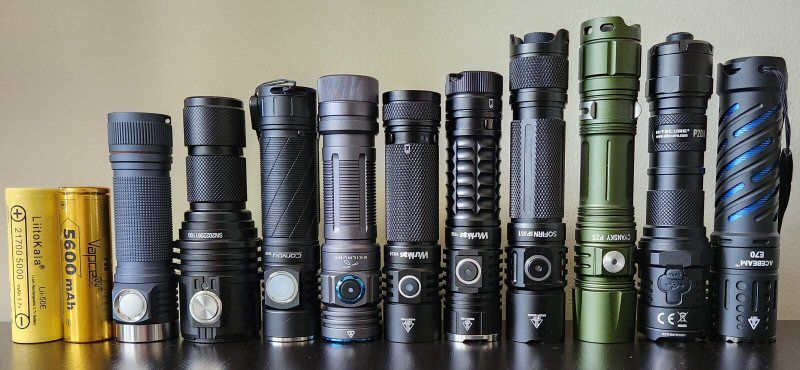 From left to right: LiitoKala 21700 (5000mAh), Vapcell 21700 F56 (5600mAh), Emisar D4K, Imalent MS03, Convoy S21E, Skilhunt M300, Wurkkos WK15, Wurkkos TS22, Sofirn SP35T, Cyansky P25, Nitecore P20iX, Acebeam E70.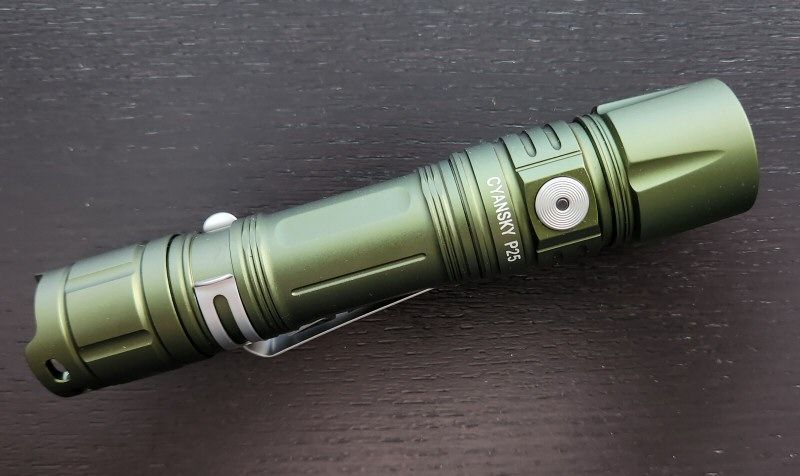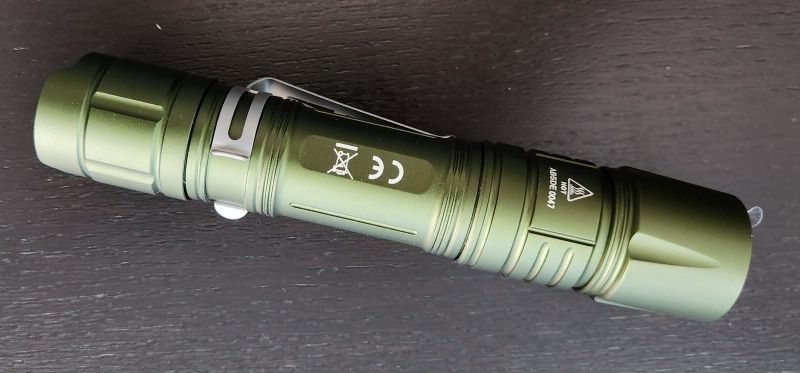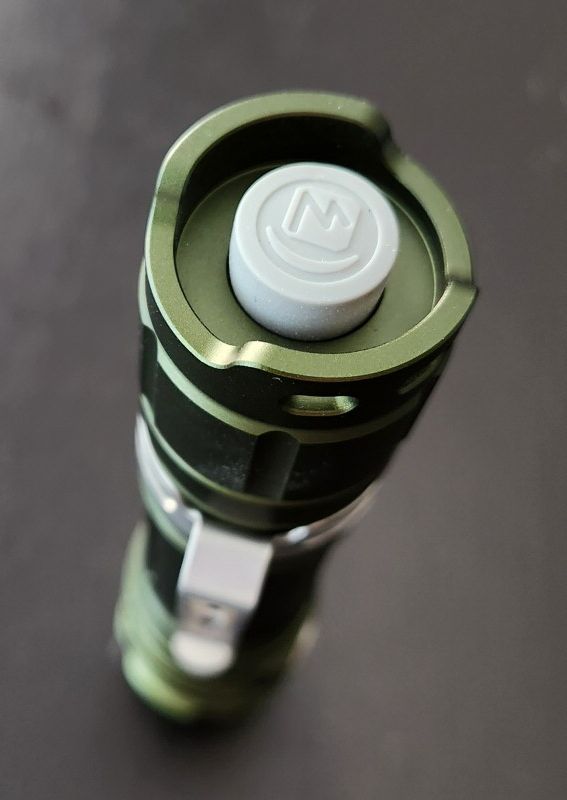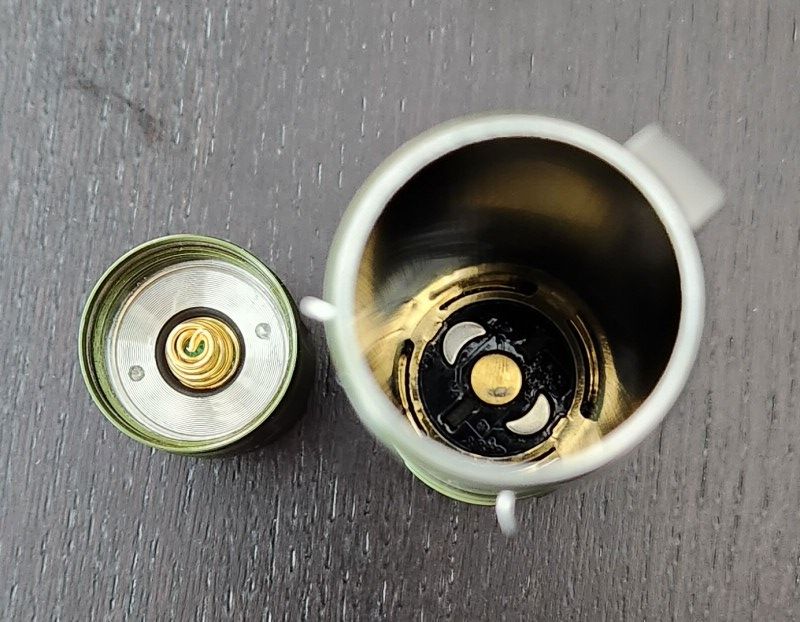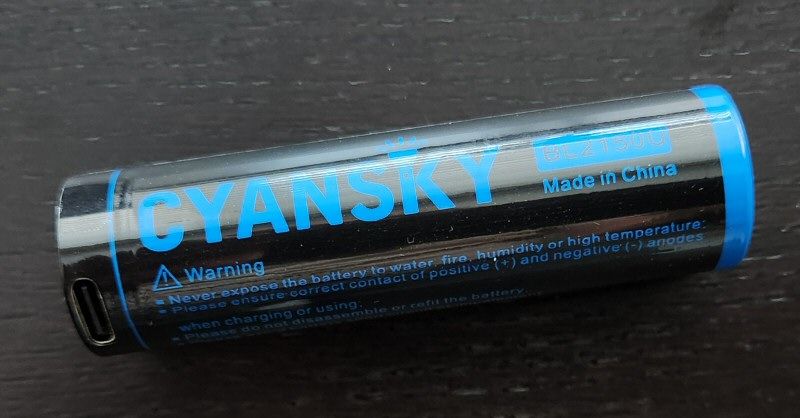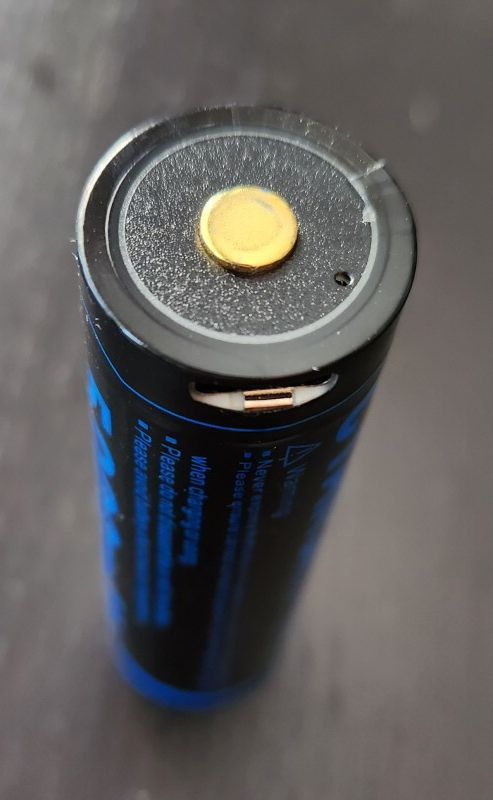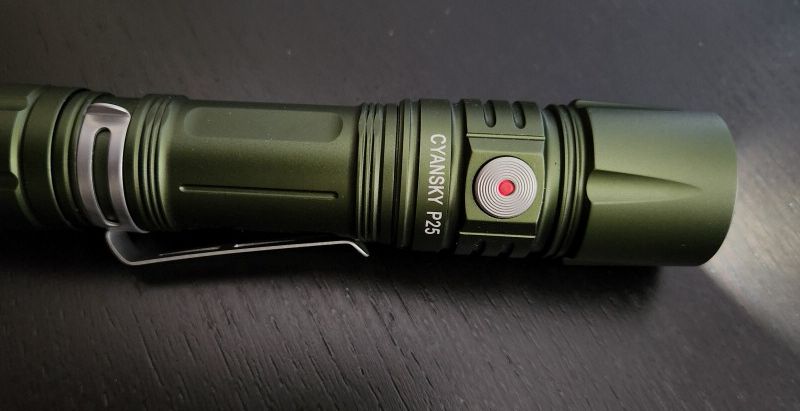 At 145mm, the P25 is one of the longest lights I've tested in the general-purpose 1×21700 class. This is in part due to the tactical forward clicky switch. This makes the light very suitable for tactical purposes, but it does mean you have to accept greater length. As someone with above-average sized hands with long fingers, I find the light comfortable to hold and use in either overhand or underhand grip – but some may find it long.
The tailcap physical forward clicky switch has a pleasantly firm action, with a solid click and predictable firm traverse. There are two raised tailcap guards that can serve as the lanyard attachment point. My sample is able to tailstand stably.
Tailcap threads are square-cut and anodized, with good feel. Thanks to the anodized tailcap threads, you can easily lock-out this light by a simple twist of the tailcap.
There is a raised side-mounted electronic switch on the side of the head, with red and green LEDs underneath to show battery charge status. Feel and traverse of the electronic switch is very similar to a lot of modern lights.
As there is no in-light USB charging (i.e., you charge the cell directly), I expected waterproofness is excellent here.
There is no real knurling on the light, but there are a lot of cut-outs to help with grip. The slightly raised side switch helps limit the ability of the light to roll somewhat – but the pocket clip is particularly recommended in that regard.  Anodizing looks to be good quality for type II (presumed, given the colour range available). I would describe the finish as satin.
Inside, the light comes with a Cyansky-branded standard-sized 5000mAh 21700 battery, with integrated USB-C charger and slightly raised button-top, along with a charge status led. There is a flat contact in the head of the light, along with a reverse polarity detection feature.
This is a solid and well-made light, with decent grip and handfeel. It is longer than most in this class, which is something to keep in mind.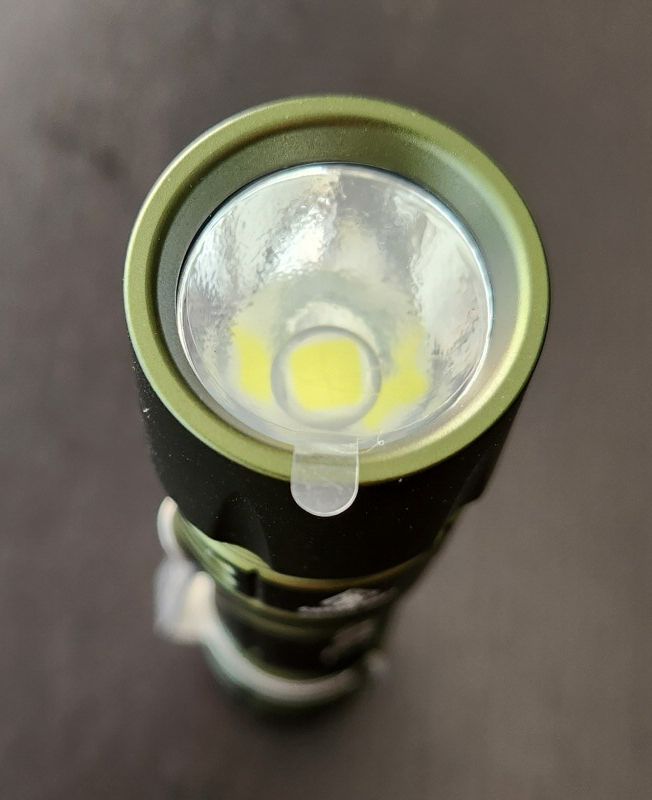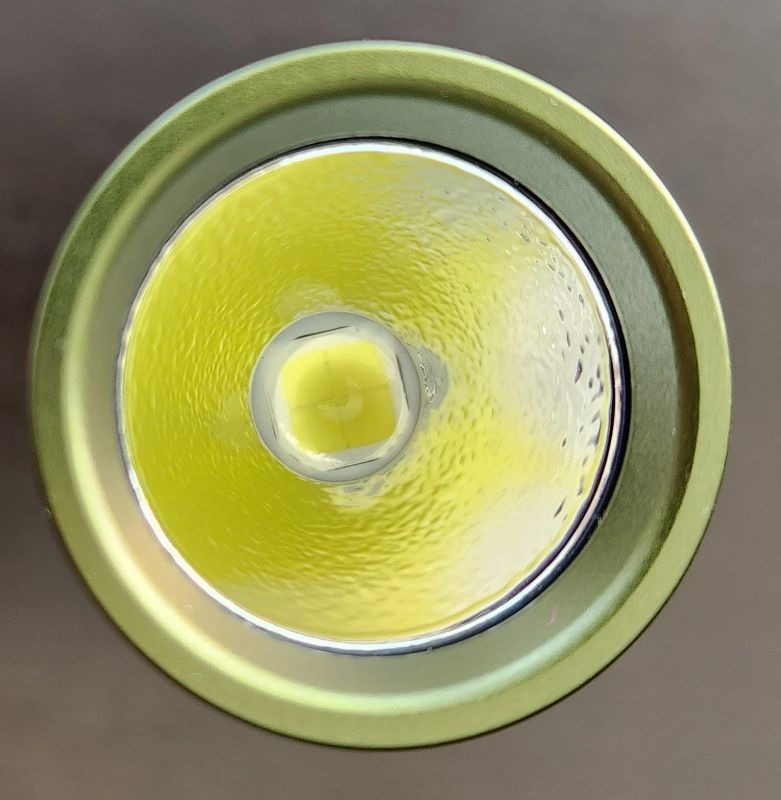 The P25 comes with a XHP70.3 HD emitter, in cool white. The reflector is deeper than most and moderately textured (moderate orange peel, MOP).
As expected, there is some tint/colour shifting across the periphery of the beam, with a cool white hotspot surrounded by a yellowish spill except for a purplish shift near the edge of the periphery. This is a well-known issue with HD emitters of the XHP family. The textured reflector seems to be help even it out it somewhat though. There is an purplish anti-reflective coating on the lens, which is contributing to the edge effect that you are seeing in the desk beamshot above (scroll down for outdoor beamshots).
The bezel is flat aluminum. There is no scalloping to speak of, and the light can headstand stably.
User Interface
The P25 uses a fairly common general-purpose user interface, given the switch arrangement.
From OFF:
Tail switch, partial-press: Momentary On in last memorized mode.
Tail switch, single-click: Turns On in last memorized mode.
Side switch, press-and-hold: Nothing – but if you click the tail switch while holding down the side switch, the light will activate in Eco mode.
Side switch, single-click: Nothing.
From ON:
Tail switch, partial-press: Nothing.
Tail switch, single-click: Turns Off.
Side switch, press-and-hold (>1 sec): Switch to Strobe. Press-and-hold again to advance to SOS. Single-click at any time to return to constant-on modes.
Side switch, single-click: Steps up to the next constant-on output mode (in sequence, Lo > Med > High > Turbo).
Side switch, double-click: Nothing, simply advances two steps in output (i.e., this is not a short-cut to Turbo, as on some lights).
Mode memory:
Yes, for constant-on output modes, except Turbo. If turned off in Turbo, it will save as High.
Mode 1 Shortcuts:
Eco mode: Press-and-hold the side switch while turning on at the tail switch.
Strobe mode: Press-and-hold the side switch when already On.
There doesn't seem to be a shortcut to Turbo that I have found
Battery indicator:
When first activating the light, the indicator on the side switch shows the relative battery voltage (lasts for ~3 secs):
Solid green: ~81-100% power remaining
Flashing green: ~51-80% power remaining
Solid red: ~21-50% power remaining
Flashing red: 0-20% power remaining
Low voltage warning:
Yes. When the battery is low, the power indicator flashes red 3 times per second, and the main LED light flashes 2 times every 3 minutes. When the battery voltage is lower than 3.0V, the flashlight will reduce the main LED to the Low mode.
Lock-out mode:
Yes, but physically – you lock-out the light by a twist of the tailcap.
Reviewer Comments:
This is a reasonable UI for a general-purpose light. It's very similar the "general mode" of two-stage tactical lights, like the Sofirn SP35T. I would liked a shortcut to Turbo, though.
Circuit Measures
Pulse-Width Modulation (PWM):
Eco:

Low:

Med:

High:

Turbo: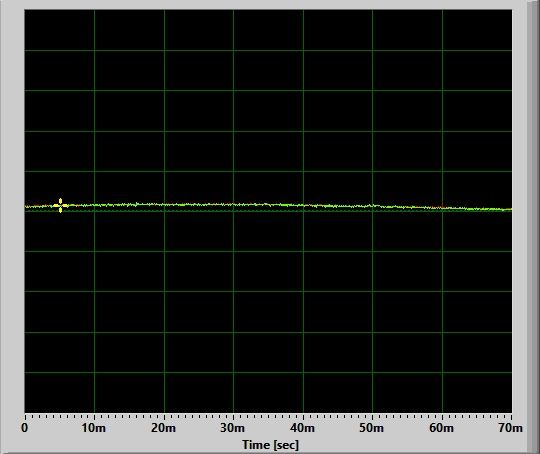 Well, this is great to see – not only is there no sign of PWM, but there is not even any circuit noise on any level. It's rare nowadays to see a current-controlled light without at least some high frequency circuit noise on some levels – well done Cyansky.
Strobes:
Strobe: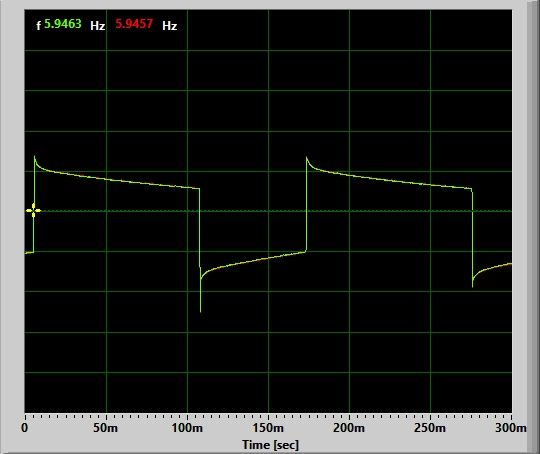 Strobe alternates between 6 Hz and 15 Hz every ~2 secs or so. Very distracting.
SOS:
A standard SOS mode, relatively slow.
Beacon:
Sadly, no beacon mode on the P25.
Charging:


There is no integrated charger on the P25 light – it uses a 21700 cell with a built-in USB-C charger instead. There is an indicator LED on the battery that shows solid red when the light is charging. Changes to solid green when the charging is complete.
Resting voltage <3.0V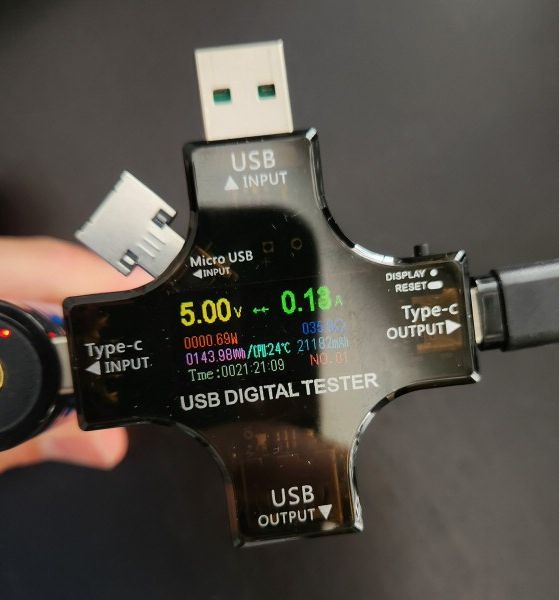 Resting voltage >3.0V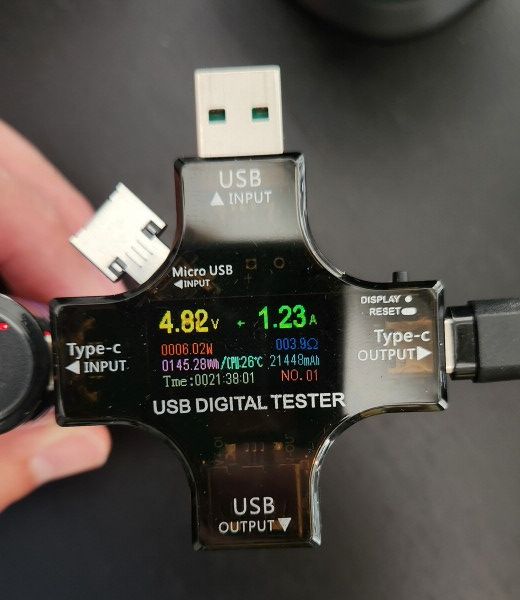 The Cyansky battery uses a two-stage charging feature, as seen on many (but not all) higher-end lights and batteries (i.e., where there is a lower initial charging rate when the cell is heavily discharged). The initial charging rate here is ~0.13A, which jumps to ~1.2A once the battery reaches 3.0V resting. I presume it continues to climb from there. This is a reasonable charging rate for the class, but not as high as some others.
Standby / Parasitic Drain:
None. That is one of the nice things about a physical clicky switch, no standby current. 🙂 And you can always lock-out the light by a twist of the tailcap, to prevent accidental activation.
Emitter Measures
In this section, I directly measure key emitter characteristics in terms of colour temperature, tint, and colour rendition. Please see my Emitter Measures page to learn more about what these terms mean, and how I am measuring them. As tint in particular can shift across levels, I typically stick with the highest stably regulated level for all my reported measures.
As explained on that page, since I am using an inexpensive uncalibrated device, you can only make relative comparisons across my reviews (i.e., don't take these numbers as absolutely accurate values, but as relatively consistent across lights in my testing).
P25 on Hi: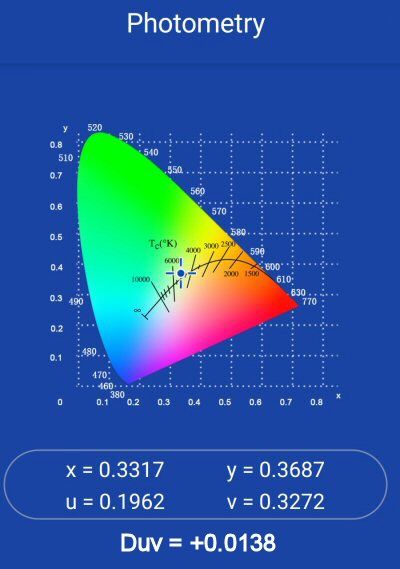 The key measures above are the colour temperature of ~5530K, and a positive tint shift (+0.0138 Duv) to slightly greenish-yellow at this temperature. For CRI (Ra), I measured a combined score of 69.
These values are consistent with the performance of a cool white XHP70.3 HD emitter, and match my visual experience of this light. Note that there is a tint shift to more yellowish spill, with a purplish spillbeam edge, as is common on XHP HD emitters.
Beamshots
All outdoor beamshots are taken on my Canon PowerShot S5 IS at f/2.7, 0.5 secs exposure, ISO 400, daylight white balance. The bend in the road is approximately 40 meters (~45 yards) from the camera. Learn more about my outdoor beamshots here (scroll down for the floody light position used in this review).
Click on any thumbnail image below to open a full size image in a new window. You can then easily compare beams by switching between tabs.
As you can see above, the P25 has a very clean beam profile, quite similar to my XHP70.2 HD-equipped Wurkkos TS22. Also, the minor tint-shift to purplish at the edge of the periphery is less noticeable than a number of other lights, like the Acebeam E70.
Testing Results
My summary tables are generally reported in a manner consistent with the ANSI FL-1 standard for flashlight testing. In addition to the links above, please see my output measures page for more background.
All my output numbers are based on my home-made lightbox setup. As explained on that methodology page, I have devised a method for converting my lightbox relative output values to estimated lumens. Note that my lightbox calibration seems to run higher than most hobbyists today, but I've kept it to remain consistent with my earlier reviews (when the calibration standard was first established).
My Peak Intensity/Beam Distance are directly measured with a NIST-certified Extech EA31 lightmeter.

P25 Testing Results
| Mode | Spec Lumens | Estimated Lumens @0sec | Estimated Lumens @30 secs | Beam Intensity @0sec | Beam Intensity @30secs | Beam Distance @30secs | PWM/Strobe Freq | Noise Freq | Charging Current <3V | Charging Current >3V | Parasitic Drain | Weight w/o Battery | Weight with Battery | CCT (K) | Duv | CRI |
| --- | --- | --- | --- | --- | --- | --- | --- | --- | --- | --- | --- | --- | --- | --- | --- | --- |
| Eco | 5 | 10 | 10 | - | - | - | No | No | 0.13 A | 1.20 A | No | 99 g | 171 g | - | - | - |
| Low | 50 | 60 | 60 | - | - | - | No | No | 0.13 A | 1.20 A | No | 99 g | 171 g | - | - | - |
| Med | 200 | 255 | 250 | - | - | - | No | No | 0.13 A | 1.20 A | No | 99 g | 171 g | - | - | - |
| High | 800 | 940 | 940 | - | - | - | No | No | 0.13 A | 1.20 A | No | 99 g | 171 g | 5,530 | 0.0103 | 69 |
| Turbo | 3,600 | 4,450 | 4,300 | 14,300 cd | 13,800 cd | 235 m | No | No | 0.13 A | 1.20 A | No | 99 g | 171 g | - | - | - |
| Strobe | 1,600 | - | - | - | - | - | 6-15 Hz | No | 0.13 A | 1.20 A | No | 99 g | 171 g | - | - | - |
| SOS | 200 | - | - | - | - | - | No | No | 0.13 A | 1.20 A | No | 99 g | 171 g | - | - | - |
Well, this is nice to see – my P25 sample actually performs higher than the specs in my lightbox. Of course, I know my lightbox's relative calibration is generously high for modern high-output lights. But my NIST-calibrated luxmeter (which is accurately calibrated to an absolute standard) also reports greater throw than the specs. This is a good result.
To view and download full testing results for all modern lights in my testing, check out my Database page.
Runtimes
As always, my runtimes are done under a small cooling fan, for safety and consistency. To learn more about how to interpret runtime graphs, see my runtimes methodology page.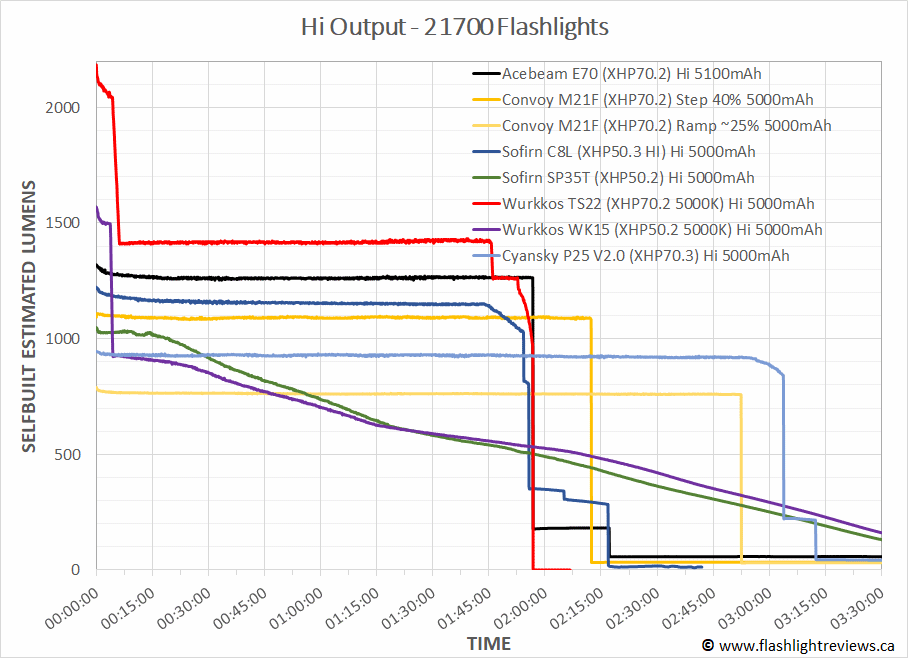 Another pleasant finding – fully flat-regulated output at all levels, with outstanding output/runtime efficiency. These results show a good boost circuit is being used, resulting in excellent performance across the board.
Another observation is that the Turbo mode (and step-down level) are very consistent with other top lights in this emitter class, like the Wurkkos TS22 and Acebeam E70. However, the Med mode (and to a lesser extent the Hi mode) is a little lower in output than most of the competition.
To better show you the step-down pattern on Turbo, here is an extended view of the first few minutes of the runtimes:
Interestingly, the P25 ramps down in output more slowly than most lights in this class – it takes over 6 minutes before you are down to the fully-regulated step-down level (which is a bit higher than the High level).
Pros and Cons
| Pros | Cons |
| --- | --- |
| The light has a solid build, with a tactical forward clicky switch in the tail and a side electronic switch. | Lacks a moonlight mode or a beacon/signalling mode. |
| Circuit is fully voltage-regulated, with excellent output/runtime efficiency. | XHP70.3 HD cool white emitter produces high output, but no option for neutral/warm tint, high CRI, or greater throw. |
| The light has a serviceable user interface, comparable to other lights with this configuration. | More expensive than competing lights. |
| Good range of output levels, actually exceeding rated specs. | |
| | |
Overall Rating
Preliminary Conclusions
The P25 from Cyansky is another example of a quality light from a new maker that has crossed my review desk.
Circuit performance is top-notch, with a highly efficient and well-regulated driver. This is something that I find to be quite variable among the new makers, but certainly speaks well here (and reflects that higher price point than most of the others). I'm also impressed to see this light exceed its reported specs – many makers over-promise and under-deliver, so it's great to see the opposite here.
I like the implementation of the physical forward clicky switch – feel and function is good. The user interface is reasonable, and similar to other lights that have both a physical tailswitch and side electronic switch. That said, some competing lights feature a secondary "tactical" mode set as an option as well (and a shortcut to Turbo). As always, I would like to see an actual Moonlight mode as well (or at least something closer to it).
The physical build is quite solid and stable, if a touch long. There are some small aspects that detract a bit for me, such as the slippery finish with relative lack of knurling, flat aluminum bezel, and pretty basic clip. I would associate these with a more budget build typically. But the overall package is good, with the Cyansky-branded battery and holster.
It also comes with a modern high-output emitter, the XHP70.3 HD (cool white), which provides a lot of output and a smooth beam. That said, I would like to see some additional options, such as neutral white version (or high CRI model). For that matter, the HI edition of this emitter would produce more throw, and a cleaner beam with less chromatic aberrations.
At the end of the day, I found this to be a good light to handle and use. It's really the combination of small touches to the build and UI that hold it back from top-of-the-line class for me. I hope the comparison results above will help you decide if it is right for you.
Acknowledgement
The P25 was supplied by Cyansky for review. As always, all opinions are my own and the light received the same rigourous and objective testing as all other lights that I have reviewed. At the time of review, this light retails for ~$100 USD (~$130 CDN).